Belgium - Market Overview
Table of content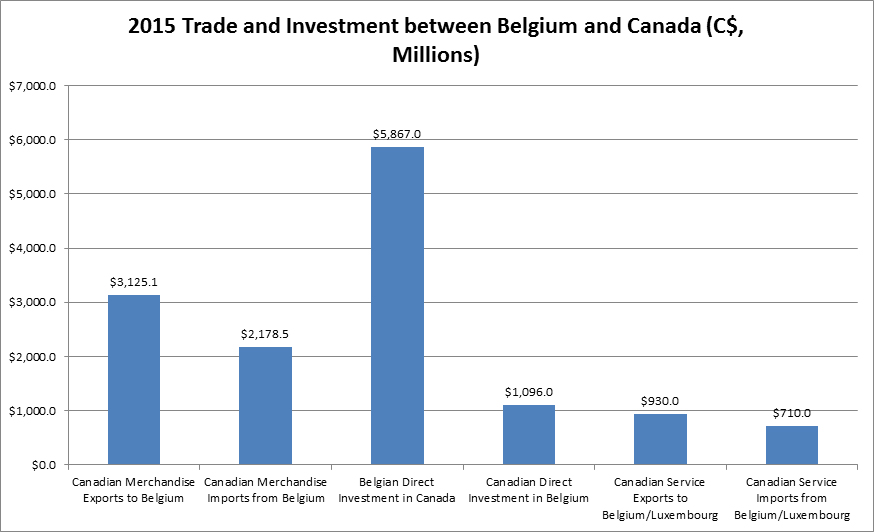 Source: Statistics Canada
Note: Services data includes Belgium and Luxembourg.
2015 Trade and Investment between Belgium and Canada (C$, Millions)

2015 Trade and Investment between Belgium and Canada (C$, Millions)

| Trade and Investment | (C$, Millions) |
| --- | --- |
| Canadian Merchandise Exports to Belgium | $3,125.1 |
| Canadian Merchandise Imports from Belgium | $2,178.5 |
| Belgian Direct Investment in Canada | $5,867.0 |
| Canadian Direct Investment in Belgium | $1,096.0 |
| Canadian Service Exports to Belgium/Luxembourg | $930.0 |
| Canadian Service Imports from Belgium/Luxembourg | $710.0 |
Why Belgium Matters
Belgium is Canada's sixth-largest trading partner in the European Union with total bilateral merchandise trade in 2015 amounting to $5.3 billion.

Footnote

1
Within the EU, Belgium is the ninth largest economy and has the 10th largest per capita GDP.

Footnote

2
Belgian direct investment in Canada is over five times Canadian direct investment in Belgium.

Footnote

3
Because of its strategic position in the heart of Europe, both politically and geographically, Belgium offers Canadian companies unparalleled access, by both air and sea, to Europe's major markets and suppliers.
Key industrial exports from Canada to Belgium include precious stones and metals, pharmaceuticals, oilseeds, mineral ores, and nickel and related products.
How to export to Belgium
Read the guide Exporting to the EU.
Sectoral Opportunities in Belgium
Clean Technology

Clean technology is not a large industry within Belgium but the country has been paying much closer attention to it given the country's commitment at 2015's COP-21 conference to a low carbon development strategy. There has been a significant rise in the use of renewable energy and in R&D expenditures related to renewables. The Belgians are a natural market for exporting clean technology: they are environmentally conscientious, particularly with regards to recycling, and have a particular interest in eco-friendly waste and water management technologies.
Defence and Security

While small relative to other European countries, the Belgian Defence and Security sector is based on high-value, high-technological standards and remains a successful component of the Belgian economy; leading niche technology companies face growing demand from police forces and the army, in addition to receiving NATO procurement contracts in excess of €2 billion yearly.Footnote 5 Canadian companies active in Defence and Security technologies or R&D could well invest in this important sector, given the sub-sector alignment with Canada's interests in armoured vehicles (and related engineering services), electronic systems, simulation and training and security solutions, as well as the possibility of NATO procurement.
Information and Communications Technology

Belgium ranks 23rd on the 2016 WEF Network Readiness Index, compared to Canada at 14th. This offers opportunities for Canadian industries focused on cloud computing, e-health, data protection, and cybersecurity. Although ICT represents a small share of Belgium's economy, the domestic ICT industry is characterized by its dynamism, high entry rate and high labour productivity.
Life Sciences

Pharmaceuticals are a top Belgian export to Canada, and life sciences are of great importance to Belgians, with over 200 companies in the domestic sector.Footnote 6 The industry in Belgium is characterized by a range of specialists serving affluent, privately-funded, well-informed, and price-sensitive buyers. Some export sectors – such as the supply of healthcare equipment – are dominated by large firms with economies of scale and substantial market power, but Canadian companies with substantial improvements on current technology should have no problem finding a market in Belgium. The country's central location in Europe – both politically and geographically – is an added advantage for companies seeking a 'jump-off' point.
Contact
To learn more about trade and investment opportunities in Belgium, contact your Trade Commissioner in Brussels, Belgium.
Please note that the Trade Commission Service in Brussels also covers Luxembourg.
Footnotes
Footnote 1

Footnote 2

Footnote 3

Footnote 4

Footnote 5

Footnote 6