New product helps exporters do business abroad—and get paid
Ian Glenn knows all about the risks associated with running a business involved in emerging technologies and markets.
Glenn is CEO and chief technology officer of ING Robotic Aviation Inc., an Ottawa company that makes commercial drones for mapping, inspection and monitoring applications involving harsh conditions in industries such as resources, utilities, construction, agriculture, wildlife and conservation as well as emergency response.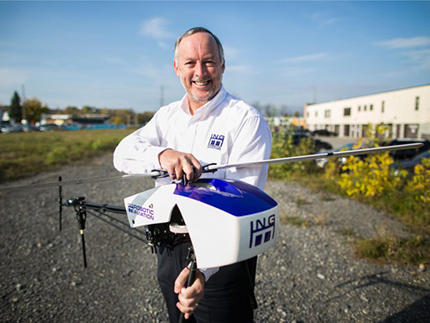 Ian Glenn, CEO and chief technology officer of ING Robotic Aviation Inc.
Early exports of ING's two types of drones, a fixed‑wing and a helicopter version, have been encouraging, with sales since the beginning of the year in distant markets such as Alaska, Lithuania and Kenya, and new contracts are pending.
As a small business with limited resources, Glenn is especially assured of getting paid for each drone he sells through a new online trade credit insurance product offered by Export Development Canada (EDC) that insures the receivables of companies such as his.
Called Trade Protect, the EDC program is a game‑changer for small exporters that want to quickly and easily ensure they can close their sales, an advantage when it comes to both dealing with customers overseas and getting financing here at home.
"Having insured accounts receivable is really important to me and it's important to my bank," says Glenn, noting that SMEs don't always have the capacity to check out customers or chase down payments, and especially can't afford not to get paid. "I have to get it right every time, pretty much."
Trade Protect is especially considered an entry‑level product oriented to businesses that want to work quickly and efficiently and select which of their export customers and sales to insure, says Clive Witter, senior vice‑president of insurance at EDC. This makes it perfect for small businesses and those just "starting their export journey," he says, which are a key priority for EDC and an important part of its mandate.
"The focus is making it easy for them," he says, explaining that the service is available 24/7 and decisions about coverage can be made in as little as 10 minutes. More complex trade credit insurance products offered by EDC and others can take days or weeks to process and are typically used to cover a company's entire portfolio or a large part of it.
Launched in January, Trade Protect is a "hassle‑free" product that "removes the worry" of a customer going bankrupt or a payment being disrupted by a natural disaster or civil conflict, Witter says. "The impact of a non-payment can be devastating, and that's particularly true for small businesses. They may not have the financial strength on their balance sheet to support a large loss."
Trade Protect applies to companies that have not yet shipped the goods or services they want to insure, that are shipping directly from Canada, that are looking to insure $500,000 or less per customer, that have payment terms of 90 days or less and that do not sell adult materials, hazardous materials, addictive substances and goods or services related to gaming, military products, computer software, live animals, embryos or semen. Under the terms of the program, if a customer accepts a company's goods or services and then does not pay, the company is covered for up to 90 percent of its losses.
Glenn, who founded ING Robotic Aviation in 2001 and today employs 15 full‑time and 10 part‑time staff, with products and services that range from $50,000 to $1‑million, says that Trade Protect gives him confidence that he'll get the cash for his products before it's actually deposited. "You don't have a lot of time and energy and resources to manage risk."
The online system is quick and efficient, he says, with coverage coming almost instantaneously. "It's well‑matched to the speed of small businesses."
While he exercises due diligence when it comes to potential foreign customers, for example asking the local trade commissioner in a country to validate a buyer's reputation, "you haven't got the resources to fly all over the world to check customers out," Glenn says. This can mean that he's forced to walk away from deals in more challenging places out of concern that a buyer may default.
Larger exporters may try to "self-insure," Glenn says, essentially spreading the risk and factoring it over a large number of transactions, but it's difficult for a small company with limited volumes and tight cash-flows to manage if it loses out on a sale. "If you're counting on that cash and you don't get it, it's going to have an impact," he says. "Every deal is crucial to you. You can't afford to fail on any of them."
Receivables insurance is far more advanced in Europe than in North America, with the market in Canada today worth about $200‑million, according to the Receivables Insurance Association of Canada. Canada's market penetration with companies that could buy receivables insurance is estimated at less than 10 percent, especially as many exporters are not even aware of such products.
Witter says that insurance comes at a reasonable price, particularly as non‑payment can threaten a company's cash flow or its very existence.
He says that pricing for Trade Protect is a function of factors such as the riskiness of the foreign buyer and the coverage period selected, either 90 or 180 days. Rates range from 0.554 percent of the insured limit for a low‑risk foreign buyer with a 90‑day coverage period to 1.395 percent for a high‑risk foreign buyer with a 180‑day coverage period. That would mean that $100,000 of coverage on a low‑risk buyer for shipments made over a 90‑day period would cost $554, while $100,000 of coverage on a high‑risk buyer for shipments made over a 180‑day period would cost $1,395.
He says that such products can help safeguard companies' working capital at banks and are not only necessary in dealing with so‑called "risky" countries but can also be important for customers in the U.S., for example. "It can be the difference between a small business being financially sustainable or not."
Glenn says that banks especially are unlikely to provide credit to a company that doesn't insure its accounts receivable outside of Canada, with an attitude that "if you have a 50‑50 chance of getting paid, we'll give you 50 percent of the money you asked for."
He comments that overseas sales are "not for the faint of heart," and receivables insurance "absolutely does help" deal with the risk and stress that come with the territory. "Trade Protect is now part of our normal sales process," he adds, with a cost that's "not prohibitive" and a process that's easy and accessible. "Insurance is just part of the cost of doing business."
For more information, visit EDC website.
Subscribe to: E-magazine and RSS Feed

Use #CanadExport