How to get it right in Thailand
Most Canadians think of Thailand as a vacation destination, an out-of-the-way country that is still developing, with perhaps the most rudimentary infrastructure and industry.
Think again.
Thailand is a place of progress and innovation, of improving lifestyles and burgeoning wealth, with a strategic location and key trade connections, says Canadian Peter van Haren, a founding partner of XPC – Cross Pacific Connections, a consulting and advisory firm in Bangkok that helps companies set up there.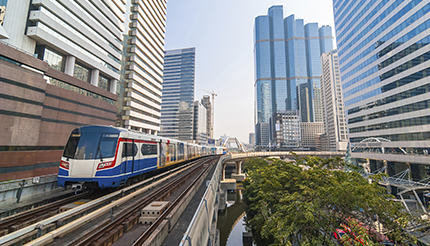 The country is a surprisingly good place for Canadians to do business, he says. Although it's important to avoid many mistakes and pitfalls there, the opportunities and rewards are many.
"You've got to get it right in Thailand," says van Haren, former president of the Thai-Canadian Chamber of Commerce. Some of the country's surprises include the fact that the Thais are "not looking for handouts," he says. "There's a stereotypical view that they need money, but the established companies here aren't looking for our money."
Instead, the Thais want knowledge-sharing, technological partners and joint-ventures, he says, noting that the country in the last 15 years went through an industrial phase and is now becoming more interested in innovation, R&D and education in areas such as medical technologies, IT and environmental services.
The fact that "this is no longer a nation of cheap labour" means the Thais are more focused on innovative technologies and processes to improve efficiency and upgrade their manufacturing, for example. The country has "huge capabilities" in agrifood but is looking for foreign expertise in the field, he notes.
Yvonne Chin, the commercial counsellor and senior trade commissioner in Thailand, says that trade with the country has great potential in the areas of agriculture, infrastructure and transportation, sustainable technologies, ICT, aerospace and defence. "It is one of Southeast Asia's most advanced and wealthiest economies," she says.
Thailand's business environment is particularly conducive given that the country has low taxes, is located "in the centre of everything," does a lot of business in English, has a number of bilateral and multilateral agreements and has a sophisticated legal framework, she says. "It tends to be a modern, comfortable and familiar place for business."
The Thai people are entrepreneurial, optimistic and very hard-working, van Haren comments. Thailand's geographic location makes it a short flight away from the nine other countries that make up the Association of Southeast Asian Nations (ASEAN), which has become a single market known as the ASEAN Economic Community as of December 31, 2015.
Indeed, Thailand as a hub for ASEAN has already received the attention of some Canadian businesses active in the region. The Canada-ASEAN Business Council, which had its first inaugural forum in Singapore in 2013, hosted its second CABC Forum in March 2015 in Bangkok. The Forum included more than 200 business leaders and senior government officials from Canada and Southeast Asia.
Thailand is a good logistical base for all of Asia, a stepping-stone to blossoming economies like Burma and Cambodia as well as to China, and it has signed a number of important bilateral trade agreements. The Thais also like doing business with Canadians, van Haren says, especially in sectors where the two countries have synergies, such as natural resources and agriculture.
Canadian SMEs are especially involved in providing services in Thailand, he reports, for example consulting, hospitality and environmental services, as well as legal and auditing consultancies.
Chin says that Thai business leaders on a trade delegation to Canada last year were surprised at what Canada has to offer, and the Canadian Trade Commissioner Service in Thailand is working to educate business leaders in the two countries about each other. "Personal relationships are so essential here," Chin says, even more so than in other Asian cultures.
"Doing business in Thailand takes time," says Bill English, president and CEO of Xanatos Marine, a Vancouver company that makes software for marine safety and security used by Thailand's navy, coast guard, marine police and port authorities to monitor shipping.
English, whose company operates in 40-plus countries, says that he's learned a lot about dealing with the Thais over the 15 years he's worked in Thailand "especially by making a lot of mistakes." Today he maintains close ties with a local company in Thailand, which even meant that he flew there to be present for the birth of his business partner's first child.
He notes that the Thais move slowly and methodically, making any transaction a "long sale" and requiring patience. "You talk about your family, you have dinner, and during your conversation you slide in some business," he says, noting that it's important not to get frustrated. "Don't push; the harder you push the more of a wall they put up. Don't ask for a decision on your first sales call, or it will never happen."
Building relationships results in building trust, he notes. "I leave my partner in Thailand with a cheque-book and I don't worry about it."
Van Haren, who has lived in Thailand since 1991, is fluent in Thai and has his own weekly Thai language radio show, called CEO Vision, says the country has become more sophisticated and Westernized in the ways of doing business.
Social infrastructure has been modernized, for example hospitals and the education system are up-to-date and relatively inexpensive to use, he reports. Transportation systems and the overall standard of living have improved significantly.
The country does present challenges for Canadian companies there, he says, such as political upheavals; the most recent coup was May 2014. Most companies are able to take such occurrences in stride, says van Haren, who has been through three coups in the 24 years he's lived in the country.
"Businesses have to go on," he remarks, although political impasses can be limiting for businesses. For example, the fact that the country has been under military rule since 2014, makes new private sector and investors more cautious.
Chin notes that Thailand has "seen its fair share of political instability," which has negatively affected its economy. However Canadian companies that "continue to stay the course" despite political uncertainty can find opportunity, and Thai businesspeople will "remember you were here when times were tough."
Van Haren notes that there are common mistakes among foreign companies and businesspeople in Thailand. For instance they often come with the attitude that "they'll take the country by storm," but they don't do enough research to determine where the opportunities are and quickly find they cannot compete.
Many companies ignore the local expertise on the ground in Thailand and try to "go it alone," van Haren observes. "You have to take advantage of some of the resources here already," he says, noting that the Canadian Trade Commissioner Service in Thailand can provide a non-biased view of people to talk to.
He notes that Canadians should protect themselves from a legal and contractual point of view and should use reputable law firms, for example, in setting out their understandings with Thai partners.
One typical mistake among foreign businesspeople is misreading the Thai character, van Haren says, which is initially accommodating and hospitable. In meetings, Thais will smile, nod their heads and even say "yes" in agreement, "but it requires more than that," he cautions. "Foreigners will walk away and think 'I've got the job,' when they actually don't."
Polite persistence and a long-term strategy are critical. "It takes more than one visit, one meeting or one email," he explains, noting that Thais have a tendency to "go quiet," and it's important to keep things positive. "Sooner or later it will become obvious if it's a go or a no-go."
It's important "not to approach Thai companies as if you're superior to them and you're here to help them," Chin warns. "It should be a mutual partnership."
She notes that cultivating influential relationships is critical across sectors. "You have to dig deeper, you can't just be looking at the surface," she says, adding that the Thais are a proud culture and "the memory is very long" when people feel slighted. "It can be quite difficult to undo the damage."
Language and distance can also be barriers for Canadians doing business in Thailand, van Haren points out. This makes it important to contact the Canadian Trade Commissioner Service, the Thai-Canadian Chamber of Commerce and other business groups for help, he says. "Rather than come over and stumble around here, find out from the sources."
English says the TCS has especially helped his company and its partners set up meetings and events in the embassy and has tipped them off to potential contracts. "They keep up with the local scene."
"If you're really serious about doing business in Thailand, think strategically and really show you're committed to it," she says. "If you don't, you might have closed the door on yourself."
Contact the Canadian Trade Commissioner Service today.
Subscribe to: E-magazine and RSS Feed

Use #CanadExport