Supplier diversity takes centre stage
Canadian business women who are currently exporting their products or services or who are interested in expanding internationally can find an important platform for market success in supplier diversity (SD) initiatives that help major corporations expand and diversify their supply chains.
The Business Women in International Trade (BWIT) program of the Canadian Trade Commissioner Service (TCS) leads women-focused trade missions anchored on conferences that draw Fortune 500 corporations, government agencies and non-profit organizations together to source from diverse suppliers such as women.
These events present opportunities to find national and international buyers with supplier diversity programs and initiatives, says Josie Mousseau, deputy director of BWIT, which assists export-ready and export-active businesses that are at least 51 percent owned and/or controlled by women to help achieve their potential in international markets. The program facilitates access to support networks, government resources, events and services available to Canadian business women. It partners with key stakeholders to leverage supplier diversity procurement opportunities at Fortune 500 companies, and provides targeted support, market intelligence and contacts via the TCS network in some 161 offices world-wide.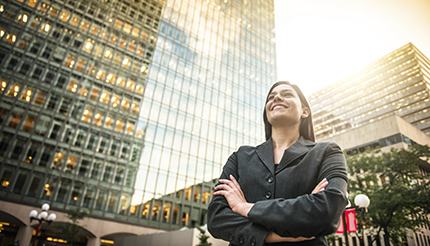 "These are multinational enterprises seeking women-led businesses to work with," says Lisa Stockley, a trade commissioner at the Canadian Consulate General in Atlanta, Georgia, which along with BWIT and local partners is leading a mission to the first-ever Women in Business North America Summit in Atlanta from June 15 to 17. The event is expected to draw 200 to 300 participants from Canada, the U.S. and Mexico, under a pillar of the North American Competitiveness Workplan to improve women's entrepreneurship in the three countries. "This summit is a unique opportunity for all of us to collaborate in the same space. What a great way to build networks and forge partnerships," she says.
The summit will have a special focus on opportunities for matchmaking and mentoring women-led companies in innovative technologies across multiple sectors. These include the information and communication technologies, automotive, defence, water technology, cleantech, infrastructure/transportation, solar, life sciences, agri-food, chemicals and textiles sectors.
"It's a great opportunity for North American women-led businesses that are pushing innovation forward to get some attention," says Stockley, who assists companies in the fields of innovation and foreign direct investment as well as women in business at the mission, whose territory covers Georgia, Alabama, Mississippi, Tennessee and the Carolinas. Atlanta is a hub for international business and there are many global multinational corporations headquartered there, she notes, making it a great place for women entrepreneurs to make connections.
The Atlanta summit is happening immediately before the annual Women's Business Enterprise National Council (WBENC) National Conference and Business Fair, which this year is being held from June 21 to 23 in Orlando, Fla. The WBENC conference brings women-owned businesses in all sectors together to connect with major U.S. corporations. It is the largest conference of its kind, with more than 300 exhibitors at the business fair alone and 3,500 participating corporations.
In addition, women can also plan to attend the annual Go For the Greens business development conference for women entrepreneurs, which will take place in Orlando from September 22 to 24. It offers a smaller boutique conference environment, with plenty of opportunities for women to network and pitch to well-known U.S. companies.
SD initiatives and certification for women-owned businesses are "one piece of the tool-kit," she says. SD is a corporate initiative where companies source from businesses that are historically under-represented in global supply chains, like women-owned businesses. Many companies have consistently fulfilled their benchmark by increasing spending with women-owned businesses and continue to do so. BWIT creates opportunities for Canadian business women to take advantage of accessing such contracts through the trade missions.
"We're talking about billions of dollars that go toward diverse spend," Mousseau says. Through the programs, relatively small companies can end up dealing directly with the purchasing teams of multinational corporations. She suggests that anyone ready to export and curious about delving into new international markets should consider joining a trade mission and take advantage of supplier diversity as an entry route to major corporations.
"These trade missions allow Canadian delegates to join forces with successful business women and mentors from across Canada and the U.S.," she says, noting that the fact that a delegation of Mexican business women will join the Atlanta event "is a real example of breaking down trade barriers and easing access to new markets and new opportunities, which really bring positive results."
Women-focused trade missions are usually anchored on a major conference, she says, which "doubles the value." Attendees take part in meetings with buyers, mentoring opportunities, workshops and panel discussions covering myriad topics.
"Joining a trade mission provides access, opportunities and a realm of possibilities," she says. "It can even be as simple as being in the same elevator with someone from a company that is on your target list."
Susan Bincoletto, Assistant Deputy Minister of International Business at Global Affairs Canada and Canada's Chief Trade Commissioner, says that BWIT plays an important role in helping Canadian businesswomen secure contracts through supplier diversity initiatives. "It provides targeted resources and supports assisting women entrepreneurs in expanding their global footprint."
She says the services are fully customized. "Our insights, carefully tailored to each individual company and its objectives, can help you develop and pursue your international business strategy and make key decisions," says Bincoletto, who especially saw this philosophy in action in a BWIT trade mission she attended.
"I was blown away not only by the calibre of businesswomen who attended the BWIT trade mission, but also by how committed U.S. corporations were to integrate diverse suppliers into their supply chains," she says, noting that the excitement at the WBENC trade fair was infectious. "It's easy to be motivated toward success when you are in a room the size of two football fields with companies like Toyota, Coca Cola, Google, Macy's, Walmart, UPS and so many more."
Stockley says that businesswomen from Canada often end up meeting other Canadians to partner with when they travel to events outside of the country. She predicts that participants at the Business North America Summit will be busy every moment. "If they're not meeting, they're learning."
There will be structured networking breaks, for example, where attendees must connect to a certain number of women related to their field, "to motivate them to get out there and meet other people," Stockley says. A mentors' room will include representatives of the U.S. Department of Commerce, the TCS and BWIT, as well as small business associations, venture capitalists, lawyers answering questions and more.
"Most people don't realize the tools and resources that are out there and how they can leverage them," Stockley says, noting that women can learn from mentors about everything from creative financing to managing gender bias.
The summit is intended to empower, facilitate and support Canadian women-led businesses, through technology partnerships and global value chain pipeline/funding/export expansion opportunities. Topics include developing tools and resources, entrepreneurship and corporate strategy. "Our companies need technology partners to get to the next level and push innovation forward," Stockley says.
A group of 10 anchor companies attending the meetings will share their "innovation wish-lists" with the Trade Commissioner Service. "We will match these companies with our delegates to the summit who have the right technological innovations," Stockley says. "I've seen some of the amazing tech they're looking for right now. For example, everyone is looking for a greater connected life, in their vehicle, home, health care or education."
Registered participants who are preselected by anchor companies will be guaranteed a specific number of meetings prior to arrival in Atlanta, she says. Very early-stage companies will have a separate second track to follow, which will include opportunities to meet with mentors as well as local companies interested in early-stage innovations and investors.
She encourages women who attend trade missions to research in advance what target companies want "and how they can fulfil and even surpass their expectations." Learn about their SD programs, if they have them, size up the competition and be as direct as possible, she advises. "Don't sit on the outside of the room—go straight to the middle. Don't be intimidated; be comfortable about what you bring to the table."
The most critical element is a short profile that delegates complete in order to introduce their companies succinctly, she adds. "People won't read past a small text box. Make sure you have the salient points that will attract the decision-maker to you."
Mousseau says that trade missions present opportunities for business women to create strategic partnerships, where a large company and a diverse-owned enterprise combine to win contracts. "These transactions inflate diverse spend and create new economic development."
She notes that business women looking to take part in women-focused trade missions and events can apply to defer some of their costs under the brand-new CanExport program, offered by the TCS.
CanExport will provide up to $50 million over five years in direct financial support to small and medium-sized enterprises seeking to develop new export opportunities, particularly in high-growth priority markets and sectors. It supports a wide range of export marketing activities that women entrepreneurs can get involved in, Mousseau says. BWIT is also holding webinars where women can learn about elements of the program, such as activities that are eligible for the funding.
Visit the Canadian Trade Commissioner Service website and the CanExport program.
Twitter: #womenexporters
Subscribe to: E-magazine and RSS Feed

Use #CanadExport