Company sees "good years to come" in Argentina
When Energold Drilling Corp. arrived in Argentina a decade ago to assist a mining company exploring for gold in a remote part of the country, the company found itself on familiar ground. The Vancouver firm specializes in modular drilling rigs for use in mining as well as oil and gas that are lightweight and have a minimum footprint, so they can operate in places without road access or where conventional drills are unlikely to be set up.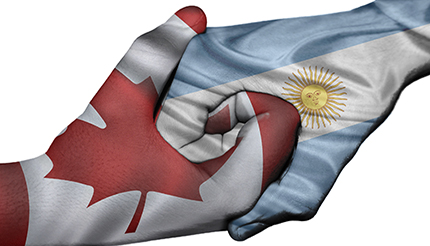 The terrain that the global company found in Argentina was similar to the land where it had developed its specialty drilling expertise in Canada, not to mention Argentina's massive size and concerns about reducing the social and environmental impact of its mining operations, which were also issues in the Canadian market.
Having found a huge need for drilling services in Argentina 10 years ago, the intervening years have served up economic volatility, government protectionism and a downturn in mining—not to mention a worldwide drop in commodity prices. Despite that, Energold is thriving in Argentina today, with a focus on developing new niches in the country and taking advantage of resources such as the Canadian Trade Commissioner Service (TCS), while it looks ahead to improvements in the country's economy under a new government.
"We're very positive that we will see really good years to come," says Christian Maudet, Energold's regional manager for South America, who oversees operations in Argentina, Chile, Peru, Colombia and Bolivia. The company is internationally recognized for its highly mobile, environmentally sensitive approach to drilling and currently operates more than 265 rigs in 25 countries worldwide, both modular and conventional drill rigs, providing services from early-stage exploration to mine-site operations.
Maudet comments that 80 percent of Energold's business is international and 10 percent of that is in Argentina, with new areas helping it create niches in the country. Energold diversified into the oil & gas market six years ago to drill for "frac sand" in the shale oil industry and is the only company in Argentina currently with that expertise. Energold also drills for "salars", which are brine lithium deposits found in Argentina, Bolivia and Chile. This requires highly skilled drillers who find the right combination of drill bits, torque, speed and additives to get a good recovery of the material. The international group also conducts geo-thermal, geo-technical and water drilling.
Canada is well-known in the exploration field, Maudet says. "That's our expertise. It gives your client a lot of confidence that we will bring the right technique, the right technology and the right people to do the job."
Having a speciality is important in a market such as Argentina, Maudet says. "If you do the same thing as everyone else, you will be more expensive. You need a niche," he explains. "We provide a service that other companies can't."
How to do business in Argentina
Christian Maudet of Energold Drilling Corp. offers some tips for finding success Argentina:
Develop local providers
Operate self-sufficiently but be on the same page with head office
Hire local personnel capable to work with head office
Evolve with the market
Constantly look for new niches related to your expertise
Learn and follow the local rules
Play fair and honestly—your clients, providers and employees will appreciate this
Argentina does not have a significant "mining culture," Maudet says, so his company sometimes has to take the time to educate communities about its processes and to offer reassurances that mining doesn't have to mean "that exploration companies land there, make huge holes and start production."
Maudet observes that Argentina's volatility over the last 10 years and the fact that companies could not easily import and export goods or get profits out of the country turned off many firms. "When you have a market that is in crisis, companies with little resources will spend money on safer places."
Energold hung on in Argentina and even grew, investing profits back into the country as well as hiring locally and buying products from providers there, including specialized equipment such as drill heads for its highly technical work. "We invested back in the country," Maudet says. "We believed that things were going to change and they did."
The company has vastly enhanced local capacities, Maudet says. When it started in Argentina, 90 percent of its drillers were Canadian; today all of them are local, and the company offers regular training in drilling techniques, safety and environmental issues, including for its clients.
He recommends that Canadian companies looking to locate in Argentina "learn the local rules," hire local people and bring local managers into the decision-making process. "We work as a local company and we act as a local company." Argentina is one of the safest countries the company is in, he says, although "you've got to be cautious there, like anywhere." The company develops strategic alliances with local players, combined with relationships developed by its head office in Canada. One challenge is Argentina's sheer size; Energold currently has offices in three parts of the country, and rigs and staff "all over the place," Maudet says. "You've got to be very efficient."
Argentina is also a good base for servicing its markets in the region, Maudet says, with good travel connections and a lower cost of living than in other parts of South America, as well as a ready supply of reasonably priced professional services. The company is represented by highly dependable and qualified advisors in the tax, legal, customs, banking and technical fields "that have allowed us to work without any unexpected events," he explains.
It's important to be ethical, says Maudet, commenting that "corruption happens everywhere worldwide." It is important to be known as a Canadian company that is honest, professional and cannot accept bribes.
"The TCS is very active in helping Canadian companies in the country, which includes getting them in touch with the right people," says Alejandro D'Agostino, a trade commissioner in Argentina who covers mining, oil and gas, infrastructure, electricity and transportation.
"The company has what it takes to succeed in Latin America," says D'Agostino, who notes that the company has developed Spanish-speaking abilities, grown a local team, deepened their understanding of the business culture, and can boast a marketing team that is close to its clients. The company has products and services that match needs on the ground and are sometimes customized for local situations. With relatively new products, "you're not only making a sale but also training your buyer," he says.
D'Agostino says that an important challenge for the company has been finding the right technical people and training them while it continues to grow. Keeping up its momentum while Argentina's economy was declining was also difficult. "Growing is relatively easy; keeping the leading position in a slow market is not," he says, noting that management also has to understand the potential of a market despite adverse conditions. "Energold's positive results are visible through their large current market share and excellent brand recognition."
Maudet says that trade commissioners help companies find everything from local partners to the right trade shows to attend. "They will guide you and they will give you references and they will check references and they will check with another trade commissioner on your behalf."
D'Agostino introduced Maudet to Argentine Mining Secretary Daniel Meilán while at a meeting of the Prospectors & Developers Association of Canada. Maudet says that Meilán has helped him to understand where the country is going in terms of mining and provided more confidence to continue investing in Argentina.
He expects that Energold will have more competitors in the future "but more competition will come with more business," he says. "We'll find and add another niche to our business, and serving that niche will require specific equipment that we can source or develop from scratch in Argentina."
The company for example has recently acquired in Canada a "directional drilling contractor" for use in construction, which could one day serve Argentina's massive infrastructure-building needs.
Today things are looking up for Energold and the sectors it operates in Argentina, with somewhat better prices for commodities "and a much better environment for sure" in the country, Maudet adds. "I'm very optimistic."
Contact the Canadian Trade Commissioner Service today.
Subscribe to: E-magazine and RSS Feed

Use #CanadExport