Paying the price: Confronting corruption in international business
It was the sort of news that might be welcome for a company bidding on a major public works contract in a foreign country. Having invested months of time and some $50,000 in the tendering process, JCM Capital was down to the fine strokes in the competition against nine other firms to build a 30-megawatt, $200-million solar power project there.
Coming at the last second before the submission deadline, however, the call from the company's local agent, saying that he knew exactly what the bid should be in order to win the contract, could only mean one thing.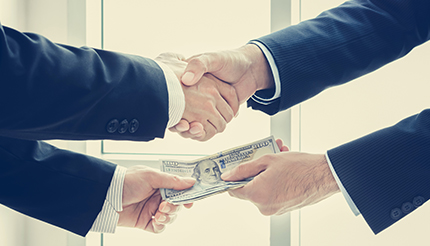 "He likely had inside information and there probably was corruption involved," recalls Martin Ritchie, chief compliance officer of JCM Capital, a renewable energy company based in Toronto that focuses on the development, construction and ownership of clean power projects. "It was obvious that he was interacting with the government official who was running the tender."
Such incidents are increasingly common—while coming under ever-greater scrutiny and generating alarming headlines—for Canadian companies doing business abroad.
"There's a huge cost to corruption," Richie says, noting that with technologies such as the internet and Skype, his company, which started six years ago and has just 20 staff, is able to work on massive solar-power projects as far away as Sub-Saharan Africa and Latin America.
"The world is getting a lot smaller, which also means we're competing with companies that don't have the same scruples we do," he explains. "At the same time, there's a major effort by governments everywhere to get business on a level playing field."
The challenges of corruption include the inefficiencies it creates and the fact that it corrodes public trust and slows the pace of business, Ritchie says. "You're trying to ship a piece of equipment and the only way to get it to your site is to pay off a bunch of people along the way…The amount of scamming and graft is astronomical."
The Organisation for Economic Co-operation and Development estimates that the cost of corruption equals more than 5 percent of global GDP (US$2.6 trillion), with some US$1 trillion paid in bribes each year. The World Economic Forum reports that corruption increases the cost of doing business by up to 10 percent, on average. Transparency International (TI) says that corruption in government procurement processes can add as much as 50 percent to a project's costs.
Alesia Nahirny, executive director of TI Canada, the leading anti-corruption NGO in the country, says that until just over a decade ago, paying bribes to win business or speed up transactions was widely seen as "a necessary evil." Then organizations started to put pressure on international bodies, while national governments signed on to various instruments such as the United Nations Convention Against Corruption. They also developed domestic legislation to fight bribery and corruption.
It's illegal in Canada
In 1998 Canada enacted the Corruption of Foreign Public Officials Act (CFPOA) which makes it a crime for Canadian businesses and individuals to bribe foreign public officials.
In the last few years, there have been several high-profile cases involving bribery of foreign public officials by Canadian companies, leading to hefty fines for them and jail time for their senior managers. The CFPOA was amended in 2013, including making it an offence to keep secret accounts to conceal bribery, while setting the maximum sentence for a conviction at 14 years.
Jennifer Rosebrugh, a senior trade commissioner who is part of a team that supports the worldwide Trade Commissioner Service (TCS) network, reports a renewed focus on helping Canadian companies avoid being ensnared in bribery or corruption when doing business abroad.
The TCS, as part of its effort to encourage responsible business conduct, plays an important role in raising the awareness of Canadian policy and laws relating to combatting corruption. Trade commissioners around the world can be a great help in explaining the local environment—and pointing firms to inexpensive resources to help them deal with corruption, she says. Trade commissioners who become aware of allegations of bribery involving Canadian individuals or companies are expected to report them to headquarters for referral to the RCMP, she notes, although the core of the TCS anti-corruption program is risk-avoidance. "We want to strengthen the company's likelihood of success—while doing business cleanly."
A widespread issue
Though demands for bribes were once considered to be localized to certain countries and regions, and paying them was considered normal business practice, Rosebrugh notes that "No region of the world is considered risk-free—even though increasing numbers of governments have outlawed the practise and impose significant penalties for those caught breaking the law".
Even those firms that have no intention of getting ensnared in illegal business practices can find themselves being pressured to do so—for example receiving online solicitations for business deals that seem 'too good to resist'. Or facing demands to pay bribes to clear goods or staff through Customs. Those unprepared for these sorts of transactions could unwittingly find themselves breaking Canadian law and at risk of prosecution.
Indeed, the reputation of Canadians as "clean dealers" can actually make them more attractive to those who seek to legitimize illegal dealings, Rosebrugh says, with their involvement serving to "white-wash" dirty practices. Companies may be lured in inadvertently, if for example they don't know the market or fail to carry out due diligence on those involved in every transaction.
The Trade Commissioner Service is focusing on helping firms avoid the dangers associated with corruption, and if Canadian companies get ensnared in cases of bribery "the risk to our brand is huge." Indeed, the worldwide reputation of a country's entire industry can be harmed, with competitors taking maximum advantage. "Everybody is painted by that brush. None of us who want Canada to succeed internationally can afford to let that happen."
Damage to credibility
Companies that have been convicted in corruption cases know what a great deal of work it is to rebuild their names and regain their market share and credibility in the public eye. Ritchie agrees that there are other issues for companies to consider beyond jail and fines, ranging from their dealings with development finance institutions such as the World Bank to concerns of employees and investors.
Many third-party agents on the ground suggest to Canadian companies that "you provide the money and we provide the contract, and don't ask us how we got the permits," Ritchie says. "It's obvious that something is offside." The local agent who had the inside news on how much JCM Capital should bid for the solar power project thought that he was doing nothing wrong by using his influence there. Ritchie's company, however, would have been vulnerable to any resulting scandal, fines, and criminal charges, not to mention loss of businesses.
While small firms sometimes complain they don't have the budgets to implement anti-corruption measures, there are a lot of valuable free tools and resources available to help them, including through the TCS.
A worldwide effort
There are increasing calls for Canada to get tough on wrongdoing by its companies abroad. There is also ever-greater attention focused on the issue, as corruption threatens the integrity of the financial, political and social systems.
Internationally there are greater efforts being applied to enforcement, including enhanced laws and demands for greater accountability and transparency. The business environment today is different than it was even five years ago when it comes to companies committing corruption. It's much harder to do it, and there's a higher price to pay if they do engage in corruption and get caught.
Sergeant Patrice Poitevin, a senior investigator and outreach co-ordinator for the Sensitive and International Investigations unit with the RCMP National Division, says that "there's a huge knowledge gap out there about corruption, especially among smaller companies."
Corruption is often perpetrated by agents representing Canadian firms on the ground, he says. "But wilful blindness is not a defence, and not knowing the law is not an excuse." All third-parties along a company's supply chain, such as subcontractors, distributors and franchisees, are included under the updated CFPOA legislation.
Once companies are involved in paying a bribe "it's a downhill road" to repeated episodes of extortion, he says. "You're announcing that you're willing to play the game."
Find out in Part 2 of this series how JCM Capital responded to the insider information that it was offered in the solar power project, as well as how it has made anti-bribery and corruption measures part of its corporate culture.
Learn more about the Canadian Trade Commissioner Service.
Additional resources
Canadian Centre of Excellence for Anti-Corruption
(This article was originally published in July 2016.)
Subscribe to: E-magazine and RSS Feed

Use #CanadExport