How to pursue opportunities with IFIs
The world's International Financial Institutions (IFI) support a market worth tens of billions of dollars a year—development projects ranging from massive infrastructure builds and training programs to disaster management.
IFI work can involve intense competition and stringent bidding procedures, yet Canadian companies of all sizes have had considerable success in winning such projects, especially in engineering and consulting services. The projects offer access to opportunities in emerging markets for Canadian businesses that have the commitment and capacity to pursue them.
Identifying, applying for and carrying out projects sponsored by IFIs, also known as multilateral development banks (MDBs) is an intricate yet rewarding prospect, involving meaningful work while requiring a good deal of expertise, local know-how and persistence.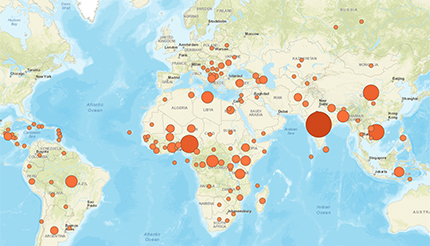 "IFIs are complex organizations," says Carolyn Cudmore, a trade commissioner in Canada's Office of Liaison with International Financial Institutions (OLIFI) in Washington, who is responsible for liaison with the MDBs there, primarily the World Bank and the Inter-American Development Bank. "It makes good business sense for Canadian companies to pursue this work, but they have to know what they're getting into."
Cudmore's office, in collaboration with OLIFIs in The Philippines, Ivory Coast and Barbados, as well as the wider Trade Commissioner Service (TCS) network across Canada and around the world, helps Canadian exporters looking for IFI-related work to navigate the market. The TCS provides everything from knowledge-gathering to matchmaking, introductions and intelligence about opportunities that firms can go after.
These efforts are especially critical to SMEs, says Mary Lynch, vice-president of the Canadian Association of International Development Professionals (CAIDP), which promotes and provides assistance on such opportunities. "IFIs can get you in the door," says Lynch, an international consultant based in Ottawa who works on private sector development issues in developing countries. "You have to become innovative about how you approach them."
While opportunities are enticing, this foreign market is not for the faint of heart, says Amber Mackereth, a consultant who specializes in international business development, with considerable experience supporting firms pursuing MDB-funded opportunities.
"The IFI market can be fiercely competitive," she cautions. "Canadian companies need to recognize that they are competing against some of the best companies from around the world."
These experts offer advice for Canadian companies and professionals looking for IFI opportunities:
Understand the market
IFIs provide loans, credits and grants to national governments for a wide variety of development projects. The borrowing countries use this money to purchase goods and services needed to design and implement these projects. Although Canada is a donor-member of MDBs such as the World Bank, Inter-American Development Bank, African Development Bank, Asian Development Bank, Caribbean Development Bank and European Bank for Reconstruction and Development, Canadian individuals and firms are not guaranteed work on these projects. Instead they are eligible to pursue these opportunities, along with firms from countries around the world.
There's a misconception that MDBs are procurement agencies that decide who wins or loses a contract, Cudmore says. Instead, most procurement takes place in borrowing countries by governments or executing agencies. Although the lending IFI and the borrowing government's executing agency have a role to play in a project's identification and planning, the executing agency is in charge of implementation and execution, while following the procurement procedures and regulations of the MDB.
Canadian firms looking to break into emerging markets can reduce some of their risk by pursuing IFI-sponsored projects, Cudmore says. IFIs are often "a fount of knowledge regarding both national and sub-national levels of government" in countries. "They are usually well-versed on the government's agenda and investment intentions regarding economic development initiatives. They also often have a very good understanding of the economic and political landscape in a country."
Offices of Liaison with International Financial Institutions
The Canadian Trade Commissioner Service has Offices of Liaison with International Financial Institutions (OLIFIs) in four cities around the world where major IFIs are located:
OLIFI Washington (World Bank and
Inter-American Development Bank)
Trade Commissioner: Ms. Carolyn Cudmore
Tel: (202) 448-6416
Carolyn.Cudmore@international.gc.ca
OLIFI Abidjan (African Development Bank)
Trade Commissioner: Mr. Hartman Kouassi
Tel: (225) 20 30 07 56
Hartman.Kouassi@international.gc.ca
OLIFI Manila (Asian Development Bank)
Trade Commissioner: Mr. Christian Denter
Tel: (011-63-2) 857-9099
Christian.Denter@International.gc.ca
OLIFI Bridgetown
(Caribbean Development Bank)
Trade Commissioner: Ms. Tammy Brathwaite
Tel: (246) 629-3553
Tammy.Brathwaite@international.gc.ca
The TCS assists companies through outreach and educational events, raising the awareness and understanding of the mandates and operations of the IFIs so that firms understand the business opportunities available. It assesses companies' business development strategies and provides guidance if they're interested in pursuing work through IFIs. Much of this work is done in partnership with counterparts at the provincial level, through Private Sector Liaison Officers.
Lynch notes that as well as the "regular procurement" stream, where IFIs finance and supervise projects at the country level, they also have "corporate procurement," where a company might be contracted to work directly for an IFI, for example on monitoring and evaluation of projects that it supports.
There are also some new institutions and groups emerging in the development space, she notes. These include multilateral banks, such as the Asian Infrastructure Investment Bank and the New Development Bank (or BRICS Bank), as well as large foundations and trust funds that can be linked to IFIs.
Find the right strategies
Lynch says the IFIs serve different functions for different types of companies. "For some it's a vehicle to enter a developing country market, get their feet on the ground, understand the context and move into selling services and goods there," she says, while others "have the IFI as an end result. Working with IFI-funded projects and the TCS mitigates risk in entering developing country markets, since there are clear procurement rules and both can play a role in ensuring contracts are managed fairly."
Canadian companies must "do a lot of leg-work" to know what they're competitive in, Lynch advises. "You can't just say, 'I'm a wonderful consultant, what have you got for me?' You really have to know where you think you can place yourself and spend the time to investigate that market."
Entering a development market should be just one element of a company's larger international strategy, Cudmore says, noting that IFIs operate under a governance structure that offers companies "a greater level of comfort." The TCS suggests that to begin with, SMEs partner with and sub-contract for other companies, both at the local level (in-country) as well as at the international level. "It's a softer sell," she remarks, not to mention that companies can get extra points in evaluations of their bids if they have local representation.
Acting as a subcontractor is "a great way of getting into the market, or getting a chunk of the pie without having to meet all of the procurement requirements," Lynch says. It is also possible for a smaller company to become part of a consortium based on its specialties.
It's important to meet with key players at IFIs and make connections more broadly, Cudmore says, then focus on a particular area or service. "Identify your niche and target a geographic area where you believe you can have success. Know who your competitors are. Often a successful strategy is to work with them, to gain experience and a proven track record," she advises.
"View competitors as potential partners," agrees Mackereth, who has often seen Canadian companies go head-to-head in the IFI market, only to lose to a foreign consortium. "I can't help but think that our volume of contract awards would increase considerably if we had more partnering and clustering here at home." Pairing with more experienced companies also brings valuable tips and techniques for bid preparation, she comments, as you seek to win your first IFI contract.
Understand the mandate and goals of the institutions you may be serving, Cudmore says. Objectives such as the alleviation of poverty and the provision of appropriate conditions for successful economic development and growth help companies understand the motivation behind projects.
If a Canadian company is already strongly committed and successfully exporting goods and services to a developing country, bidding on IFI-supported projects there is a viable next step, she observes. IFI work can also be a launching-off point to get into a market in the first place.
Mackereth notes that most of the business development activity related to an IFI-funded opportunity is no different from any other export contract. "Companies need to build and maintain strong relationships in-market—not just with the executing agencies but also with local partners—and they will need to clearly demonstrate their value proposition and track record."
Pursue opportunities and make the right bid
Xuguang Huang, a trade commissioner at Canada's OLIFI in Manila, which liaises with the Asian Development Bank, says there are many resources "at your fingertips" to find out about opportunities and prepare a bid. For example, information can be gleaned from the multi-year plans drawn up by the IFIs in the countries where they have investment programs, detailing procurement plans and specific projects.
Before contacting a country's executing agency, companies should read all of the publicly available information on a project of interest. "MDB websites offer vast amounts of material," Huang says. "Equipped with this information, you can bring to the executing agency specific expertise or a technology that will help them address a stated need, solve a problem or contribute to a project's success."
Huang says most Canadian companies doing IFI work are involved in services such as engineering, project management, evaluation and monitoring, training, audit, public financial management, gender analysis or governance. "Canada regularly ranks in the top 10 countries regarding the provision of professional services to the IFIs," he says.
He encourages Canadian firms to visit MDBs if possible to establish face-to-face connections, noting that the OLIFIs are pleased to assist companies doing this. Each OLIFI also organizes a few events each year, he notes, which Canadian firms should consider participating in to gain knowledge and make contacts at MDBs.
When it comes to actually securing IFI work, "you have to be expert in submitting bids and winning them," he says. Although procurement processes and procedures can be fairly similar, take care to understand the bid package in your particular market of interest and project.
Mackereth notes that "increasing transparency at the IFIs means that contract opportunities financed by the banks are published globally, and attract a large number of submissions." When preparing Expressions of Interest and proposals for IFI-funded contracts, "attention to detail is critical," Mackereth cautions. "You want to make it impossible for the review committee to disqualify you, while at the same time distinguishing your company from the pack. Your submission must be driven entirely by the evaluation criteria and corresponding point allocation."
The TCS can help
The Canadian Trade Commissioner Service network and its Offices of Liaison with International Financial Institutions provide Canadian companies with intelligence, advice and follow-up when pursuing IFI-sponsored projects. This includes:
Assistance in understanding the various IFI organizations and their operations;
Meetings and briefings to discuss a client's IFI marketing strategy;
Identification of qualified key contacts at the IFIs, as well as advice on how to approach them most effectively;
Assistance with troubleshooting bidding procedures and procurement problems;
Up-to-date information on IFI developments, initiatives and opportunities;
Guidance on navigating through the vast amount of information that is publicly available from the IFIs; and
Outreach through in-market trade missions or in-Canada trade events and conferences.
Cudmore notes that companies interested in bidding on a project should "know what they are getting into," for example researching the political and socio-economic situation and the general environment there. "Is it a safe place? Is there conflict? What's going on there?"
Put company resources toward winning the bid, Cudmore suggests. "The business development staff within your organization could potentially give you a leg up," she advises. "If you're serious about getting it right, you've got to have people devoted to doing just that."
Being ethical throughout the bidding process is critical in the IFI market. "Be completely above-board, you're not going to pay a bribe," she says, noting that companies that have been involved in corruption can be de-barred from participating in additional IFI opportunities.
Face the challenges
IFI work can be taxing, Cudmore says, with hurdles that begin with understanding and navigating large international bureaucracies that have multiple mandates. And successful IFI contracts often mean operating in politically and economically challenging environments, countries with their own bureaucracies and arcane regulations.
Not only are IFI-funded opportunities highly competitive, it's increasingly common to find companies from borrowing countries vying against those from donor countries. These local firms usually have cheaper prices, notably with lower costs for overhead and travel, so outsiders "have to have strong technical skills to compete," Lynch says. "To go head-to-head with a developing country consulting firm is difficult," she notes, although an increasingly balanced approach among IFIs takes in factors such as quality and value for money. "It's an excellent trend."
While joining other companies can be a good strategy for SMEs looking to work on IFI-financed projects, Lynch notes that "you have to know who you're partnering with and trust that they're doing a good job." She once got involved with a weak partner and "ended up picking up the ball" on the project. "You have to make sure you have the same ethics, the same principles and the same quality standards."
The many checks and balances inherent in IFI procurement "can make for a long, drawn-out process," Mackereth says. "Companies need to be aware that the sales cycle will typically be longer than for other export contracts."
It can sometimes seem like the bidding process is being deliberately manipulated, she says. In reality, the executing agency might be struggling to understand and manage the process in accordance with the IFI's procurement guidelines and requirements, which are completely new to it, she points out. "Keep in mind that we are working in developing and emerging markets that are often resource-constrained."
Companies often do not have success in this field quickly, Huang says, which can mean getting short-listed but not actually winning a bid proposal. Most MDB-funded projects themselves are considered lengthy by commercial standards. It may take five to eight years for a project to be identified, implemented and completed. And after all that, "not getting paid rapidly for work completed can also be a problem," he warns. This is an area where, again, the TCS will be able to assist.
Seek help
The TCS network provides four key services for Canadian companies and institutions pursuing IFI business opportunities. It helps them prepare for markets, assess market potential, identify key contacts and assist in resolving problems.
"The TCS tries to ensure that companies approach these organizations with their eyes open, are experienced on the international level and understand doing business in challenging developing country environments before engaging," Huang says. "We also assist with troubleshooting when problems arise. We coach as companies work through being shortlisted yet not winning bids immediately."
Access to information can be difficult with some IFIs, says Mackereth, noting that the OLIFIs "play an instrumental role in opening doors for Canadian clients to obtain intelligence on projects and connect with the appropriate sources of information."
All layers within the TCS support Canadian companies in the IFI market, she says, from special events staged by TCS regional offices in Canada to introductions and help with bid submissions by trade commissioners in the field.
Lynch's organization CAIDP offers an online hub where companies can find out about IFI projects put forward by the OLIFIs, particularly for SMEs. "Within big contracts you can find lots of smaller possibilities," she says.
Bid again
Whether or not your company is successful at securing a particular IFI-related contract, it's critical to learn from and follow up on each opportunity—and look ahead for the next one.
Companies that get IFI work should seek out other opportunities in the country or region, including additional MDB-supported projects and contracts that might involve the project authority or perhaps the private sector there.
If your company doesn't win an IFI competition, "bid and bid again," advises Mackereth. "An initial foray into this market can be resource-intensive, and unfortunately some companies write off the market after only one failed attempt." That is a mistake, she says. Indeed, there's a lot to be gained from a losing bid in the IFI space, for example in the form of feedback for future endeavours. Short-listed companies are entitled to a debrief by the executing agency in-country under the procurement guidelines. She says that this is something that many newcomers are not aware of, and that losing companies often don't take the time to get, but it can be very helpful.
"Although the competition is fierce, and the process for competing for IFI-funded contracts can be cumbersome, the more one competes, the easier it becomes to comply with submission requirements," Mackereth explains. "In my experience, Canadian firms, especially SMEs, are easily intimidated by this market."
She notes that Canadian firms have much to offer in the form of development solutions. "The IFIs present an avenue through which Canadian private-sector companies can build capacity in emerging markets and contribute to development initiatives, all while generating revenue and creating jobs here at home."
There is a growing realization among Canadians of the importance of IFI projects and Canada's larger place in them, says Lynch. "There is a pretty big market out there. It's a growing market, and it needs everybody working together on it."
Through IFI work, Canadians "are finding unique solutions to some major development problems. There's a tremendous opportunity to be engaged in big international challenges," Cudmore says.
"This is not quick turnover business, and if your company is looking for quick wins, working with the IFIs is not the approach to take," she adds. "Your willingness to persevere and put in the time required for success is critical. It's a long game, it's not a short game. But the benefits can be tremendous."
For more information, visit our overview of International Financial Institutions.
Subscribe to: E-magazine and RSS Feed

Use #CanadExport