Projects with a purpose
The letter that came across the facsimile machine one afternoon in August 2015 raised an alarm in the offices of LEA Group Holdings Inc., a consultancy in Markham, Ont., that specializes in infrastructure engineering and urban planning.
The company had bid on three contracts to design and supervise the construction of remote trunk roads planned for Northern Mozambique, to be financed by the World Bank and carried out by the Mozambique Road Authority (ANE). LEA's bid for the work had been successful, based on its price and technical merit, and the company had been waiting to sign the contracts worth $5 million, some of the largest the ANE had awarded. But the faxed letter it received was a request for LEA representatives to come to a meeting in a week's time in the country's capital of Maputo to answer questions on tax provisions in their proposal. The letter was dated five days earlier, giving them just 48 hours to present themselves in the East African country.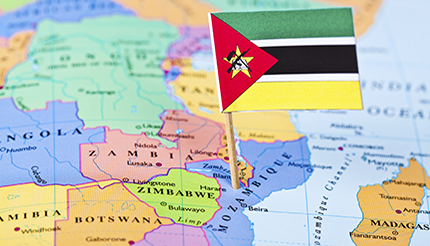 "We were very nervous," recalls John Farrow, chair of the company, which does 60 percent of its work in 10 foreign markets worldwide, almost three-quarters of it involving projects financed by International Finance Institutions (IFIs) such as the World Bank. "This was a big contract in a new country for LEA, and now we didn't know if it was going to happen."
Among his first actions after receiving the letter was to contact Lisa Pogue, a trade commissioner who works for the Canadian Trade Commissioner Service (TCS) at the Global Affairs Canada Regional Office in Toronto. Pogue got in touch with fellow trade commissioners at Canada's Office of Liaison with International Financial Institutions (OLIFI) in Washington, responsible for liaison with the World Bank, as well as at the Canadian High Commission in Maputo, who could make direct contact with the ANE.
Working late into the night and through the next day, the TCS and LEA sorted out the situation with the Mozambique officials, who finally declared that the tax meeting would happen a week from when the company had received the letter.
The situation is typical of the complications that can arise when doing work supported by the world's IFIs, as well as the help that the TCS can provide.
LEA, a 40-year-old private employee-owned company with 1400 staff, provides consulting and advisory services in project management, transportation planning, urban planning, intelligent transportation systems, infrastructure security and contract administration as well as transit, highway, road and bridge design to a wide range of clients in the public and private sectors. Farrow says it had mixed experiences working internationally until a dozen years ago, when it started narrowing its focus to markets where it could develop a stream of projects and open a permanent office.
"Everybody wants engineers to go and work there. There's a worldwide shortage of civil engineers, and we're in an infrastructure-building phase," he explains. LEA started exploring new markets through work supported by IFIs, which could provide market intelligence, ensure there was a fair and reasonable procurement process and get involved in conflict resolution, for example. The company also came to rely more and more on the advice of the TCS, which is "customized to the needs of Canadian companies." This way LEA could find places to operate where governments were reliable and procurement processes were above-board, interfacing with IFIs and getting a frank assessment of projects, Farrow says. "We want to know things like: Is the work risky? Is it safe? Will they pay the bills?"
LEA's first focus in 1993 was in India, which has a strong central government and national standards. The company set up a head office with local staff in New Delhi, a practice it has continued in the markets where it has business. Today it has 40 offices in 10 countries worldwide, 14 of them permanent offices in places where it anticipates a steady stream of suitable projects. India is currently responsible for 40 percent of its work.
"We enter markets cautiously with low-risk projects until we know we can trust the clients to act in a professional and efficient manner," Farrow says, noting that the TCS has played a major role in its country choices. "Some new markets can be risky, and the TCS helps us assess the risk and tells us which governments or government departments to be cautious with."
Tread carefully with IFI work
John Farrow, chair of LEA Group Holdings Inc. in Markham, Ont., says the employee-owned company has found success in the world largely working on projects supported by International Financial Institutions (IFIs) and with the assistance of the Canadian Trade Commissioner Service (TCS). It expands carefully into new countries and follows some essential criteria:
Is the client one we trust?
Will they treat our staff with respect?
Are they honest?
Will they pay our bills?
Are the projects worthwhile?
Do they operate with a reasonable level of efficiency?
Is the client reasonable to work with?
Are they experienced in managing and executing contracts?
Do they have an approved budget?
Is the administration stable?
Is the procurement process transparent and fair?
Is the project and the contract reasonable (taxes sometimes an issue)?
Will our staff be treated professionally?
Will our work be fairly assessed and will we get paid?
Can we develop a long term working relationship?
IFIs are particularly helpful when exploring new markets as they:
Provide market intelligence
Ensure a reasonable and fair procurement process
Ensure the projects are worthwhile i.e. environmental & social issues
Support professional project administration
Provide professional expertise
Get involved in conflict resolution
Some additional advice:
Review the IFI "country strategies" for the sector you're interested in
Meet with the IFI person responsible for the country to discuss what projects are ahead and how to best pursue them
Register as a "qualified bidder" to get notified of upcoming opportunities
To test the market, start with a smaller project and see how it develops before moving onto larger work
Get on the ground in developing countries, indeed open local offices there
Engage the TCS early to get market intelligence and advice and adopt a common approach. If your company has problems such as not being paid for work done, ask the IFI to help, as well as the TCS
The TCS offered valuable advice about working in Mozambique, for example, as well as giving LEA input when it wanted to pursue work with the roads authority in Ethiopia, where the company now has a number of contracts, he says. The TCS wants to ensure that Canadian companies are competitive and avoid risk in such places. "They are more focused on your well-being."
Pogue, the trade commissioner who is the company's direct contact with the TCS, is "an incredibly effective person," Farrow says, from her energy to seemingly being available at all hours. "It is very helpful to have someone like Lisa assisting us."
Pogue says that situations like the urgent interaction with Mozambique's ANE can occasionally occur with IFI work. "You have to be very proactive in removing all barriers," she says, noting that Canadian companies should be closely in touch with the TCS regarding IFI opportunities, especially as problems can occur. "When irregularities or difficulties arise, the timelines are usually short, demands are high and they require an immediate and informed response," she says.
Alexandre Côté, the senior trade commissioner in Maputo, who got involved in the LEA case, agrees that companies doing IFI work should have a long-term relationship with the TCS "so when there are issues we can deal with them right away…If you're not in the loop how are you going to play a role? You want to know what the expectations are and how you're going to approach each situation."
He says the TCS offers a team approach, both within its own global network and in collaboration with companies such as LEA. "That's the only way we can do it."
Côté says the fact that LEA has offices in Africa is helpful in navigating the local context, noting that Canada is a leader in terms of the trade and development nexus in Mozambique. "There's a lot of opportunity for Canadian companies to be engaged in development here."
Pogue says that companies such as LEA that are highly ethical often work through IFIs in difficult markets. LEA refuses to participate in any type of corruption. "We don't do it," Farrow says. Meanwhile the company considers local accounting, tax and legal expertise "very worthwhile" everywhere it works.
"We review contracts very carefully," he says, although warning that even when final documents have been signed there can be tweaks. "These things are large and complex, information is insufficient, there's got to be a good level of give-and-take." The projects also often happen in environments with unsophisticated and untested legal processes. "You're out on the edge of the world on some of these things."
When LEA thinks a tendering process has been unfair, it suggests that the TCS follow up, asking for an explanation of the decision. "The TCS provides an extra check to ensure that it was done the way it should be," Farrow says.
To plan ahead, LEA reviews IFI "country strategies" and discusses with IFIs how they see things unfolding, Farrow says. Getting involved in "technical assistance projects," which explore the feasibility of projects, is a good way to get in on the ground-floor and eventually secure larger, more complex projects. LEA, for example, completed a transportation study for Mumbai three years ago that is considered one of the largest undertaken.
Companies need to "understand the local situation" in the countries where they have projects and work with partners in the field, Farrow says. This is almost a requirement of IFIs, which are keen to enhance local capacities and transfer knowledge to the countries they support.
IFI involvement in development work brings expertise and enforces standards, he points out. For example this ensures that the mobile labour force involved in road-building projects, which are often remote and can go on for four or five years, are housed in proper work camps that are equipped with services for them and their families such as schools, medical facilities and places of worship.
In Mozambique, LEA's work on the three road projects is about one-third of the way through. Côté says that LEA at the same time is becoming a "trusted partner" in Mozambique, which bodes well for its place in the country. "Any company, especially in a market like Mozambique that has great potential, should enter the market with a long-term strategy. It's not a one-shot approach," he says. "Once they prove they can deliver, they're already identifying new opportunities and they'll get new contracts in the future."
LEA "navigates the IFI system well," Côté says, acting as a "champion for Canadian companies" in the field of infrastructure development. "You need to learn these things."
Farrow says that LEA wants to share its experiences with other companies and get them involved in IFI work, for example holding workshops on how to do business in India. It would like to see Canadian firms mobilize to form consortiums, under the auspices of the Government of Canada, to bid on larger projects. LEA is coordinating like-minded companies in the Greater Toronto Area, in collaboration with the provincial government, to talk about, share intelligence on and perhaps jointly pursue infrastructure work in India. For example, the country plans to redevelop 400 railway stations, which could provide significant business opportunities for Canadian architects, urban planners, engineers, real estate experts and property developers.
"We could form a team to pursue these opportunities," he says. Canada does not have the largest engineering firms to undertake massive projects, "so we've got to work smarter."
He says that LEA is "fortunate enough to be in the vanguard on this," but Canada in general "has a lot to share with the rest of the world in terms of how to do things," from its generous values to leading-edge technologies. The local engineers that LEA works with are often "younger, aspirational people who are very optimistic about their country and their country's future," he says. "When they're building those roads, they see the value in it."
The firm's work "is economically and socially significant, helping farmers and small businesses get their products to market," Farrow says, "These are engineers, they're not social workers, they don't work for NGOs. They're keen to build projects, but they want to work in a worthwhile environment."
Pogue says that LEA offers a good model for other Canadian companies, from its ethical dealings and pipeline of projects carried out through IFIs to its ability to pass on skills to people in the communities where it operates. Working in partnership with LEA and playing a role in the development projects it produces is meaningful for the TCS.
"Roads are the pipeline of industry, and they're teaching local folks how to do the work and how to do it properly. They are committed to the markets that they enter and they employ these same folks, giving them expertise and knowledge," she remarks. "If I can help a Canadian company sell a much-needed product or service into a second- or third-world country, and it's going to be well made and ethically delivered, I'm proud to do that."
For more information, visit our overview of International Financial Institutions.
Subscribe to: E-magazine and RSS Feed

Use #CanadExport