Businesses hit the ground running in Singapore
Canada has rich and varied trade ties with Singapore, making it a good starting place and a strategic hub to do business in Asia—particularly in the Association of Southeast Asian Nations (ASEAN) region.
For Canadian companies, Singapore cushions the jump into Asia by offering a lucrative and established market, a highly-educated, English-speaking population and strict adherence to the rule of law. This brings an ease of doing business that makes it a perfect starting point and base to capitalize on the growth in the wider area.
"If you want to do business in Asia, Singapore is a great place to be," says Dr. Shawn Watson, founder and CEO of Senescence Life Sciences, a Calgary-based start-up company that has expanded into Singapore. The company makes pharmaceutical and nutraceutical products for maintaining brain health throughout the aging process.
"We identified and found Singapore to be a strategic hub for expansion across Asia-Pacific," says Watson, a neuroscientist who is also a former executive director of the Canada-ASEAN Business Council. He moved to Singapore to launch Senescence in early 2015.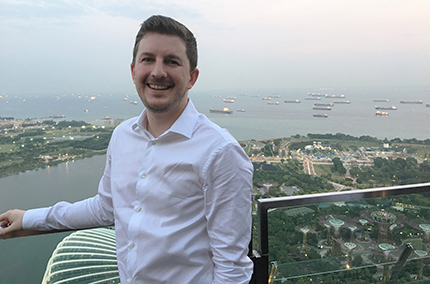 Dr. Shawn Watson, founder and CEO of Senescence Life Sciences
He says the country's no-nonsense style, combined with assistance from the Canadian Trade Commissioner Service (TCS)—such as introductions to the right contacts—made the transition exceptionally easy.
"We set up our whole company in Singapore in a day," says Watson.
Caroline Mourand, the trade commissioner responsible for cleantech, life sciences and education in Singapore, says the island city-state, with its population of 5.5 million and GDP of more than $374 billion, has a history of diplomatic and commercial ties with Canada dating to its founding in 1965. In 2015, the value of Canada's bilateral merchandise trade with Singapore was $2.46 billion. It's a sophisticated business centre, and a prime services trading partner for Canada, she says. Services trade between Canada and Singapore totalled $2.7 billion in 2014.
"Canada-Singapore trade and business ties are rich and varied," says Mourand, noting that Singapore is a financial services centre and most of the major Canadian banks and insurance companies have a presence there. Canadian agriculture and agri-food products are popular, transportation and aerospace giants are well represented and numerous Canadian SMEs are developing business there, as Singapore "positions itself as an innovation centre," she says.
Many global multinational companies have regional headquarters in Singapore, and this provides access to global value chains for the Canadian companies established there. Meanwhile, the Singapore government is placing increasing emphasis on science, technology and innovation, in areas such as advanced manufacturing and engineering, health and biomedical sciences, urban sustainability and the digital economy.
Pavel Bains, CEO and co-founder of Bluzelle Networks, says Singapore is a "great starting point" for firms in his industry. The two-year-old Vancouver company makes technology for the banking and insurance industries for functions such as real-time payments and identity management. "In Singapore you can hit the ground running."

Pavel Bains, CEO and co-founder of Bluzelle Networks
Singapore is among the top four global fintech centres and "every international business in finance is there," Bains says, noting that the government offers significant incentives to companies that show proof of a commitment to doing business there.
He says the TCS has helped with finding key contacts. Bluzelle also participated in trade missions to Singapore organized by the TCS in 2015 and 2016 and attended CommunicAsia, a major annual event for telecommunications companies where the TCS sponsors a booth.
"It helps when an introduction comes from them. You know the right people and make the right connections," Bains says. "They're really on it."
Richard Dubuc, the senior trade commissioner in Singapore responsible for financial services, trade policy, science, technology and innovation, says Singapore is "committed to building and establishing its reputation at the forefront of technology and research and development (R&D). It provides incentives and has put in place policies and programs to support this type of growth."
Companies like Bluzelle and Senescence are well-placed to succeed in Singapore, given that the nature of their businesses and industries align with the country's priorities, Dubuc says, adding: "Moreover, this is a dynamic region where Bluzelle and Senescence can have access to investors and markets in Asia, which are large and growing."
Singapore is also "a great entry point" to the rest of the region, Dubuc says. Working with local partners provides access to other markets in the region, while the start-up ecosystem is well-supported by incubators, R&D labs, accelerators, co-working spaces and more.
"Singapore is becoming a testing ground," Dubuc adds. "The government is embracing new disruptive technologies, and is constantly trying to lower the barrier to entry, by creating frameworks that would mitigate the risks without inhibiting innovation."
Singapore is not without its challenges, Dubuc warns. For example, government procurement there favours established vendors, which can pose a barrier for first-time Canadian SMEs, and the skilled labour market is tight. Being an open market, competition is stiff from international players that have had a local presence for some years, while companies linked to the local government enjoy preferential status for highly-visible projects or those involving national security.
Dubuc suggests Canadian SMEs demonstrate their credibility by showcasing their previous successes in Canada or elsewhere in the world.
"They should not expect to find their first customer in Singapore," he advises, noting that foreign firms also have to demonstrate commitment to the market there. "Appointing an agent or a distributor is good, but having a local or regional representative that stays in the same time zone gives an added sense of confidence to customers."
Mourand cautions that the cost of doing business and the cost-of-living, are high in Singapore. She agrees there is a preference for the Singaporean government to work with local companies and foreign companies already established there.
She suggests that Canadian companies take advantage of the different international conferences and trade shows that happen in Singapore, including the annual CommunicAsia (May 2017), the biennial Singapore Airshow (February 2018), Food & Hotel Asia (April 2018), Singapore International Water Week and Clean Enviro Summit Singapore (July 2018), and Medical Fair Asia (September 2018).
"These events are usually well-attended and provide an excellent platform for participants to meet the key regional players active in each sector, and to learn more about the market and the business opportunities that are available," she says, noting that the TCS is "happy to discuss and explore with companies the opportunities not only in Singapore, but how they can expand their business into other markets as well."
Ian Wilson, president of the Canadian Chamber of Commerce in Singapore, says the country is a tremendous regional hub and a safe place to live with excellent infrastructure, high-quality education and competitive tax rates for businesses and individuals.
"It's a virtual gateway. Companies that locate here can service the region," says Wilson, who is senior vice-president of hotel operations at Marina Bay Sands, a Singapore resort that includes a hotel, restaurants and space for meetings and other functions. Singapore, he says, is a "straightforward place to do business" that has "grown at a breakneck speed."
Many companies are moving their headquarters from Hong Kong to Singapore, given its ease of doing business and accessibility to Southeast Asia, Wilson notes, adding that by 2018 Singapore's Pasir Panjang shipping terminal is expected to become one of the world's busiest.
Singapore is committed to being a "smart nation" in areas like robotics and analytics to improve productivity, he says, adding these are "prime areas for Canadian companies."
"Canada as a brand is highly-trusted as an investment partner and a supplier of products from food to technology and commodities," says Wilson, noting that Canadians are known as stable trading partners.
"People love Canada and they trust products from Canada," agrees Watson, of Senescence. He recommends that Canadian companies make their base in Singapore. "It is an easy transition from Canada, both personally and professionally," he notes, although the cost of living can be formidable.
Bains, who comes from Vancouver, says the high cost of rent in Singapore is not much of a shock to him, and things like taxis and transit are more reasonable than at home, while incomes are greater. "It's a balance," he says.
Singapore's location, with major centres in Southeast Asia within a two to three-hour radius and all of China and India just four to six hours away, is ideal for Bluzelle, says Bains.
"That's where your customers are. There is a population of 600 million-plus in ASEAN, and in all of Asia Pacific you have 3.5 billion people," he adds.
Singapore is "incredibly multicultural," Watson says, noting that it's important to get beyond the ex-patriate community there to find the "hidden gems" and interesting culture. In business, patience and a long-term outlook are critical.
"Success in Singapore, and ASEAN in general, requires extensive relationship development. It takes time to develop a network and trust," he says. "If you think you can come here for a one-off trade show twice a year, I don't see it working."
He plans to "jump into" ASEAN neighbours including Thailand, Malaysia, Philippines and Vietnam, and into major Asian markets like Japan, Korea and finally China, with their ever-greater purchasing power and growing middle class.
Working closely with the TCS has helped Senescence meet distributors, investors and partners and conduct market research. "Simply put, if you are thinking about entering ASEAN, you need to connect with the TCS. It can get you to the right people to bring your product into the country," Watson says. "I use the TCS all across the region and they've been absolutely phenomenal. They can de-risk a lot of things for you."
Partnerships on the ground assist the company with various business issues including legal issues, marketing and sales strategies, developing "a local narrative," Watson says, noting that working with the TCS has "added credibility to our business...It makes a difference," in foreign markets.
He suggests Canadian firms also join local chambers of commerce, particularly the Canada-ASEAN Business Council, which can assist with things such as navigating local regulatory environments. They should also reach out to other Canadian companies established in Singapore. "Canadians in the region are very willing to help fellow companies succeed."
Bains says it took time for Bluzelle to establish its credibility in Singapore, but: "things are starting to pick up. People respect that we came from Canada and chose Singapore of all the countries in the region. You need to show you are committed.
"That means taking time to build relationships, set up an office and company. Otherwise people do not think you are serious and will leave quickly. If they think that, then they don't think it's worth any time to build a relationship with you," Bains says, cautioning fellow Canadians not to get frustrated.
"It doesn't happen overnight…You always want things to go faster," he says, noting that when things do get going in Singapore they can often proceed remarkably quickly. "If you have a good idea and you've had an introduction, they want to see you right away—Everything moves faster there."
Subscribe to: E-magazine and RSS Feed

Use #CanadExport