Canada-Korea Trade Agreement Anniversary Brings New Tariff Reductions
By Matt Fraser and Curtis Salati
Canadian businesses have enjoyed preferential access to the South Korean market since the Canada‑Korea Free Trade Agreement (CKFTA) came into effect on January 1, 2015, with approximately 85 percent of Canada's exports entering the country duty free. Under the agreement, a new round of tariff reductions will come into effect on January 1, 2017 raising the number of Canadian exports entering Korea duty free to 93 percent.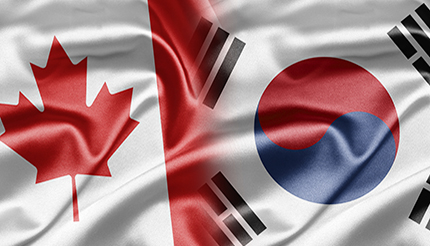 Korea is a major economic player and a key market for Canada. It is the world's 11th‑largest economy and the fourth‑largest in Asia, with an annual gross domestic product (GDP) of nearly $1.8 trillion and a population of more than 50 million. While Canada and Korea had previously shared strong commercial ties, the CKFTA has raised our economic partnership to the next level.
Since it came into effect, the CKFTA has generated new trade and investment opportunities for both countries, and fostered innovative partnerships. As a result, Canadian companies are able to take better advantage of Korea as a destination for goods and services. Agriculture; fish and seafood; education; information and communications technology (ICT); sustainable technologies; and, wood products are priority sectors for Korea in which there is tremendous potential for Canadian companies. There are also many opportunities for collaboration in Science, Technology and Innovation (STI). In the first year following the implementation of the agreement, bilateral investment reached $4.5 billion, while Canada's services exports reached $854 million.
Canadian goods exporters have also seen significant gains in several sectors. For example, in 2015 Canada saw an increase of 258 percent over 2014 in exports of soybeans to Korea. Exports of prepared potatoes increased by 136 percent; fish and seafood by 27 percent; softwood lumber by 27 percent; cosmetics by 23 percent; medical devices by 19 percent; and, scientific instruments by 19 percent.
With the new tariff eliminations on January 1, 2017, additional gains are expected. In fish and seafood for example, tariff reductions will create further opportunities for a diverse range of products such as frozen, fresh and prepared lobster.
The CKFTA is Canada's first free trade agreement in the Asia-Pacific region, and as such, a landmark achievement for Canada. The agreement solidifies Canada's relationship with Korea and unlocks new commercial potential.
The agreement covers most facets of modern commerce, including trade in goods and services, business mobility, investment, intellectual property, technical barriers to trade, and environment and labour. It provides a comprehensive foundation that solidifies the Canada‑Korea trade and investment relationship and helps render it more predictable. Korea can also provide a strategic base for Canadian companies to expand their presence in Asia, and across its supply chains—it's a gateway to the Asia‑Pacific region.
The Canadian Trade Commissioner Service (TCS) can help Canadian companies benefit from opportunities in Korea. Contact the TCS.
Subscribe to: E-magazine and RSS Feed

Use #CanadExport