New Fund Helps Great Ideas Thrive Through Global Partnerships
By Mary Gooderham
This article is part of a special CanadExport series exploring the links between business and exporting, and science, technology and innovation.
The "Valley of Death." For start-ups looking to develop products and services in the international market, it's a critical point: there are plans on the table, and it's time to get out into the world and move through the next stages of research and development (R&D) toward commercialization. "Bootstrapping" their ideas has worked until now, but money is tight; going abroad, while costly, is the best way to find global partners and venture capital or angel investors, as well as to get exposure to vastly more potential customers.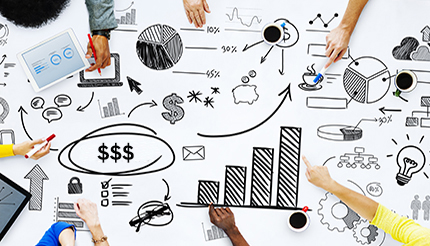 Going Global Innovation (GGI) is a new program offered by the Canadian Trade Commissioner Service (TCS) that gives such pioneering companies an edge they never had before. The unique initiative introduced in April 2016 provides Canadian innovators with funds to form partnerships and pursue opportunities abroad. The program gives "innovation–oriented" applicants the boost they need to move towards commercialization.
For Martin Forget and Grant Colhoun, co-founders of Okanii Inc., a Toronto company that makes financial services software, the program helped clinch a partnership with a leading global IT provider. The deal with Stefanini Group—which has 88 offices in 39 countries—could see Okanii's new technology implemented in the lucrative financial technology (fintech) industry in Brazil, and elsewhere.
"We needed help to get our technology to the next milestone," says Forget, chief commercial officer of Okanii. The company was incorporated in January 2015, based on acquired intellectual property in the fintech and digital currency space dating back more than a decade. Okanii had pursued Stefanini over the last year; the funds from GGI allowed it to accelerate its business development and make a renewed effort with the company at a major financial services conference in Brazil in June 2016.
"The relationship was on the edge of not happening. Because of GGI, we went out there at the right moment and were able to accelerate the partnership," he says. "An opportunity that may have been put on ice was actually revived and formalized."
Vanessa Podgurny, the trade commissioner responsible for GGI, says the program is designed to assist innovators from Canadian companies, non-government organizations (NGOs) and research institutions that hold "super-new" intellectual property (IP) that is not yet market-proven.
"This is the riskiest place on the technology commercialization timeline," Podgurny says, noting that eight out of 10 technologies at this stage—often referred to as the "valley of death"—fail. "But we learn more sometimes through our failures, and if it goes well, the returns are amazing."
GGI provides eligible applicants with up to $75,000 of a total project worth $100,000 over two years. The highly flexible funding covers eligible costs required to find the right partners and get a relationship off the ground in a local market, with the added assistance of the TCS every step of the way.
Through the unusual program, it is possible for the government, companies and the marketplace to learn, Podgurny says. "There's nothing else in the government that does this in the high-risk sphere in the value chain." The ultimate goal is for "innovation-oriented" applicants to find viable partners and sign collaboration contracts with them, such as non-disclosure agreements, so the two can then commercialize their intellectual property. "After you have a partner that is confirmed, other funding opportunities open to you."
International collaboration where both parties "have some skin in the game," brings a higher chance of commercialization success, Podgurny explains. "And once a Canadian company has gone abroad with a product, they can then go abroad again."
It's important for Canadian small and medium-sized enterprises (SMEs) with technologies such as Okanii's to get out into the world to develop them, says Forget.
"We have a global product," he explains. "Canada only represents two percent of the world's gross domestic product (GDP); 98 percent of our business model has to be about commercializing it globally and exporting it abroad."
He says that given Okanii's focus and limited resources, without the assistance of GGI it may not have been able to continue to go after Stefanini in Brazil and other export markets. "We're a start-up; we would have turned the page on this," he comments. "Instead it became a mega-opportunity."
Colhoun, CEO of Okanii, says their technology is a software platform that provides a digital representation of value in different types of transactions, and that it is cheaper, faster and more secure to use than other such digital currency products. The framework developed in Canada must then be licensed to and customized for banks to use, according to local regulations and standards.
"We have a system that is able to move money more efficiently," he says, which for example makes "micro-payments" for purchases such as individual page views of online newspapers possible.
The money that Okanii received from GGI is being used to help its implementation in Brazil, with the funds going to everything from travel and arranging meetings to setting up R&D partnerships with entities such as Stefanini, and possibly some banks.
Most importantly, Okanii participated in the International Conference for Banking Automation (CIAB) in São Paulo, an event focused on banking technology that draws more than 18,000 high-level executives from all over Brazil and elsewhere in South America. While there, Okanii had several meetings with Stefanini, one of the main event sponsors and a major player in the industry.
Claudia Kakunaka, the trade commissioner for information and communications technology (ICT) based in São Paulo, whose sectors of responsibility include fintech, digital media, edtech and cybersecurity, says that several Canadian fintech companies attended the CIAB. She says that there is increased interest in fintech in Brazil, where traditionally concentrated and conservative banks are looking for ways to innovate.
Okanii has heavily invested in R&D to develop an efficient, scalable and low-cost digital money solution, Kakunaka says. "Identifying a partner like Stefanini, one of the leading consulting service providers for the financial sector in Brazil, was essential."
Kakunaka says the partnership between Okanii and Stefanini is the result of a joint effort between several federal and provincial government departments and programs, adding the GGI funding in particular "was fundamental for the company's strategy implementation—including the travel to Brazil."
Without such support, many start-ups don't have the opportunity to develop foreign R&D partnerships, she notes. "Exploring international markets can be costly and time-consuming, especially for companies that don't have extra resources."
Colhoun says the next stages for Okanii include pursuing talks with a consortium of major Brazilian banks and recruiting more technology partners and merchants there to develop "use cases" for the Okanii model.
"You're creating a new industry," he says, so it's important to do research, understand the market and get the support of the TCS.
It can be challenging for a Canadian SME to distinguish itself in a crowded playing field like fintech, Colhoun says. Building on its success in Brazil, Okanii is exploring further foreign markets for its technology, for instance in the United Arab Emirates and the United Kingdom, where it also hopes to use funds from the GGI to set up R&D partnerships.
Forget says the TCS "makes the money go further," acting as an advance team, setting up meetings, doing legwork and adding prestige and credibility to Okanii's efforts. "The calling card of the Government of Canada goes a long way to open doors."
A lack of money can present a major barrier to companies such as his, Forget says. The money from the GGI program may not seem like a huge sum in business terms, but "considering there are potentially multi millions of dollars to gain, the return-on-investment is amazing," he adds. "Investors are now looking at us with a different eye."
Subscribe to: E-magazine and RSS Feed

Use #CanadExport