Program Cushions Landing for Technology Companies in The Hague
By Mary Gooderham
This article is part of a special CanadExport series exploring the links between business and exporting, and science, technology and innovation.
Home to Europe's largest security technology cluster and to industry giants, the Netherlands is also a highly competitive place to do business. Canadian small and medium-sized enterprises (SMEs) and "scale-ups" in this key industry are getting help through the new Canada-Netherlands Cyber and Security Technologies Soft Landing Platform at the Hague Security Delta (HSD). The two-way program designed to help smaller companies test the international waters for their products.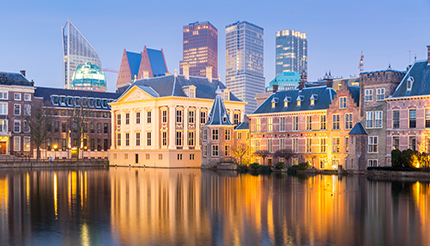 Managed by the Canadian Trade Commissioner Service (TCS), working closely with the Hague Security Delta (HSD) and other partners, the program provides a soft landing for Canadian companies in the Netherlands, providing guidance, connections and an advantage in the important and lucrative—yet complex—market. The program provides access to working space and tailored support over a trial period. This allows Canadian companies to establish new customers and partnerships and determine their readiness to go global.
Given that the Netherlands is a gateway to opportunities across the region, success there can open the doors to other European markets.
"We're well on our way to doing business in Europe because of this program," says Faud Khan, CEO and founder of TwelveDot Inc., an Ottawa company that recently participated in the soft-landing program.
TwelveDot provides security consulting and services that involve mobile, cloud and Internet of Things applications, evaluating and helping to solve security issues. Many companies and institutions are vulnerable to cyber security threats, Khan explains. TwelveDot conducts threat and risk assessments and in-depth testing and then offers solutions to deal with security threats.
Khan says he "hit the ground running" in each of his two visits to the Netherlands, meeting numerous people even on his first day in the country. "You're not there to sleep, you're there to go, go, go," he remembers. "The schedule was pretty full—it was phenomenal."
Khan had free space to hold meetings and participate in an HSD "soap box" program where speakers talk about who they are and what they do, which prompts further conversations.
The six-year-old firm, which has a staff of seven people, developed an international market "right out of the gate," he recalls, with early customers in California, Switzerland and Asia, and it is looking to expand its exports significantly.
"We really need a European presence," Khan says, noting that the Netherlands security market, with its "triple-helix approach" involving government, academia and industry, is best aligned to the company's goals and objectives and can also be a "hopping-off point" for markets like Africa and the Middle East.
Caroline Bolduc, the trade commissioner for science and technology in The Hague, says the Netherlands is considered a hub in cyber and security technology, especially given its excellent logistics and state-of-the-art digital infrastructure.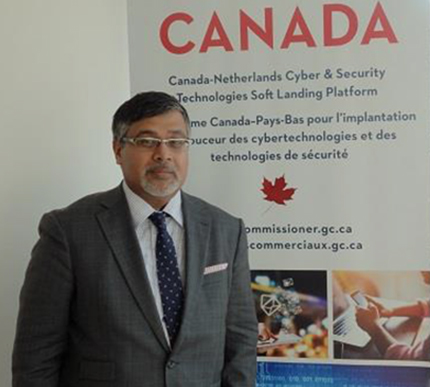 Faud Khan, CEO and founder of TwelveDot Inc.
"These strengths definitely qualify The Hague as the gateway to Europe," she comments, noting that a modern IT environment and the presence of the HSD cluster particularly make it a secure digital hub. The Netherlands also has an enormous import, transportation and distribution network built around the Rotterdam sea port and Amsterdam's Schiphol Airport, she notes. "In fact, much of Europe's well-developed and sophisticated distribution value chain originates here." Canada and the Netherlands have deep historical ties and a close trading relationship. Science, technology and innovation (STI) collaboration between the two is encouraged through mechanisms such as the soft-landing platform, Bolduc says.
The platform was developed over the last year to take advantage of the support offered in the Dutch cluster to Canadian SMEs, Bolduc says. "We realized the potential and extensive expertise of the Hague Security Delta as a hotspot for safety and security companies."
Hans Van Loon, a program manager at HSD, says the soft-landing platform, which also helps Dutch security companies explore opportunities in Canada, particularly in the Ottawa and Waterloo advanced technology clusters, allows SMEs with few resources to see what they can expect in a foreign market.
Canada is among the "friendly countries" that the Dutch authorities are keen to deal with, he says, while the Comprehensive Economic and Trade Agreement (CETA) opens the door to government procurement opportunities. "Canada and the Netherlands have a relationship that goes back a long time." The soft-landing program "is a way to connect to a cluster, to be part of a cyber-security or information and communications technology (ICT) community, and to have a trial period," he says. Canadian companies can see if the Netherlands is a good place to be, for example whether it's possible to hire good staff. "You get a feeling for what the possibilities are."
It can be challenging for an SME "to develop a potential customer and tell them the unique features of your company or product," Van Loon says, especially given the intense competition from local and international firms. Companies are looking not only for solutions, but also support, he adds.
"You need to be long-lived," he says. "It's about showing your customers that you're serious about being here and staying here. You need time and an investment to be successful."
Companies that participate in the soft-landing program can evaluate the market before making a move abroad, which is a "pretty definitive step," Van Loon says. Major companies and governments facing security challenges are keen to see what Canadian firms have to offer. "It's always good to broaden the possibilities."
Van Loon says that TwelveDot, for example, was guided by the local Chamber of Commerce in talking to interested companies, participating in events and taking in information sessions to learn the advantages of the region.
Companies involved in the Netherlands market "are always willing to share their leads," Khan says. "While there's healthy competition, there's also healthy sharing," he notes. Even if there isn't a connection with a particular company, "they're willing to give you all kinds of guidance," such as how to set up a business and take advantage of tax benefits. "There's no end to the benefits of this program."
Melanie ter Meulen, the trade commissioner responsible for ICT in The Hague, says the soft-landing platform "provides the tools, partners and programs to accelerate international opportunities for Canadian SMEs in the subsector." The platform's success originates from its strong and dedicated partners in Canada and the Netherlands, including the Innovation Quarter and the Dutch Chamber of Commerce as well as Invest Ottawa and the Royal Netherlands Embassy in Ottawa.
"It's a good start" for companies to identify potential channel partnerships, says ter Meulen, who is also the investment champion in The Hague, but it "obviously requires efforts beyond the soft landing period to actually materialize."
The Hague Security Delta
The Netherlands is a major hub for security technologies, with a turnover of more than $8.4 billion (about €6 billion) and 61,500 people employed in the sector. The Hague Security Delta includes three important regional clusters with their own areas of expertise:
Twente Safety & Security is particularly strong in nano technology, safety, radar and sensor technology.
The Dutch Institute for Technology Safety & Security, located in Brabant, is known for high-tech solutions and camera and sensor technology.
The Hague has a main focus on cyber security, forensics, national security and critical infrastructure.
Source: Hague Security Delta
The Hague, known as the "City of Peace, Justice and Security," is home to international cyber-security organizations such as the European Cyber Crime Center, Europol, the NATO CI Agency and a range of national organizations like the National Cyber Security Center, the Netherlands Forensic Institute and Fox-IT. HSD's campus facilities include a threat-intelligence lab and it hosts 43 organizations, including the Netherlands national police and the Dutch equivalent of Canada's National Research Council.
There is also a large network of investors in The Hague, ter Meulen says, and the Dutch have a unique model of cooperation and a strong record in business that Canadian companies can benefit from. "They understand the importance of cooperation between government, industry and science and truly encourage innovation in the security domain."
Bolduc says Canadian SMEs that have participated in the soft-landing program say they improved their understanding of the Dutch market and received good tips on improving their business model and company pitch, given the "incurably outspoken" reputation of the Dutch.
"You can ask a Dutch person anything, and, sure enough, you'll get an honest answer," she says.
The Netherlands is an important link in Canada's storied military heritage, with Canadian forces having spearheaded its liberation at the end of the Second World War, and today the Netherlands is a constructive international partner for Canada. The Dutch are well-regarded multilateral players alongside the Canadians in the UN, NATO, OSCE and international judicial institutions headquartered in The Hague.
Canada-Netherlands bilateral trade reached $6.9 billion in 2015, Bolduc says, while the Netherlands is a key research and development (R&D) and innovation partner for Canadian firms, institutions and centres of excellence. There is an array of joint projects and programs in areas as diverse as urban planning and sustainable cities, global health services, agricultural improvement and green energy.
Khan says that strong historical ties between the Netherlands and Canada are reflected in the ease of doing business in the Dutch market, and Canada's technology is also well-known among the Dutch.
"They just want to talk to you there because you're Canadian," he says. "They have an appreciation for Canada at a higher level."
Canadian technology is also highly regarded in the Netherlands, Khan says, and Ottawa's technology corridor especially "has a reputation globally for producing good engineering and good engineering solutions."
Khan says the soft-landing program has connected TwelveDot to potential partners and clients. "The only challenge has been finding a company with the right fit that we complement and has the same corporate goals. While this is taking longer than anticipated, I would rather find a partner with which to build a long-term relationship versus making quick money."
TwelveDot is still in discussions with several companies that it was introduced to in the program. It has met about 15 organizations to date and signed three non-disclosure agreements with potential partners. The referrals to potential partner companies are still coming in. The goal, for TwelveDot, says Khan, is to open an office in the Netherlands.
Subscribe to: E-magazine and RSS Feed

Use #CanadExport