Computational Science to the Rescue
By Mary Gooderham
This article is part of a special CanadExport series exploring the links between business and exporting, and science, technology and innovation.
Technology being developed in Canada designed to help first-responders deal with natural disasters and mass emergencies is turning heads in the Rocky Mountain region of the United States.

Alex Ferworn with OPP canine officer and real dog wearing canine remote deployment system
(Photo: Jimmy Tran)
Dealing with natural disasters and mass emergencies can be a complex undertaking for public safety officials who need to consider everything from locating missing persons to mapping out the use of equipment and resources amid the chaos of a mudslide, earthquake or accident.
Computational science can be of great assistance in such crises, says Dr. Alex Ferworn, a professor of computer science at Ryerson University in Toronto. His Network‑Centric Applied Research Team (N‑CART) at Ryerson has developed techniques for search‑and‑rescue scenarios and disaster-scene reconstruction that are getting international attention, with assistance from the Canadian Trade Commissioner Service (TCS).
"The number of natural disasters in the world is rising, especially with climate change, and our technology is directly applicable to mitigating the effect of many of them," says Ferworn, an expert in the application of computational resources, theory and practice to improve public safety processes. "We are moving toward commercialization with the support of the TCS."
The N‑CART lab collaborates with many disciplines and officials including law‑enforcement, fire protection and other science and engineering practitioners, Ferworn says, "to push the boundaries of computer science." The lab focuses on urban search-and-rescue (USAR), which involves the location, extrication and initial medical stabilization of victims trapped in confined spaces due to natural disasters, structural failure, transportation or mine accidents, and collapsed trenches.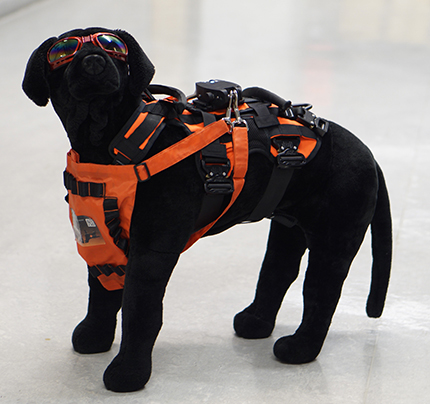 Plush dog wearing canine remote deployment system equipment
(Photo: Jimmy Tran)
The team's projects include algorithmic programs that help responders search an area more efficiently. Other projects focus on robotic devices that track search-and-rescue dogs and augment their ability to locate and help victims—for example by delivering packages of supplies to them. The research extends to applying techniques common in video gaming to allow even small communities to collect disaster-scene data with the use of specialized sensors and drones. This allows first-responders to plan search-and-rescue operations without being subjected to dangerous environments.
Ferworn has developed his suite of equipment—such as the canine remote deployment system (CRDS), which is patented and licensed—in collaboration with the Ontario Provincial Police and Toronto Heavy Urban Search and Rescue canine teams. It can be used to deliver water and food, radios or small "drop-and-explore" robots deep into problematic areas.
"Alex's technology is truly ground-breaking and can be applied globally. Disasters can hit anywhere, at any time, and emergency preparedness is key," says Jérôme Pischella, the senior trade commissioner in Denver, Colorado.
Pischella's team provides assistance to Canadian companies, universities and innovators in Colorado, Utah, Kansas, Wyoming and Montana, focusing on information and communication technologies (ICT), clean technologies, oil and gas, infrastructure, agriculture, aerospace and defence. Pischella met Ferworn in 2013 at an event in Washington, DC, where Ferworn was a featured scientist.
"I was amazed by his technology and how well he communicated about his research," Pischella recalls. He suggested Ferworn showcase the technology at another event: the Colorado Innovation Network (COIN). This event—held in May 2015—was organized by state Governor John Hickenlooper's Office of Economic Development. It focused on robotics, bringing together some of the brightest minds and thought-leaders from the ICT community.

Alex Ferworn with plush dog wearing canine remote deployment system
(Photo: Jimmy Tran)
Ferworn presented his technology to an audience of 200, following which Pischella organized additional meetings with professors at universities in Colorado and Utah who work in the field of robotics. There, Ferworn was introduced to the Field Innovation Team (FIT), a non–profit organization based in Park City, Utah, that specializes in emergency response.
Desiree Matel-Anderson, chief wrangler of FIT, says the organization provides "cutting-edge disaster solutions," going into emergencies and catastrophes around the world to help first-responders install and coordinate new technologies. FIT is adopting Ferworn's technology and is working to add additional capabilities to deploy it to world disasters—for example in Lebanon, as part of efforts to address the refugee crisis.
She says Ferworn came to the attention of FIT with his robotic harness that is strapped to a dog and can bring emergency supplies or devices to victims in emergencies. After attending a boot-camp in Utah, Ferworn is now among the FIT volunteers using their inventions to support first-responders in the field, Matel‑Anderson says. Through Ferworn's Disaster Scene Reconstruction-Emergency Management Tool (DSR‑EMT), computational data can help emergency management officials have better situational awareness, and respond accordingly, she explains.
"We want to take it to the next level," she says, with a goal to get funding in order to demonstrate the capabilities of the DSR‑EMT research on a larger scale and get it up and running. FIT's mission is to get such technology into the field, deploying in various situations.
"Our world is changing and it's changing pretty drastically," says Matel‑Anderson, noting that recent disasters in Canada such as the 2013 Southern Alberta floods and 2016 Fort McMurray wildfires are examples where such technology could be applied.
Utah is a good place to research and demonstrate emergency response capabilities, adds Matel‑Anderson, because it is prone to natural disasters from seismic activity to tornadoes and is the site of desert and mountain rescues.
The TCS organized a Utah business and innovation delegation to Toronto and ensured that the group—led by state Governor Gary Herbert—visit Ferworn's lab. This led to additional introductions to potential new partners.
Ferworn says there has been a synergy between his team and the TCS. It has helped him by providing the right venues to showcase his technology to potential partners and supporters, and in amplifying his message via social media and introducing him to possible partners in local universities.
"The TCS is a critical component in a new collaboration that has spanned the gap between Utah, Colorado and Ontario," he comments, noting that doing more research in the field results in a better product. "The ability to actually deal with this level of government and authority is unbelievable—I've spoken personally to governors of both states. To understand the needs at the highest level wouldn't have been possible without the TCS."
He says that through Pischella's "tenacious" efforts, there is a growing awareness of the importance of disaster mitigation through technology and the role that his lab can play, which will result in improvements in public safety in both Canada and the United States.
"The TCS really helped set the stage for a growing collaboration," he remarks. "Intangible things can result in relationships that are extremely valuable. The introductions and the visits I've made to Colorado and Utah are propelling my research forward."
Utah and Colorado are fast-growing states "with roaring economies," says Pischella. "They consistently rank in the top states for business and present a wealth of opportunities for Canadian companies."
Utah has an impressive innovation ecosystem and Colorado is home to strong universities, world-class technology accelerators and incubators. Boulder, Colorado, has the highest high-tech startup density of any metro area in the U.S., Pischella reports. It is also home to several U.S. National Laboratories, including the National Renewable Energy Laboratory, the only one solely focused on the development and commercialization of clean technologies.
Dealing with corporate matters can especially be challenging for researchers, Pischella warns. "Science and business are two utterly different worlds; innovators stand in the chaotic zone where those worlds collide." He advises innovators to build coalitions by finding the right partners.
"Alex's partnership with the Field Innovation Team (FIT), and with other scientists and entrepreneurs in Ontario, provides him with a better chance of seeing his technology commercialized and put to good use," he says, noting that Ferworn "knows his strengths and his weaknesses and fully recognizes he needs to work with others to be successful. Too often, innovators have great technology but want to be CEO, CTO and CFO—which is a recipe for failure. Alex is working with the right cadre of partners to succeed."
Access to capital is crucial at any stage of research, from initial phases to the so-called "Valley of Death," when start-ups are not yet profitable, he points out. "The TCS can provide access to venture capitalists, local technology incubators or accelerators, as well as guide innovators toward federal entities that might be able to help."
He notes that in the U.S., the TCS manages programs like the Canadian Technology Accelerators, which provide introductions, offer coaching and mentoring and help innovators refine their pitch, providing business experience they may not yet have.
He is optimistic that the Ryerson technologies will be put to use in emergency preparedness and response situations, among the many Canadian high-tech initiatives that the TCS is supporting in the region.
"I am passionate about science, technology and innovation, and extremely proud of Canada's excellence in this field," adds Pischella, encouraging innovators to contact his team. "The U.S. provides myriad opportunities. Partnerships between Canadian and American innovators take place organically, yet they can be enhanced—and sometimes saved—by working with the TCS."
Subscribe to: E-magazine and RSS Feed

Use #CanadExport