Canadians Design Machine to Rid World of Landmines
By Brigitte Audet Martin
As a child growing up in Cambodia, Richard Yim learned how to walk and talk and read and write—plus one very important lesson that children in Canada are not taught: stay away from landmines.
Unexploded landmines kill and maim thousands of people every year. According to the Landmine and Cluster Munition Monitor's Landmine Monitor 2016 report, 2015 saw a "sharp rise" in landmine casualties, with a recorded 6,461 casualties—up from 3,695 recorded in 2014. An estimated 110 million landmines are still in the ground. Cambodia is one of the most impacted of more than 70 countries affected by landmines, with a reported 64,000 deaths since 1979. An estimated 40,000 people are amputees—one in every 290—the highest ratio per capita in the world. According to the Cambodian Red Cross, half of landmine victims in Cambodia are children.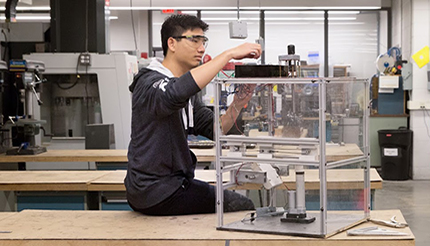 (Photo: Jim Ryce)
"There are people all around the world still living in fear of landmines and in Cambodia, a high percentage of the casualties are children—that is horrific," says Yim, adding that as a child he vowed that one day he would do something about it. "Ever since I can remember, I've wanted to work on something to help with the landmine problem."
In 2006 when he was 13 years old, Yim moved to Canada with his mother and older brother, who is now a nurse. Yim's mother, a doctor, wanted better education for her sons so that they could "make an impact" on the world. Now aged 23, Yim is a Canadian citizen and a graduate of the University of Waterloo's mechanical engineering program and he is ready to do just that: make an impact. He invented a machine to take landmines out of the ground, then founded a company: The Landmine Boys. The company is now getting ready to export its machines to Cambodia and around the world.
Moving to Canada fuelled Yim's desire to do something about landmines. "When I came here I saw a difference in the freedom from fear of landmines. Here it's not restricted, I can go anywhere—I don't need to be careful of where I walk. In Cambodia camping and hiking are not really 'a thing,' but here you can do that. The feeling is incredible."
In Cambodia, you risk your life when you walk off of a known path, says Yim, who was born in Phnom Penh. Cities are relatively safe, he adds, but in the countryside one must remember safe paths to places like hospitals and children need to memorize the safe path to school. Yim says his uncle, a surgeon, amputated the legs of landmine casualties on a daily basis in the 1990s. And while some of the mine fields have been cleared, he thinks urban sprawl may be the reason the statistics are showing a recent rise in casualties.
"It's very dangerous. When I went to different places with my family it was something that was always on our minds. From when we were very young my mom was always engraving us with the idea that you don't just walk around in areas that are unsafe—you can't just run in the field or play in the jungle," says Yim. "Here you teach kids not to take candy from strangers but in Cambodia children also have to learn not to step on a landmine."

Richard Yim
(Photo: Jim Ryce)
It was while studying in Waterloo that Yim started to develop his demining machine. "It was about two years ago that I came up with the idea. We had to do a big project for school and I wanted to work on something that would make a difference."
The group earned an "A" on their project, in addition to several awards—some with funding which helped to further develop a prototype.
"Our project advisor suggested the name 'The Landmine Boys' as we were a bunch of engineering guys working on the landmine issue and that's what everyone was calling us," says Yim, who graduated in 2016 and is now enrolled in the university's Master of Business, Entrepreneurship and Technology (MBET) program. "But the reason we decided to go with it is because it is representative of the children in landmine ridden areas who suffer in their day-to-day lives because of landmines."
Yim's enthusiasm for ridding the world of landmines rubbed off on fellow engineering student Christian Lee, a mechanical software and robotics programming specialist. Lee became Yim's business partner. In 2015, they brought the machine to Cambodia and met with representatives of non-government organizations (NGOs) involved in demining.
"Initially the project was to build a machine to simply neutralize a landmine without causing an explosion. We were working on the disposal phase. We brought the defusing machine to Cambodia, however after talking with multiple NGOs in Cambodia, we have greatly shifted our focus," says Yim. "I would love to say that we just had an epiphany one day, but that's not what happened. It was a lot of research."
Demining involves three phases: detection, excavation and disposal. The Landmine Boys are now concentrating their efforts on excavation—the most dangerous phase. Yim and Lee have travelled to Cambodia several times to perfect their technology. While detection is conducted using metal detectors, the current method to dig mines out is to use a hand shovel. It's a very delicate, step-by-step process, says Yim, who completed intensive demining training in Cambodia last year.
"You need to dig into the ground about 20-30 cm, then dig horizontally before using a prodding needle, very slowly," says Yim. The course took him right into a minefield. "I was scared. If you look at the numbers (of casualties) it's extremely scary. You probably have one or two metres of safe space to walk."
There are more civilian casualties than there are from demining efforts because the training helps, and because Cambodia's population is largely rural and many need to foray into the forests for firewood, Yim says. While demining efforts began decades ago, it is time-consuming, costly and dangerous, even with training those working to dig up mines are risking their lives, Yim says.
"We were just in Cambodia to do some testing on our equipment and the day before I flew out, there was an accident: a deminer was killed when the landmine he was working on blew up," says Yim. "I did not know him but I did a tour with that organization near the province where it happened."
The Cambodia Daily newspaper reported that a deminer from the NGO Halo Trust was killed in Pailin province on January 13, 2017, after detonating a mine while attempting to clear an area in the former Khmer Rouge stronghold. Loeung Reaksmey, 55, died almost instantly in a forested area near a village on the Thai border.
The Landmine Boys machine uses technology to penetrate the ground and dig around the mine, go underneath the mine and lift it out. "The key thing is allowing people to be far away and remove the risk of injury to humans," Yim says, explaining his machine does just that: the digging function can be set off remotely by operators 100 to 150 meters away.
It sounds logical and straight-forward, Yim says, however building something that's very small but has the ability to penetrate the ground was difficult. The Landmine Boys have patented their technology. They are considering naming the machine "Jevit," which means "life" in Cambodia.
"We were very happy and excited to see it working. It's a simple machine, but making it simple was the difficult part," says Yim. "The next step is to get funding so we can continue with our testing and production. We need to work faster so that we can put this technology into the hands of the people who need it to rid the world of landmines."
The technology may be more complicated than it sounds, but still, when asked why no one else has come up with the idea before, Yim agrees it is surprising. "It baffles me to think that they can put a man on the moon but no one had come up with a machine to get rid of landmines before," says Yim.
His theory is that those with money, education and other resources may not have first-hand understanding of the problem or feel enough of a passion for it. Those with first-hand knowledge of the problem may not have the resources to do anything about it. Yim says he has both, and that gives him a tremendous advantage.
"We were not just designing and building this machine in offices in Canada, we were in the minefield ourselves watching the demining process happen as we toured the minefield. You have to bring the technology and the knowledge to the problem to solve the problem," Yim says.
A university advisor in Waterloo recommended The Landmine Boys contact the Canadian Trade Commissioner Service (TCS). They did so in August 2016 with a ready prototype.
"One of the particularly exciting dimensions of the company is its composition: a team of recent engineering grads who are developing an innovative approach to defuse landmines," says Bunleng Men, a trade commissioner based in Phnom Penh.
Men says the TCS in Cambodia first briefed the company on the mine action sectors in Cambodia, then arranged meetings and made introductions to key players and high-level government officials, including the senior minister responsible for mine action in Cambodia. In Ottawa, trade commissioners introduced The Landmine Boys to representatives of sectoral and development teams of Global Affairs Canada, who met with the company and provided feedback and advice.
"We want to work with the TCS to see how we can bring this to Cambodia and other countries. We are a Canadian company, and these machines are built in Canada and even though I was born in Cambodia, it could be challenging to bring this product over," says Yim. "I don't know how to manoeuvre through the export process or even where to start. Bunleng was able to indicate where we need to go and who we need to speak to."
Yim says NGOs in Camdodia—some of which operate globally—have already expressed interest in acquiring machines from The Landmine Boys. The company is in the process conducting further testing to ensure their method of stabilization will safely pull the landmine without detonating. They are also working on obtaining additional funding to build more machines. Yim hopes to be ready to export globally in about 12 to 18 months.
"Canada has been an important player in demining efforts in Cambodia in the past and has helped establish some of the biggest demining operations in the country," says Men.
Canada has been a key player in efforts to ban the use of landmines around the world. In October 1996, a conference on the global landmine crisis was held in Ottawa. Lloyd Axworthy, who was then Canada's foreign affairs minister, launched an initiative which led to the signing of the Ottawa Convention in 1997. Formally the Convention on the Prohibition of the Use, Stockpiling, Production and Transfer of Anti-Personnel Mines and on their Destruction, the treaty completely bans all anti-personnel landmines around the world. Canada was the first to sign it, and 161 other countries followed suite.
Yim says he met with Axworthy a few times since 2015, and felt "fortunate to get his advice because of his work on landmines," and honoured when Axworthy mentioned The Landmine Boys when he spoke at an event in 2016. Yim recalls first hearing about the Ottawa Convention when he was a teen, having recently moved to Canada: "It made me incredibly happy."
Men says Yim's invention will improve and save the lives of people in Cambodia and around the world by making it safer for them to work and create a secure livelihood. When The Landmine Boys are ready to sell their machines, the TCS will be able to help them further with their endeavours to expand and export, Men says.
Cambodian Mine Action Center estimates up to six million mines remain in Cambodia. Landmines in Cambodia were placed by different governments and factions, including the Khmer Rouge and the Vietnamese military, during a civil war and other conflicts spanning three decades until the 1990s. Mines were laid to impede the passage of enemies, including a minefield barrier along the entire northwest Cambodia-Thai border.
The conflicts may be over, but the mines are still killing people, orphaning children and robbing families of their livelihood. Yim recalls his family experiencing such a tragedy when he was eight years old and his father's cousin died after stepping on a landmine.
"She didn't do anything to deserve that. A landmine was placed there, say 20 years earlier, during a conflict she was not involved in. She was just working on her land to grow vegetables," says Yim. "It's a family tragedy. We don't really talk about it, but I will never forget it."
Yim hopes in the future, landmines will be eradicated. "We have to take landmines out of the ground once and for all. Our machine will help to do that."
Subscribe to: E-magazine and RSS Feed

Use #CanadExport