Eye Researcher Sees Benefits of Business Networking
Attending a conference in early 2015 in Leipzig, Germany, Dr. Heather Sheardown had no idea that a chance meeting would suddenly propel her research forward.
Sheardown, a professor of chemical engineering at McMaster University in Hamilton, Ont., had been working for several years on longer-lasting mechanisms to administer medications to the eye. Her team studied improved delivery formulations using model drugs, but the research would benefit more from the costly and proprietary active ingredients currently given in injections to treat diseases such as age-related macular degeneration (AMD). AMD is a debilitating illness that can lead to blindness, which primarily affects the aging population.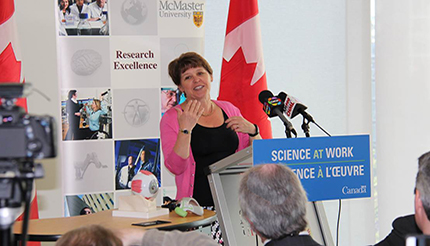 Dr. Heather Sheardown
Photo: Ron Scheffer
Thanks to a new collaboration with Bayer Pharmaceuticals, Sheardown's research could have an important impact in Canada, where AMD currently affects about one million people, as well as throughout the world, says Chris Begley of the Canadian Trade Commissioner Service (TCS) in Berlin. "This will result in a great quality-of-life improvement and cost savings, fewer trips to the doctor, as well as increased patient adherence."
As Sheardown spoke about her research and the issue of having to use model drugs rather than real ones with Begley in a side conversation during the Leipzig conference, she says a "light went off" for them both. Begley, who covers life sciences, ocean technology and financial services for the TCS, realized he could put her in touch with contacts at Bayer Pharmaceuticals, a division of the German health care and crop science giant Bayer AG, which has one of two major drugs on the market for the disease. He was soon making a connection between Bayer and the McMaster lab that would allow it to do research with experimental AMD medications in Bayer's drug development pipeline.
"We're now using a drug that's actually being considered for use in humans," says Sheardown, who holds the Canada Research Chair in Ophthalmic Biomaterials at McMaster and whose lab works closely with companies to commercialize academic research. "We have something real to work with."
Ophthalmic biomaterials act as "depots" or "packages" to deliver drugs to the eye. Currently patients who have AMD receive monthly injections in the back of the eye with a drug that stops the blood vessels from proliferating, a process that can be uncomfortable and comes with a risk of side effects. Sheardown says the goal is to find a mechanism to allow for injections every three or even six months rather than monthly—perhaps in the form of a gel that maintains the medication at therapeutic levels over that period and then slowly degrades and disappears.
"The delivery system has to be married to the drug," she says, therefore it's important to formulate that system around a real active pharmaceutical ingredient (API) to see how it performs. But academic labs typically find it difficult to use real drugs, which are not available off-the-shelf. Instead they have to be purchased, at great expense, or obtained through an agreement with the manufacturer.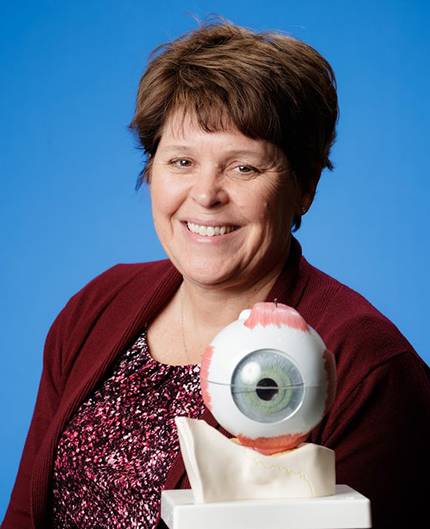 Dr. Heather Sheardown and a model of an eye
Photo: Ron Scheffer
Sheardown mentioned all of this to Begley at the Leipzig conference, an annual meeting of a foundation with which McMaster University collaborates. Begley subsequently met with Dr. Oliver Zeitz, vice-president of ophthalmology at Bayer, to discuss research links with Canada. When Zeitz mentioned that Bayer was interested in drug delivery for AMD, "my ears perked up," Begley recalls. He had actually done research before the meeting and knew Bayer had just entered into a partnership with Johns Hopkins University on AMD, including drug delivery. "So I was hoping that McMaster would have the same opportunity."
Begley suggested that Sheardown's work might fit into Bayer's research plan, and set up a webinar for her to present her research to the company, noting that the next step would be to test her lab's solutions with an actual API. In subsequent calls and negotiations, Bayer agreed to supply the AMD drug it has under development free of charge, becoming an active partner in Sheardown's research. The two set up a material transfer agreement that sets out the uses of the in-kind contribution from Bayer.
"I helped by being in the right place at the right time, and keeping my ears open," he says. "A lot of Canadian researchers don't realize that the TCS can assist in this way and that we often have connections with research-oriented multi-national enterprises. I didn't set out to assist Dr. Sheardown, but when the opportunity arose; I was able to take advantage of it."
The McMaster lab currently receives the experimental drug from Bayer and provides the company with updates on its research. Sheardown's goal is to do studies in tandem with the company, with research milestones for specific data and perhaps a financial relationship, helping to formulate the delivery system with a compound that would then go to market. "A drug-delivery system is much better if it's designed around a specific drug."
Finding a longer-lasting biomaterial mechanism for giving AMD drugs would make patients more comfortable and could make the medications more effective by maintaining them longer at an active concentration in the eye, called the "therapeutic window," Sheardown says. It could also increase the number of people who can use such drugs, for example they might be given to people with diabetic retinopathy, who are typically younger and not candidates for current treatments because of the risk of side effects.
"It's really exciting," she says. "It would have such a huge impact on the patient."
With her research using Bayer's new drug compound underway, Sheardown is pleased to have one of the world's most important eye-care firms as a partner in her lab. She sees tremendous potential in the collaboration.
"Just having Chris's contacts and Chris knowing people in Germany has certainly paved the way for us," she says. "It's great to be able to talk to companies. You have to establish a relationship; it's critical in any process."
Academic labs can have difficulty dealing with companies, Sheardown says, especially because researchers like her usually meet other researchers at industry conferences. "We don't tend to meet with the people who make the decisions."
She suggests that researchers "get out there and meet as many people as possible, and share your research interests. You never know when something can happen." Even chance meetings can often propel matters forward, Sheardown notes. "I was lucky to have met Chris. He had a connection with one of the major pharmaceutical—and in particular eye-care companies—in the world."
In science, technology and innovation (STI) in Germany, "there are many opportunities for Canadian companies and research institutions to build partnerships," notes Begley.
He says that McMaster is a good example of an international, research-oriented university to which the TCS offers assistance. As seen with the Bayer collaboration, assistance from the TCS can take many forms, Begley says.
Subscribe to: E-magazine and RSS Feed

Use #CanadExport