Using the power of nature to feed the world
Technology that improves the health and increases the yield of plants without using chemical pesticides or fertilizers is turning heads in the ag-tech world towards a small Canadian company focused on innovative and sustainable agriculture and food production.
Terramera, is a leading Vancouver-based agriculture biology and clean technology (clean-tech) company that develops high-performance plant-based products. The company develops safer, more effective solutions for public health, sustainable food production and bee health, by harnessing the power of natural plant defences against pests and diseases, says Karn Manhas, Terramera's CEO and founder.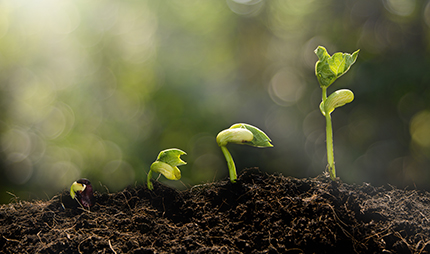 From solutions to kill bed-bugs to additives that promise to make organic farming cheaper and more abundant—the company's products have garnered considerable investment and attention from an international audience.
With the support of the Canadian Trade Commissioner Service (TCS) in Chicago, the start-up has raised nearly $20 million in a Series-A financing round led by Seed To Growth Ventures (S2G), a Chicago-based venture capital firm involved in sustainable food and agriculture investments. Series A financing is typically the first round of financing given to a new business after seed capital has already been provided.
"We have a lot of opportunities ahead of us," says Manhas. Terramera, established in 2010, today has 44 employees—double the amount from last year. "This investment allows us to continue our rapid growth, fund products to get to market and support Terramera's advancement as a sustainable technology leader."
Terramera has developed proprietary platforms that stabilize and deliver complex plant biochemicals such as cold-pressed neem, derived from a tropical evergreen tree native to South Asia. Its technology boosts the efficiency and performance of biological materials so that they work better than conventional synthetic chemicals at protecting against pests and disease while promoting plant health and increasing farm yields.
Its consumer line, called Proof, includes the only products registered with the United States' Environmental Protection Agency (EPA) that are 100 percent effective against dust mites, bed bugs and their eggs, Manhas says. Terramera's agricultural products, under development, increase the sustainability and profitability of conventional farms and can help farmers transition to organic farming practices.
Terramera was selected by the TCS in Chicago in 2014 and 2015 to participate in the Canadian delegation and program during the Ag Innovation Showcase, an annual conference in St. Louis, Missouri, where companies meet with venture capitalists (VCs). Manhas says the TCS offered tremendous support there, from holding pre-conference strategy sessions to helping Terramera hone its message, "which is not always easy to understand."
Terramera's technology addresses problems with so-called "biologicals," such as the fact that they often do not perform as well or as consistently as synthetic chemicals in controlling pests and diseases, and that they can be more expensive and difficult to use, Manhas notes. Putting all of that information into a short pitch and delivering it to the right people "was really instrumental for us," he says.
"We were able to talk to the investors and attendees about what the company is all about. We got a lot of interest, and that got the ball rolling."
The company's technology "is very attractive to farmers, as there is a big push toward sustainability and a healthy environment," comments Alexis Roy, a trade commissioner in Chicago. "One of the big challenges that our planet is facing is how do you feed a bigger population with the same amount of resources, or in some cases with less. Terramera tries to address this in a sustainable manner."
Roy helped the company with its pitch and provided important introductions. As an investment and innovation manager, Roy supports Canadian start-ups with their commercialization efforts—especially those focused in the agricultural technology (ag-tech) and life sciences sectors. He connects companies such as Terramera to resources in the region such as venture capitalists, coaches and mentors.
"The Midwest is considered by many as the epicentre for agtech," says Roy. "There is a real opportunity here for Canadian companies to meet the right partners to help with the commercialization of their technology, to bring it to market."
The region includes a mixture of large innovative and research and development (R&D)-intensive corporations such as Monsanto, John Deere, Dow and Cargill, and "investors that are seeking the next big thing" and innovative farmers who are willing to try out new technologies, Roy says.
Manhas says that the financing from S2G Ventures and other key investors—including ACA Investments, an affiliate of Sumitomo Corp., and Bold Capital Partners, Renewal Funds and Maumee Ventures—have exceeded his expectations.
"We were actually over-subscribed," he says, noting that the company originally was looking to raise $10 to 12 million and had offers for more than three times that amount. "We were in a very fortunate position. We were able to choose investors that are aligned with what we want to do and accelerate our vision."
Sanjeev Krishnan, managing director of S2G Ventures, says in a statement that the partnership with Terramera "is a natural fit" and will help the Canadian company grow.
The VC firm looks for companies that can take leadership positions in emerging and fast-growing sectors in food and agriculture.
"Biopesticides and biofertilizers, which currently represent a small but growing part of the agriculture inputs market, are the next frontier for sustainable agriculture," Krishnan says, noting that one of the key issues holding back quicker adoption has been performance. "Terramera has developed a technology that solves that, allowing current biologics to perform more effectively."
He adds: "Terramera is uniquely positioned to lead the market with technology and products that are natural, highly effective and most importantly, more economically beneficial to farmers."
Roy says Terramera's success has come about through the hard work and determination of Manhas and his team. "Karn is focused and passionate about his technology. I think these are two key ingredients for his success."
Roy says it's critical for companies to dedicate time and energy to the effort to raise money, "which is something that can't be done on a part-time basis" and needs to have strong technology behind it.
"You need to be focused; raising capital is hard work and time-consuming," he advises. "Your value proposition needs to be clear, concise. You need to differentiate yourself from your competition. Your technology needs to solve a real problem."
Manhas agrees. "The key thing from the beginning is to get a sense of what the level of interest is and the value of the problem you're solving," he says. Meanwhile, taking advantage of services such as the TCS and developing a relationship with the trade commissioners themselves is critical for small companies.
Terramera has "great support from the TCS," he says, with advice, introductions and connections set up from Canada to Chicago, New York and San Francisco and beyond, indeed wherever the company has looked for potential partners, investors and customers. "Certainly the TCS has opened up opportunities for us that we wouldn't have thought of or gotten into."
The company already has a huge export potential for its natural pest control consumer products, for example among key retailers in the U.S, Manhas says. It is now focusing on commercializing the technology in its pipeline, strengthening its business plan and scaling the business, with the help of the recent institutional financing. "We have a solid set of work over the next two to three years to execute."
He hopes to get the initial agricultural products out to market, which will generate revenues for the company, allow it to move into a wider field (for example Terramera is looking at prospects in India) and ultimately help it have a significant impact on the environment.
"The problems we're trying to solve are global problems. We're asking ourselves how we use technology and innovation to unlock the power of nature and natural materials so we can live healthier, make clean food affordable and feed the world," he says. "Those are big issues that affect everyone."
Subscribe to: E-magazine and RSS Feed

Use #CanadExport