Fuelling the Promise of Hydrogen
By Mary Gooderham
Technology that uses energy generated by renewable sources to create hydrogen for a wide range of applications is bringing a Canadian company contracts and notice across Europe and beyond.
Hydrogenics designs, builds and installs industrial and commercial hydrogen electrolysers and fuel cells. The Mississauga, Ont., firm is part of a consortium that is developing HyBalance, a "power-to-gas" demonstration project in Denmark, valued at about $21 million (about €15 million). The company is at the forefront to develop applications that could "decarbonize" energy that is stored and used around the world.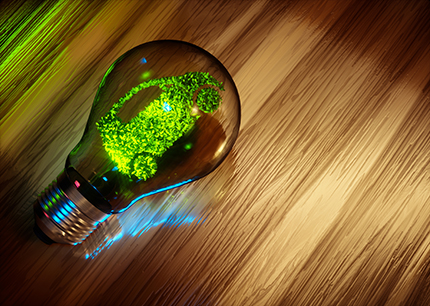 "We believe the time for hydrogen has come," says Denis Thomas, head of regulatory affairs and business development for Hydrogenics. The 21‑year‑old company has 170 employees, with operations in Belgium and Germany and sales offices in 10 countries in Europe, North America and Asia, making it "a global actor in the hydrogen field," he says.
Hydrogen has long been touted as a viable fuel source with no significant adverse effects on the environment—as in electric cars, for instance—but the industry has been relatively slow to develop and remains largely unknown, Thomas says. One key issue is that the advantages of the technology are "quite complex to understand," he notes, and there is a lack of education about the uses, and scant regulations to make it possible.
Hydrogen is produced via water electrolysis, which uses electricity to split water into oxygen and hydrogen. The hydrogen becomes an energy carrier that can be stored long-term (unlike electricity) and shipped for use in transportation, natural gas grids, industry and other applications. "The big issue is the source of the electricity used in the process, Thomas says, noting that in Europe there is a lot of interest in so-called renewable hydrogen—using renewable energy from wind and solar generation to create the hydrogen, also known as power-to-gas. This fits perfectly in the energy transition towards a low-carbon and renewable energy system," he says. Hydrogenics makes the electrolysis devices, or electrolysers, and fuel cells and storage solutions that are part of the process.
The company initiated discussions about the Denmark project during a workshop organized by the Canadian Trade Commissioner Service (TCS) in Madrid in 2015, says Nadia Rego Monteil, a trade commissioner in Spain. Rego covers the sustainable technologies, infrastructure and oil and gas sectors, which are an important part of trade and investment between Spain and Canada.
Hydrogenics has achieved a good reputation in Europe and in Spain, specifically. "They are considered a 'big name' in the hydrogen sector," Rego says. "They are also good at presenting the hydrogen alternatives to the regulators in advanced countries, which is critical to their market development."
Spain's energy system has two characteristics offering "great potential" for renewable hydrogen production, Rego says. "It's almost an electricity island, with limited ability to export to Portugal and France, and it has a strong mix of renewable generating capacity. The production of renewable hydrogen would be a perfect match to obtain a valuable, clean product that can be used as fuel or re-converted into electricity when needed."
The market for this technology is still in development, Rego says, "so demonstration projects are fundamental to prove to policy makers that it works and that it helps to achieve environmental targets. The challenge is to have a favourable regulation for this innovative solution."
Collaboration between industry associations has been "very valuable" in Spain, Rego says. The Canadian Hydrogen and Fuel Cell Association and its counterpart, the Spanish Hydrogen Association, signed a cooperation agreement in 2012. "This has been very useful to organize well-attended seminars, exchange opportunities for R&D and to get to know the contacts network."
Trade missions were organized between Canada and Spain, followed by the 2015 workshop in Madrid which allowed key business and government contacts to present the latest developments in hydrogen technologies. There, Hydrogenics met Air Liquide Spain, the Spanish subsidiary of the French multinational Air Liquid which supplies industrial gases to industries including medical, chemical and electronics manufacturers. It selected Hydrogenics to contribute its electrolysis technology to the HyBalance project in Denmark.
Thomas says the project, financed by the European Commission, takes excess wind energy generated in Denmark and uses it to create hydrogen, to be shipped to a network of refuelling stations. The contract was awarded to the HyBalance consortium in February 2016, with the start of operations expected in late 2017.
Thomas says the TCS has "really done a good job of helping us to penetrate new markets and getting us in touch with the right people" in places such as Spain, Sweden, Italy and Latin America, targetting electrical and transportation companies, for instance. "We try to organize events with the embassies to gather people from different sectors at the same time, as hydrogen is a real cross-cutting technology."
The TCS helps the company arrange meetings with local contacts and issues invitations, which "have added importance if they come from the Canadian government" and help attendees learn about the technology.
"It is quite a complex topic, and we are in the phase of educating people on hydrogen," he says. "It's better to put them in a room and explain it to all of them and then have individual meetings."
"One major challenge is the "fragmented" legislation surrounding the use of hydrogen, which is regulated only for industrial uses in most markets," he says. Demonstrations often assist local authorities in figuring out how to deal with the permitting process. "It helps to have experience."
The TCS network helps Hydrogenics to monitor and understand the regulations in each country, looking for "hydrogen-friendly mechanisms", as well as pointing out hydrogen-related conferences and helping the company secure a speaking slot there. "They help keep us informed—we can only say good things about them."
Thomas advises Canadian companies involved in such innovative technologies to invest time and energy to make them happen.
"Make sure you believe in your product or solution and then push for it and keep pushing, pushing, pushing until it's on the market," he says. "Don't be afraid to take a leadership position in projects and discussions."
Hydrogen technology "will be there in less than 10 years on a massive scale," Thomas predicts, although there is much work ahead. "We need to keep pushing," he says. "We are not only interested in short-term business opportunities; we have a long‑term vision."
It's not unusual for connections and networking to link together opportunities, potential clients and customers in different countries, even between continents, Rego notes, adding that looking "for opportunities for Canadian companies wherever they may be," is a TCS strength.
Subscribe to: E-magazine and RSS Feed

Use #CanadExport