Not Just a Travel Hub: Businesses Flying to Southeast U.S. Are Staying
A known travel hub and centre of transportation and agriculture, the Southeastern United States is also brimming with opportunities that make it a place to stop in for business rather than just pass through.
Stretching from North Carolina, South Carolina, and Georgia to Alabama, the Gulf of Mexico and the Mississippi Delta, the region boasts Hartsfield–Jackson Atlanta International Airport, the busiest airport for passenger traffic in the world. The diverse area also ranks high as a place to do business, with an influx of new industries that has reinvigorated and expanded its economic base.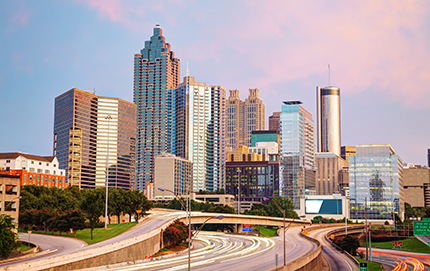 Enterprising Canadians are finding new demand for innovation—even in traditional sectors—as well as a friendly culture, tax incentives and other reasons to head to the Southeast.
"You've got a lot of creativity and innovation here," says Diane Alleva Cáceres, founder and CEO of Market Access International Inc., a trade, investment and enterprise growth consulting practice in Atlanta Ga. for companies and governments interested in the area. "There is quite a bit of growth in the Southeast that presents real opportunity to Canadians."
Business in the region also benefits from sophisticated infrastructure, legislation which encourages entrepreneurship, advanced education and lower costs for utilities, wage rates and materials compared to many other parts of the U.S., Cáceres says.
Trade is a big part of Georgia's economy, representing 31 percent of the state's gross domestic product (GDP), she says. Canadians are drawn to opportunities in agriculture business, transportation and service sectors, not to mention the state's mild weather and southern hospitality. "It's just easier to know people in the Southeast," Cáceres adds.
New clusters are developing in sectors such as financial technologies (fintech), the film industry, digital technologies, bio-technologies (biotech), medical technologies (medtech), aerospace and advanced manufacturing, Cáceres says, adding: "These are real things happening between the Southeast and Canada."
One company that has come to the region to do business is Xahive Inc., an Ottawa cyber security firm that works in sectors such as health care, law, and finance. The company had previously entered other U.S. markets such as New York. Company president Sem Ponnambalam was "introduced" to the Southeast upon attending a forum in Atlanta for businesswomen, an event organized by the Canadian Trade Commissioner Service (TCS)'s Business Women in International Trade (BWIT) group.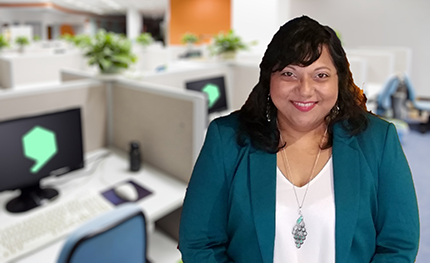 Sem Ponnambalam, President of Xahive Inc.
Ponnambalam liked what she saw in the region: "Georgia is the headquarters for a lot of Fortune 500 companies; we had opportunities to meet with UPS, Delta and more," she says. "Just being able to meet with the heads of these huge organizations was amazing, especially for an SME (small or medium-sized enterprise) from Ottawa."
Ponnambalam says it's less expensive to do business in Georgia than in other states "and it's a completely different culture. People are much more approachable; it's a different dynamic. Down South, they're super-friendly."
As an international hub, the region offers Xahive exposure to companies from many different sectors, all the while remaining relatively smaller and easier to penetrate than other U.S. markets, Ponnambalam adds.
The TCS helped the company by setting up guest lecturing opportunities at universities for Ponnambalam. It has also kept her up-to-date on special events and introduced her company to important contacts, she says. "I would not have been able to knock on UPS's door, on Delta's door, and say 'Hi, here I am.'"
The region has a population of 40 million, with an annual GDP of $1.8 trillion, says Lisa Stockley, a trade commissioner in Atlanta responsible for developing business opportunities for Canadian companies in diverse sectors in Alabama, Georgia, North Carolina, South Carolina, Mississippi and Tennessee. Tennessee is Canada's largest trading partner in the region, followed by Georgia, North Carolina, South Carolina, Alabama and Mississippi, she notes. In 2016, the Southeast's two-way trade with Canada was $51 billion, including $19.4 billion in Canadian exports.
While rate of growth can be uneven in the area, many cities lead the region: Raleigh and Charlotte in North Carolina, Nashville in Tennessee, Charleston and Greenville in South Carolina and Atlanta in Georgia, Stockley says.
"With strong logistic links, good representation of large companies and a diverse economy, the region presents expanding opportunities for Canadian firms to gain access to global value chains," Stockley says.
Major trends are driving the region's economic performance, she says. These include the adoption of new mobile information technologies—fintech, digital media and cybersecurity in particular—a strong manufacturing sector, particularly in the automotive and aerospace sectors, and in emerging creative industries linked to music, film and the gaming industry.
Georges Lemieux, the senior trade commissioner in Atlanta, notes that the region is home to several Fortune Global 500 companies and Fortune Global 1000 companies, and notably, Atlanta is home to the global headquarters of Coca-Cola, NCR, Home Depot, AGCO and the Southern Company, among others.
A recent development in the region has been the emergence of innovation-driven companies, especially multinational enterprises, fuelled by the large number of world-class universities there. These include the University of North Carolina, University of Georgia, Duke, Georgia Tech, Vanderbilt and Clemson.
"The region is also host to research centers and incubators, all offering opportunities to associate with Canadian startups with innovative products," Lemieux says.
Phillip Abrary, is president and CEO of the Vancouver-based Ostara Nutrient Recovery Technologies Inc.. The company recovers nutrients such as phosphorous and nitrogen from wastewater in large-scale water treatment facilities, including one in Gwinnett County, a suburb of Atlanta. Abrary says the Southeastern U.S. region is at the forefront of using such technology: "They want to do progressive things."
At the same time, doing business in the municipal sector there "doesn't seem to be as fast-paced," he says. "You have to be patient; you can't be a bull in a china shop. You have to understand the people and the culture and work with everyone."
The TCS was helpful as the company launched the facility in Gwinnett County, and continues to help as Ostara works to get a similar contract for a treatment plant in Atlanta, Abrary says. "It gives the company some credibility. You have the Canadian government standing behind this relatively small business that's trying to do business with a big city."
Steve Newell, senior vice-president commercial at TrueNorth, an SD company (formerly TrueNorth Avionics, recently acquired by Satcom Direct) based in Ottawa that specializes in business aviation cabin communications, internet and networking, says the firm has a strong presence in the Southeast transportation corridor. TrueNorth has a base of operations there and key customers such as Gulfstream, a Savannah, Ga.-based world-leading maker of corporate jets.
"It's pretty 'hopping.' There's a good business culture, and the hub is pretty complete in terms of who's in the Southeast," says Newell. The TCS, he adds, has been helpful in making introductions and is "always looking for new things" for companies like TrueNorth.
It's important for Canadian companies to establish themselves in the area "over a larger time-frame than most would feel necessary in other parts of the world," Newell advises. "The 'old-boy' networks are fairly strong. As an outsider, it always takes a little bit longer to break your way in."
Meanwhile, there are many benefits for TrueNorth for having a presence in the region. "We're close to the customer, the ease of business is high and the lifestyle is very amenable. You can play golf and tennis year-round," Newell says.
"The big plus is the weather, I have to admit," comments Ponnambalam, who notes that while there are opportunities in the Southeast, it's important to be organized when approaching them and determine your specific target or niche market. "You can't just go in and talk to them without being able to say how your company is going to provide a solution to the problems they have," she says, noting that Xahive will be working with local universities to train students in its new disruptive technologies.
Abrary recommends that Canadian companies looking to do business in the Southeast find an area partner or representative to work with: "You have a different accent, you come from a different part of the world: you need local representation so when you're not there they can put forward business on your behalf."
The effort put into working there will pay off, Abrary says. "Be persistent, don't give up—it's a good place to do business."
Cáceres says it's important to develop alliances with distributors and joint-venture partners in the Southeast. Challenges for exporters to the region include the fact that it is very competitive, depending on the industry, she says, noting that it's important to study the market to determine your competitors and the most effective sales channels to use.
"You have to know that you have the resources to stick with it and sustain the effort over time," she comments, recommending that companies visit the region to study the market, and develop relationships with buyers and distributors. "It takes time, but it will pay off in the long run."
Subscribe to: E-magazine and RSS Feed

Use #CanadExport