Global partners step up with innovation program
Potato growers in Canada and India will benefit from new technology to rapidly and easily detect pathogens in crops and seeds allowing farmers and seed-producers to quickly diagnose and control infectious diseases, and reduce the use of pesticides.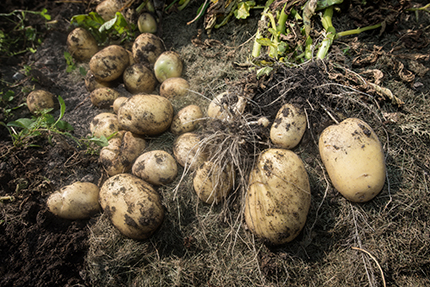 As major potato producers, Canada and India especially stand to gain from such capabilities, explains Dr. Alexander Stroganov, president of Lumex Instruments Canada. The Mission, B.C. company's microchip-based technology allows for pathogen diagnosis of potato crops and seeds in real-time.
Industrial research needed to get a new product or technology to market can be quite the undertaking—one that is even more challenging with partners in other countries. However, sometimes the missing link for success just happens to be on the other side of the world. Lumex is getting help with that from the Canadian International Innovation Program (CIIP). The company applied for CIIP funding under the initial call for applications in 2016.
The program, supported by the Canadian Trade Commissioner Service (TCS), fosters international industrial research and development (R&D) collaborations with a high potential for commercialization. Under the CIIP, Canadian entities can apply for support for research with partners in Brazil, China, India, Israel and South Korea—countries with which Canada has bilateral science and technology agreements.
Lumex is currently carrying out joint research with partners in India under the CIIP. The company is collaborating with the Central Potato Research Institute in Shimla, a government organization involved in potato research and development, and Arsh Biotech Pvt Ltd., a private company based in India.
Is the Canadian International Innovation Program (CIIP) right for your company?
You can propose to develop any new non‑military product, process or service.
You decide the way the project comes together, including its value, duration and proposed outcomes.
You choose your partner(s) from one of five CIIP member countries: Brazil, China, India, Israel and South Korea.
Specifically, the CIIP program can help Canadian companies:
Access support and funding for eligible innovative firms;
Access intelligence on technology and markets;
Identify credible partners via the Canadian Trade Commissioner Service (TCS) network;
Access new markets through technology partnering;
Leverage investment to de‑risk research and development (R&D) projects that support the commercialization of Canadian technology; and,
Reduce market entry risks, as well as the costs associated with technology adaptation, technology co‑development and technology validation.
CIIP may be right for you if:
You own or work for a small or medium‑sized enterprise (SME) that is incorporated in Canada, for‑profit, and engaged in developing technology for a new product, process, or service for civilian use;
You possess a desire and capability to source knowledge abroad by tapping into the global talent pool to address gaps;
You need to collaborate globally to adapt your product, process, or service to meet other global market characteristics;
Your technology or product offers advantages in a global marketplace; and,
You have the financial backing to diversify to new markets or could attract investment through development of your technology for global needs.
Dr. Maxim Slyadnev, head of the company's biochemical department, says Lumex has been working on the patented technology since 2009. The fact that India produces 47 million tons of potatoes and 3.2 million tons of potato seeds annually, ranking second in the world, and has potato research institutes and a library of pathogens, makes it a good place to validate Lumex's microchip kit.
The benefits of the project are many, Slyadnev says. It will help Lumex "reach out to wider market targets with an effective and proven solution," and will expand research about pathogens specific to Canada and India. He expects it will create substantial revenues and jobs as well as lead to new products and services. It will also help the company extend the technology to other fields such as other plant diagnostics, veterinary diagnostics and human healthcare.
Benefits to the world include improving the economics of the potato growing and processing industry, providing healthier potatoes and minimizing pesticide use and the burning of rotten potato seeds and crops, Slyadnev says.
Lumex has been developing and manufacturing laboratory and industrial analytical equipment and instruments since 1991, with customers in more than 80 countries in sectors that include the food and beverage industry, environmental analysis, agriculture and academia.
Among its products are microchip real-time polymerase chain reaction (PCR) analyzers, the most rapid, reliable and widely-accepted method for plant pathogen diagnosis. Dr. Sikander Gill, team leader of the collaborative project between Canada and India, says its goal is to develop, validate and conduct market evaluation on new types of testing kits that are faster, sensitive, specific, more economical and easier than current methods.
Stroganov says the project could "open avenues to apply this technology to other economically important crops like grapevine, banana, sugarcane and others. The know-how generated under this project will be highly conducive to expand this technology to other countries and application fields."
He encourages companies interested in pursing the CIIP "to dare to address issues of global importance," and to keep in mind developing countries and emerging markets related to vital needs such as agriculture and food production, energy generation, environmental protection and health care.
"I believe there is a big demand for innovative, efficient and affordable solutions and products in these countries and a lot of opportunities for innovative Canadian business," Stroganov adds. "Canada provides an excellent environment for growing innovations. The Canadian government and institutions support Canadian entrepreneurs in expanding their business worldwide."
The CIIP supports the creation, adaptation and validation of technologies involving Canadian companies and their international partners. It supports projects of up to $600,000, with a goal of assisting Canadian small and medium-sized enterprises (SMEs) to get their innovations out into the global marketplace.
The second call for proposals for CIIP projects closed on May 25, 2017, and an announcement of successful applicants is expected soon.
For more information visit the Canadian International Innovation Program (CIIP) page on the Canadian Trade Commissioner Service website.