Wind farm puts company on solid ground
A new wind farm on Pakistan's southern coast is helping the country improve its energy balance and giving a Canadian renewable energy company an important foothold in Asia.
The 50‑megawatt Hawa Wind Power Project, located in the Sindh province near the village of Jhimpir, recently went into commercial operation after a 15‑month effort by the Toronto‑based JCM Power in partnership with JS Group, a leading Pakistani investment and industrial firm.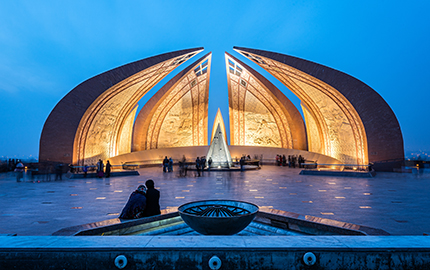 With assistance from the Canadian Trade Commissioner Service (TCS) in Islamabad, the project is enhancing Pakistan's green energy resources and bringing social benefits to people in the remote area, as well as establishing JCM's new Asian platform in the region.
"There is enormous potential for renewable energy here, and we plan on expanding our presence in the coming months and years," says Muhammed Ali, JCM's director for Pakistan.
Ali, who comes from Pakistan, studied electrical engineering in Canada and worked at Ontario's Hydro One, focusing on renewable energy connections to the provincial grid. Since joining JCM, he returned to Pakistan to apply what he had learned in Canada, overseeing the Hawa construction and grid interconnection.
JCM, which also has a global presence throughout Latin America, Africa and Asia, is dedicated to accelerating social, economic and environmental sustainability in growth markets through the implementation of renewable energy and transmission projects. The company develops projects, invests the required construction equity and takes longer‑term positions, with a view to efficient operations of the power plants. The company is currently developing more than a Gigawatt of wind, solar and transmission line projects in several countries in Latin America, Africa and Asia.
As part of its efforts to conduct due‑diligence on the Hawa investment, JCM contacted the TCS in Pakistan to help answer some queries from various local government and regulatory bodies. Seizing the opportunity presented by the rapid growth of green energy in the country and the independent power producer sector, JCM entered into the strategic partnership with JS Group in early 2017, acquiring a stake in the Hawa wind farm. "It was a good opportunity for JCM," Ali says.
JS Energy CEO Ali Syed, said in a statement that the Hawa project will strengthen the country's economy by reducing the energy crisis it is facing. There is also a positive impact on local communities around the project, which is providing employment, health and education services, he notes. "We do not see it as just two organizations joining hands, but two nations—Canadians and Pakistanis—coming together to build a cleaner world."
A global network of contacts
Khizer Abbasi, who assisted JCM with setting up the project agreement as a trade commissioner in Islamabad, first heard about the company from TCS colleagues who had assisted JCM in Latin America. "The TCS network around the world on a fairly regular basis interacts with each other about such clients looking for opportunities," he says.
Having the TCS involved in the search for projects to invest in brings credibility and better certainty, Abbasi points out. "It's making the right connections with the right people and organizations that are already in the sector."
Ali notes that there are challenges associated with working in the sector in Pakistan that the TCS helped to overcome, for example there is little information available online about government policies or even contact details for officials in the energy ministry, power authorities and land acquisition departments. He says that Abbasi and the TCS were a "one‑window shop" in the foreign market, helping the company make connections to players who are active in the energy market, as well as setting up meetings and clarifying numerous issues.
"Khizer got all our questions answered and he played an important role in the due‑diligence phase of our work," he says, accelerating JCM's consideration of the Pakistan opportunity. "He made phone calls to get us to the right individuals and get the correct information."
The TCS helps with any problems that arise, he explains. "Once the TCS is involved, the local government or local entity sees the Canadian government is putting their weight behind this investor, so they're more responsive to working out a solution."
Ali says JCM would like to be part of future renewable energy developments in Pakistan, following the success of the Hawa project. The firm plans to increase its pipeline of alternative energy investments to include as much as 300 megawatts of wind and solar projects in Pakistan and to expand its presence throughout the emerging Asian energy market.
His hands are currently full with "ironing out all the kinks" on the flagship Hawa wind farm now that it's operational, but there are plans for JCM to apply what it has learned there to its global portfolio.
"One of the things in emerging markets is you don't have enough information to begin with to have a detailed plan. That makes things more challenging," Ali says. "When it's happening for the first time you become the guinea pig, and things can take longer than anticipated. But they improve the next time."
Pakistan's "overall energy mix is so skewed," he says, that there are good prospects for alternative energy sources, "to bridge supply and demand." Such developing markets bring better rewards for companies like his. "Greater risk equals greater returns," Ali says, although Pakistan plans to introduce a new competitive bidding mechanism for renewable energy projects going forward, which could reduce profit margins.
JCM meanwhile is bringing its knowledge of the sector to Pakistan, which Ali notes has a nascent yet rapidly expandingeducation in green energy. "It's a strategic value that we have financial and technical expertise to offer in this market, and that makes us an attractive partner for any of the local entities working here," he says. "Not everyone fully appreciates the intricacies of how to efficiently operate a renewable power plant."
Incorporating corporate social responsibility
He says that as well as diversifying the power mix in Pakistan, addressing its acute electricity shortages and improving the environment, JCM is helping the country and the remote Jhimpir region through various corporate social responsibility (CSR) measures. The area is quite barren, he explains, with little employment beyond subsistence agriculture, which is dependent on rains that happen only every few years. JCM and several neighbouring wind farm operations are joining hands in their CSR projects so their initiatives are more strategic and long‑term.
The new developments include a road network, a school for local children, a 24‑hour paramedic service, opportunities for employment related to construction and security, a steady supply of water in tankers and individual solar panels for each home, so villagers can have electric lights and charge items like cell phones.
"We've definitely had an impact," Ali says, noting that local people now have a secure supply of everything from food and clothing to school books. "It's very satisfactory and welcoming when you see the happiness on their faces. It's a humbling feeling when you consider how things were and the changes we've been able to make."
From Islamabad, Pakistan, this story is one example of how trade commissioners located in more than 160 cities around the world help Canadian companies succeed.
Read more about the Humans of the Trade Commissioner Service.
Read Pakistan alight with energy opportunities.
Subscribe to: E-magazine and RSS Feed

Use #CanadExport