Pakistan alight with energy opportunities
Opportunities are coming to light across Pakistan, where wind and solar power projects are replacing thermal generation thus eliminating thousands of tonnes of carbon dioxide per year while leading to local jobs and improved access to energy.
Pakistan has long been a net importer of energy, with imported furnace oil and natural gas for power generation placing a heavy burden on foreign exchange reserves, especially given volatile oil prices and rising energy consumption.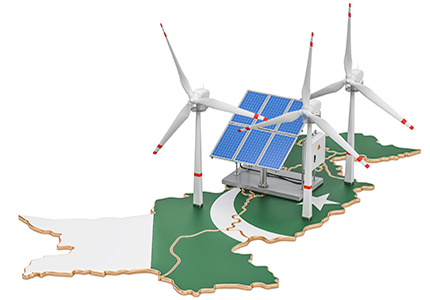 "As a developing country it is constantly facing power shortages," says Khizer Abbasi, a former trade commissioner in Islamabad. Pakistan's national and provincial governments have placed a high priority on alternative energy sources, such as solar and wind power, Abbasi says. "A lot of the potential for renewable energy has not been tapped so far in Pakistan."
Abbasi says the Hawa Wind Power Project—the one on which Toronto-based company JCM Power worked—is in one of two significant wind corridors in Pakistan. The size of the Hawa power station is significant—50 megawatts can put enough energy into the electrical grid to power thousands of homes he says.
Zohaib Khan, a trade commissioner based in Islamabad who covers renewable energy, says there is real potential for growth in Pakistan. Green energy is one of those sectors where Canadian industry has made its mark globally, "and it offers great technologies for countries such as Pakistan to increase power generation sustainably," Khan says.
The 2017 Climate Change Risk Index ranks Pakistan 7th among countries in the world expected to be affected by climate change. "Considering the persistent power‑deficit that has hampered Pakistan's economic growth, the country is in a race to meet its power needs," he comments. "With the immense potential to generate solar, wind and hydro power, Pakistan at this stage is a lucrative market for renewable energy players."
Canada and Pakistan have a long history of relations, with bilateral trade of about $1.1 billion a year, Khan says. Canada currently exports mostly lentils, pulses and canola to Pakistan, "however a lot of potential exists for increasing business‑to‑business relations between the two countries," Khan says. "Canada generally enjoys a good reputation in Pakistan, and Canadian technologies and standards are well appreciated here."
The Canadian Commercial Corporation signed memorandums of understanding with the provincial governments of Balochistan in 2016 and Khyber Pakhtunkhwa in 2017 to develop up to 1,000 MW of renewable energy in each of those two provinces.
Read Wind farm puts company on solid ground.
Subscribe to: E-magazine and RSS Feed

Use #CanadExport