Natural product back on track after "drug" vs. "food" debacle
Breaking into an international market with a unique product is difficult for a small Canadian company with limited resources, and having to re‑launch the product and then do it all for a second time is that much more challenging.
When it found itself re‑introducing its anti‑insomnia drink called ZenBev in Sweden in 2011, Biosential Inc. of Toronto had the help of the Canadian Trade Commissioner Service (TCS) in Stockholm. With TCS support at trade shows, in a marketing campaign and with efforts to find a new distributor and local manufacturer, the natural products company found its way back onto store shelves there. It also made valuable connections that have helped it in other countries.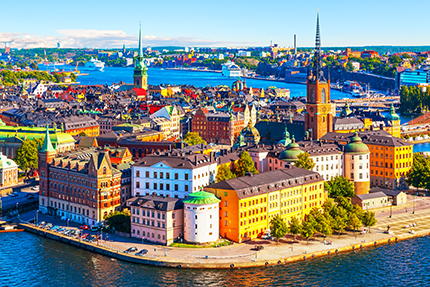 "We were back up in Sweden—and the TCS made all the difference," says Dr. Craig Hudson, a psychiatrist who is founder and CEO of Biosential. "They are really out there trying to make it work."
Hudson started the private company in 1997 with his wife Susan, now Biosential's managing director. With a permanent staff of just two people, the firm makes food items that have additional functions such as health benefits, a market known as "functional foods."
The first of these was a natural sleep aid that Hudson recognized a need for in his practice. Biosential developed ZenBev in collaboration with the Guelph Food Technology Centre at the University of Guelph, finding that a rich source of tryptophan, which is a precursor to melatonin, could be extracted from de‑oiled organic pumpkin seeds. These are milled, combined with dextrose and made into a powder for a patented anti‑insomnia drink that is flavoured either with lemon, to be mixed with water, or with chocolate, to be mixed with milk.
International sales began in 2005 and ZenBev did well in Northern Europe, especially in Germany and Scandinavia, which have a good acceptance rate for natural food supplements.
However in 2009, the product was taken off the shelf in Sweden following a concern from the Swedish Medical Products Agency that it was a drug rather than a food. Biosential successfully fought the measure in court. The product was re‑introduced within two years with a small change on the labels, Hudson says, although "we were totally flattened out… We were dead in the market at that point."
It was then that he discovered the TCS. Biosential was invited by Maria Stenberg, a trade commissioner in Stockholm, to participate in the Canada booth at a natural‑products show in southern Sweden, where he met with his former customers, mostly health food stores that had sold his products prior to the ban.
"Maria was very, very helpful," he says, arranging and hosting meetings with potential clients, helping Biosential with public relations and to find a new distribution partner that was a better fit for its small size. She also helped Hudson make connections through the TCS in other countries, including Denmark. "She really seemed to understand the market; she was prepared to do anything for us."
Stenberg, who covers natural resources, agrifood and creative industries, says the TCS was able to introduce the company to potential partners and give market advice and provide guidance.
"Biosential then did the work by vetting suggested partners," she notes. "Sending an e‑mail is rarely enough to build a relationship, so Biosential representatives called and then visited the market, which sent clear signals that it was committed to Sweden and it had long‑term intentions to invest in developing the market, together with its local partner."
Stenberg says Biosential's strategy "has been to work on different fronts, which I think is key to their success here." The company has participated in local trade shows, where its customers have the opportunity to sample its products, while also discussing benefits and addressing questions face‑to‑face, she says. "At the same time, Biosential has also engaged in a variety of social‑media campaigns, which I understand has been instrumental in raising awareness of ZenBev."
The Swedish market is advanced, Stenberg says, "with consumers ready to try new products." With a population of 10 million, it is the largest market in the Nordic region, albeit it's small compared to Germany and the United Kingdom. "It is also a friendly market that can work well for small and medium‑sized companies," she says. "Internet penetration is very high and social media plays an increasingly large role as a tool for both entering the market as well as communicating with consumers."
Historically, Canada has been a supplier of bulk commodities in Sweden, such as peas, beans, lentils and sweet corn, and Canadian seafood and shellfish are successful there.
"Also, more value‑added products known as being 'Canadian' are finding their way into the market," Stenberg says, and there is interest in food for health or food items that have added values and benefits, like those that have extra protein or are free from gluten or lactose.
The functional food segment in which Biosential is selling its products "can be challenging especially if there are health claims on the packaging," Stenberg cautions. "Hence, it's important to be aware of European Union (EU) and national regulations as they relate to both the functional ingredients and related claims."
She points out that for small companies, "there is always a challenge to get to the right people." The TCS can help in making the initial introductions and getting the attention of a buyer or partner. "It's important to build relationships and communicate the uniqueness and special character of the product," she adds. "The TCS can also assist in identifying the best local forums for visibility."
Hudson notes that Stenberg helped his company with setting up a licenced manufacturer in Sweden in order to make its product for the Nordic market, and she assisted with finding a warehousing distribution partner to fulfill online sales.
The main challenge is Biosential's small size, with a need to scale‑up and get on shelves in markets like Germany, where it hopes that through a major chain its "marketing can take root," Hudson says. "It's like going from mom‑and‑pop grocery stores into Shoppers Drug Mart."
Other challenges that the TCS is helping with include distance to market as well as language, culture and time differences, he says. "The trade commissioners are a key element; they're very energetic and they make calls at all hours."
Hudson especially advises small businesses to consider foreign customers for their goods, given the high reputation that Canadian products have in the world and the significant size of the international marketplace.
"If someone is distributing a successful product in Canada, they should contact the Trade Commissioner Service and see if there is a possibility of moving their sales abroad," he suggests, noting that having TCS representation in such cases is critical.
"With the trade commissioner or ambassador sitting in on a meeting, it really has a lot of impact," explains Hudson, who hopes that the new Canada‑European Union Comprehensive Economic and Trade Agreement (CETA) will help Biosential expand its market in the region.
It has now exceeded $1 million in European sales, but Hudson doesn't expect to stop there. He plans to hit the Australian and New Zealand markets next, as well as to make it into Hong Kong, Korea and Japan soon.
"We're still small but we're in good markets and positioned to grow," he adds.
From Stockholm, Sweden, this story is one example of how trade commissioners located in more than 160 cities around the world help Canadian companies succeed.
Read more about the Humans of the Trade Commissioner Service.
Subscribe to: E-magazine and RSS Feed

Use #CanadExport