Future of trade will be services
With exports from emerging economies becoming ever more sophisticated, Canadian exports will increasingly need to move towards sectors based on skills and knowledge—especially services.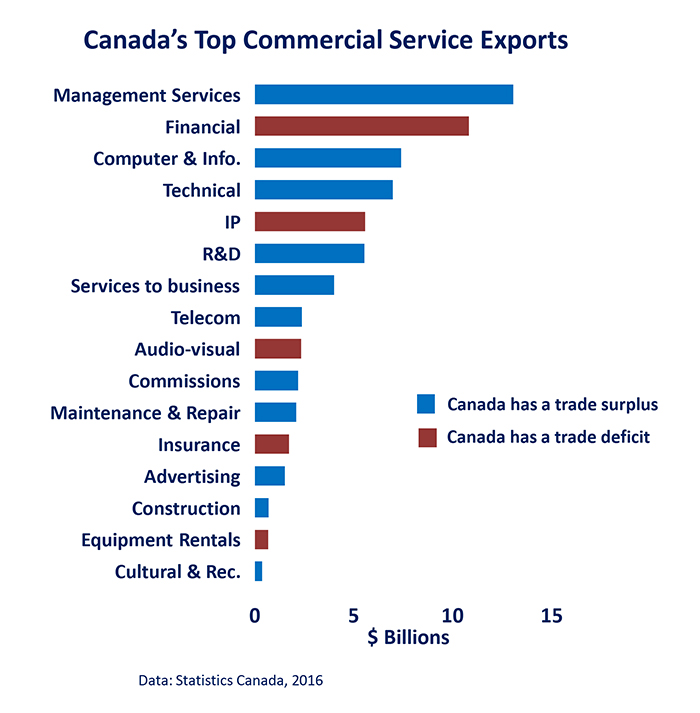 Canada's Top Commercial Service Exports

Services
Exports
($ Billion)
Management Services
13,065
Financial
10,813
Computer & Information
7,398
Technical
6,974
IP
5,574
R&D
5,532
Services to business
4,005
Telecom
2,390
Audio-visual
2,334
Non-financial commissions
2,189
Maintenance & Repair
2,098
Insurance
1,739
Advertising
1,511
Construction
698
Equipment Rentals
683
Cultural & Rec.
365

Data: Statistics Canada, 2016
Services already account for more than 70% of the Canadian economy, and include many high-skilled (and well-paying) jobs such as in information and communications technology, finance, and professional services. The share of services in Canadian exports, while still much lower than that in GDP, has risen steadily from less than 12% in 1996 to over 17% in 2017. On a value-added basis services account for an even larger 45.2% of Canadian exports—that is discounting that many goods exports include a lot of foreign content but also a lot of content that indirectly comes from the services.
Canada's top commercial service exports are management services, financial, computer and information technologies, technical services and Intellectual Property (IP) and Research and Development (R&D). Large export values indicate that these services are able to be competitive in markets abroad. Canada also has a trade surplus in many, another potential indicator of comparative advantage.
Despite these impressive figures, growing service exports further will not be easy. Growth in commercial services has been growing at a respectable average annual rate of 4.2% for the past 10 years, but this is down from 8.2% for the 10 years prior. What's more, most commercial service exports are intra-firm trade—that is trade that occurs between parents and affiliates of the same company, and is thus driven largely by foreign direct investment rather than traditional exporting.
Services will be essential to Canada's future export success, but it could be a challenging road ahead.
For more on Canada's services trade, see the special feature in Canada's State of Trade: Trade and Investment Update – 2018.
Subscribe to: E-magazine and RSS Feed

Use #CanadExport