German auto parts company opens North American headquarters in Canada
By Campbell Morrison
A hot investment lead from the Canadian Trade Commissioner Service (TCS) in Berlin has resulted in a new potential exporter with operations in Canada. A final visit to Germany by Windsor Mayor Drew Dilkens steered German auto parts manufacturer Paul Kauth GmbH to choose Canada for its expansion into North America. Company executives considered sites in Mexico, the United States and Ontario before settling on Windsor, Ontario.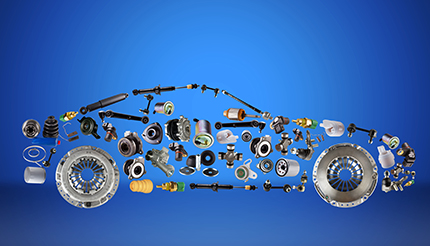 "Initially, this new location will serve as Kauth North America's distribution and warehousing centre with up to 25 employees with plans to eventually evolve and expand to include a manufacturing facility that will employ up to 350 employees," said CEO and company owner Christian Kauth.
"Kauth conducted an extensive search in a number of communities throughout North America and determined that Windsor provides the best business case and advantages to assist us to achieve our goals and growth in North America," he added.
"I would like to thank City of Windsor Mayor Drew Dilkens as well as CEO, Stephen MacKenzie and his team at the WindsorEssex Economic Development Corporation for they were instrumental in presenting the Windsor-Essex advantages and life-style strengths to us. We would also like to thank (TCS Senior Investment Officer) Detlef Engler with the Embassy of Canada in Berlin and the Ontario Investment Office for their support."
Founded in 1928, Denkingen-based Paul Kauth GmbH specializes in stamping and forming, developing and producing formed parts with integrated extruded holes, sub-assemblies and attachment systems. Its clients include BMW, Daimler, Volkswagen, Audi, General Motors and Magna. The company operates six facilities and employs 900 people. This is its first foray in North America.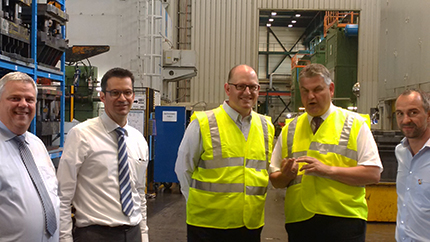 In Denkingen, Germany, from left: Steffen May, CFO Kauth North America; Christian Kauth, Kauth CEO and company owner; Windsor Mayor Drew Dilkins; Detlef Engler, TCS Senior Investment Officer; and Matthias Kaufmann, Kauth Canada Project Manager.
The company is starting with a facility located on the land of Windsor International Airport. It has also leased 10 acres of federal land, administered by the city, where it will establish the manufacturing facility. This greenfield investment also includes project engineering and a sales office for North America.
Canada's skilled and productive workforce, proximity and access to the United States, predictable social benefits, lifestyle and reliable transportation all contributed to the decision to select Canada. But the deal was truly sealed on July 18, 2017, when Mayor Dilkens went to Denkingen, Germany, to personally make his pitch.
"He was the only (mayor) to do this, and this was something for the Kauth family that impressed us, and was a big point for us," Steffen May, CFO of Kauth North America, told the Windsor Star newspaper. "We are a family-owned company and the feeling is something that's very important for us. It's not always the money, it's also the feeling."
Added Mayor Dilkens: "It was important for me to go over and show we were serious."
When the company and the city hosted a news conference in Windsor on October 4, 2018, to announce the $21 million entry into North America, it was the final leg of a journey that began more than 18 months earlier in Berlin when Engler learned of the company's desire to enter the North American market.
The investment lead was shared with the Investment and Innovation Bureau of Global Affairs Canada, the TCS, the Government of Ontario and several potential Ontario municipalities. But the lead was not exclusive. Mexico, Alabama and Georgia were also in the know.
"It was a true team effort," Engler said. "We worked seamlessly together from the investment lead generation in March 2017 to the October 2018 news conference that featured Kauth's COO, Steffen May, Windsor Mayor Drew Dilkens, Stephen MacKenzie, the CEO of the WindsorEssex Economic Development Corporation, and Essex County Warden Tom Bain. Everybody played important roles along the way."
In particular, the Ontario International Office in Munich, Germany, and John Thomas of the Ontario Ministry of Economic Development, Job Creation and Trade cooperated with Government of Canada officials to organize two investor visits to Ontario municipalities. Both governments also arranged investment counselling visits in Germany and kept in constant touch with those involved in both countries.
The final decision in favour of Windsor was heavily influenced by the personal commitment of the WindsorEssex Economic Development Corporation team who spent a year developing their relationship with Kauth officials and made sure that all requirements were met in time and to the full satisfaction of the company.
As Mayor Dilkens noted during the press conference, next up is a period of growth for the company with ongoing aftercare from its supporters, including the TCS. As Kauth looks to expand further into North America from its new Canadian location, the TCS and its vast network of trade commissioners will be able to help with market assessment and introductions to key industry players.
"This announcement has been over a year in the making and I extend my very best wishes to the team at Kauth as we embark on this new partnership—this new friendship—together. Welcome to Windsor."
Subscribe to: E-magazine and RSS Feed

Use #CanadExport