FDI Flows into Canada are on the rise
In the first half of 2018, Foreign Direct Investment (FDI) flows to Canada rebounded strongly, up 144%, compared to the first half of 2017. This large increase follows a period of divestments in the energy sector in 2017, including two large-scale sales by foreign investors to Canadian owners.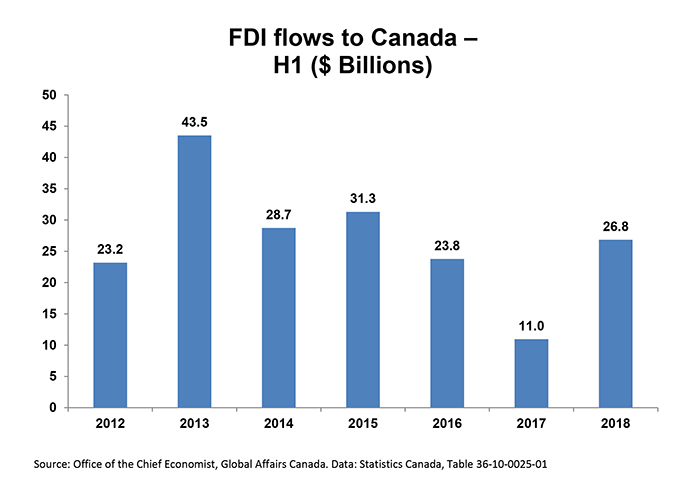 FDI flows to Canada – H1 ($ Billions)

Year
FDI Inflows
($ Billion)
2012
23.18
2013
43.53
2014
28.74
2015
31.30
2016
23.79
2017
10.96
2018
26.85

Source: Office of the Chief Economist, Global Affairs Canada
Data: Statistics Canada, Table 36‑10‑0025‑01
FDI flows to Canada had been on a downward trend since 2013, mirroring more or less the decline in global inward FDI flows since 2012, in part reflecting the fragility of the global economy, volatility in global financial markets, and weak aggregate demand. For the first semester of 2018, inflows to Canada are up despite global flows falling by 41%, the later largely driven by large repatriations of accumulated foreign earnings from affiliates abroad to US parent companies as a result of the 2018 US tax reforms.
Finally, it is worth noting that non-Merger & Acquisition (M&A) flows—which include greenfield and expansion/brownfield projects that have the potential to generate new capital investment and jobs—drove Canada's FDI flows in the first two quarters of 2018, reaching over 75% of the total, up from 57% in 2012.
The Upshot
While various stakeholders expressed concerns about Canada's competitiveness following the US tax reforms, from an FDI attraction perspective, flows to Canada have been strong for the first half of 2018 and mostly driven by non-M&A flows.
Subscribe to: E-magazine and RSS Feed

Use #CanadExport