Peace and perfume: one woman's mission to change the world
Twelve years ago, Barb Stegemann's best friend was attacked at a peaceful shura meeting in Afghanistan. Captain Trevor Greene had removed his helmet out of respect, when a teenage boy — acting for the Taliban — struck him in the head with an axe. Miraculously, Greene survived. And when Stegemann visited him in hospital, she vowed to take over his mission for peace.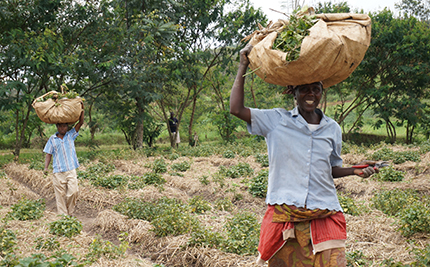 (Photo: The 7 Virtues Beauty Inc.)

(Photo: The 7 Virtues Beauty Inc.)
The question was, how? "I'm not a brave soldier or a world leader," says Stegemann. "I didn't really have a way to touch peace, and that frustrated me." But then she considered her influence as a consumer: "I thought, what if we harnessed this power to end the cycle of war and poverty?"
The idea inspired Stegemann to write The 7 Virtues of a Philosopher Queen. Drawing upon the wisdom of prominent philosophers, the book encourages women to use their buying and voting power for good.
But Stegemann didn't stop there. Keen to put her theories into practice, she discovered an unlikely weapon against war: perfume.
"I was still searching for a way to continue Trevor's mission," explains Stegemann. "Then I read about Abdullah Arsala, a gentleman growing orange blossoms and rose crops in Afghanistan for essential oils."
Arsala made a brave decision not to grow illegal poppy crops, which generate US$200 million for the Taliban every year. But his distillery was targeted as a result.
"The same people who attacked my best friend were knocking over Arsala's essential oils distillery"says Barb Stegemann, Founder, The 7 Virtues Beauty.
She knew this was her chance to make a difference. Stegemann founded The 7 Virtues Beauty Inc. in Halifax, Nova Scotia and set out to create fragrances, with Arsala as her first supplier.
Of course, engaging a supplier in a conflict-stricken country is no easy task. Concerned about safety, fair wages and working conditions, Stegemann turned to Global Affairs Canada (GAC) for help.
"I couldn't have done it without GAC, because they're on the ground," she says. "They're trained in development. They know that if you pay US$8,000 for a litre of orange, or US$12,000 for a litre of rose, you can get farmers off illegal poppies and give them twice the income."
With GAC's support, Stegemann has become Arsala's largest orange oil buyer — helping him double the size of his distillery.
Stegemann has always paid a fair price for oils, but the upfront costs presented a challenge at first. "No banks had heard of a social enterprise back then," she explains. "No‑one would give me a loan. I started buying oils on my Visa card!"
Knowing she needed a fuller inventory to approach department stores, Stegemann went on CBC's Dragon's Den. She became the first woman in Atlantic Canada to secure funding on the show, to the tune of $75,000.
The investment and publicity helped Stegemann get her perfumes into Hudson's Bay stores across Canada. It also allowed her to start sourcing from suppliers in Haiti, Israel, Iran, Rwanda and India.
"I like to go to my suppliers' countries wherever possible; to sit in their homes and build a friendship," she says.
Next, Stegemann began eyeing up international markets. Once again, she sought out government support — this time from the Canadian Trade Commissioner Service (TCS), a part of GAC.
"The high commissioner in London helped us get into Selfridges and Amazon Luxury," recalls Stegemann. "In Germany, the trade commissioner got us into Galeries Lafayette (a big brand there) and she translated for us too."
Stegemann called on the TCS again this year when her company — having rebranded to target younger and more socially conscious consumers — launched a new line across 102 Sephora stores in the U.S.
Snapshot: The 7 Virtues Beauty Inc.
Founded: 2010
Industry: Cosmetics
Location: Halifax, Nova Scotia
Markets: Canada, U.S. and Europe
Employees: 8
"It's a hard market to crack without a large advertising budget," says Stegemann. "The trade commissioners in Los Angeles and New York City are essential in helping me compete with big brands. They've helped with PR and events – they even nominated me for an award that I won."
"Without the TCS, we'd just be a company with lots of perfume in storage, not moving anything,"she says.
The new fragrances have been a huge success. "We're just trying to keep up with demand to be honest," says Stegemann. "But we didn't work this hard for nine years to not be ready. Our partners are jumping on board and we're making it happen."
Next, Stegemann plans to roll out the new line in Europe and Australia: "We have the right packaging, the right brand, the right story… I'm confident we'll have a high success rate." She adds that she'll count on the TCS for contacts and translation.
Stegemann wants other Canadian entrepreneurs to seek support like she has. "It's up to you to be curious," she advises. "Knock on the door of your government, help them and ask for help. It's a win‑win for everyone when we lift each other up."
Subscribe to: E-magazine and RSS Feed

Use #CanadExport