Canada's need to diversify stronger than ever
People undoubtedly benefit from trade; although people may not intuitively realize it, every time a person goes to the grocery store in almost any country, they are surrounded by the benefits of trade with a wide section of food that would not normally be available. However, trade between two countries leaves both parties vulnerable to each other's business cycles and other economic shocks. The extent to which a country is affected by another country's economic shocks depends on, among other things, the share—or concentration—of exports destined for that country. Beyond the economic shocks, export concentration results in higher vulnerability to the risks of protectionism. With Brexit, the renegotiation of NAFTA, and the trade tensions around the world, the risk of trade protectionism is greater than ever.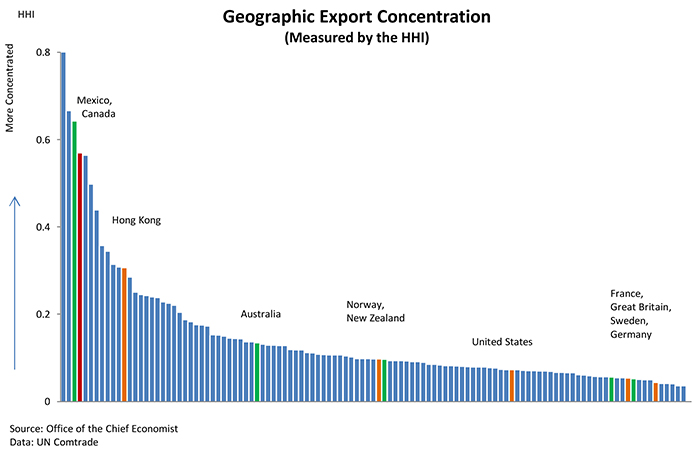 Geographic Export Concentration
(Measured by the HHI)

| HHI | Country |
| --- | --- |
| 0.641 | Mexico |
| 0.568 | Canada |
| 0.306 | Hong Kong |
| 0.133 | Australia |
| 0.097 | New Zealand |
| 0.096 | Norway |
| 0.072 | United States |
| 0.056 | France |
| 0.053 | Great Britain |
| 0.052 | Sweden |
| 0.043 | Germany |

Source: Office of the Chief Economist, Global Affairs Canada
Data: UN Comtrade
Canada's exports are the 4th most concentrated by destination out of 113 countries. Using the Herfindahl-Hirschman Index (HHI), in 2017, only Kuwait, Bermuda, and Mexico had a higher geographic concentration of exports than Canada.1 Moreover, compared to countries thought to have similar dependence issues such as, Hong Kong with a dependence on China and New Zealand with a dependence on Australia, Canada's exports are much more concentrated.
Canada stands to benefit from diversifying exports and reducing dependence on the United States. In 2017, Canada's overseas merchandise and service exports totalled $190 billion. The 2018 Fall Economic Statement stated that the Government of Canada's objective for diversification in 2018 was to increase overseas exports by 50% by 2025. In order to achieve this objective, Canada's overseas exports have to grow at a rate of 5.2% per year to reach the target of $285 billion by the end of 2025.
The Upshot
Not only can export diversification help shield the Canadian economy from external shocks, but the solution involves increasing the share of Canada's exports to fast‑growing markets.
---
1 The HHI, the sum of squared export shares, is the most common measurement of export concentration. In general, the HHI>0.25 indicates that exports are concentrated and the HHI<0.15 indicates that exports are diverse.
Subscribe to: E-magazine and RSS Feed

Use #CanadExport