Canadians set to profit from new trade agreement
By Mike Shaver
The New Year has brought Canadian exporters benefits through better access to take advantage of business opportunities in Pacific‑Rim markets.
The newly minted Comprehensive and Progressive Agreement for Trans‑Pacific Partnership (CPTPP) has now entered into force for Australia, Canada, Japan, Mexico, New Zealand, Singapore, and Vietnam, and is helping to diversify Canada's trade and investment towards the fast‑growing Asia‑Pacific region. Once Brunei, Chile, Malaysia, and Peru have ratified the Agreement, the CPTPP will form a trading bloc between 11 countries that represent 13.5% of global gross domestic product (GDP) and 495 million reachable consumers.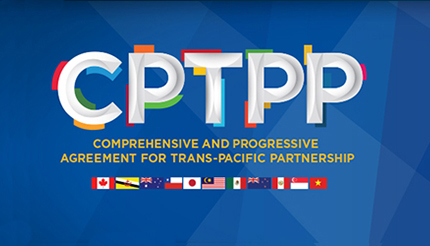 The CPTPP will work to strengthen Canada's presence in Asia by creating commercial opportunities with seven new free trade agreement (FTA) partners, while reinforcing our economic ties with existing FTA partners Chile, Mexico, and Peru.
One of the highlights of the Agreement is the elimination of tariffs and the reduction of unnecessary obstacles to trade between CPTPP members. Once all CPTPP parties have ratified the Agreement and it is fully implemented, 99% of tariff lines will be duty‑free, covering 99% of Canada's current exports to CPTPP markets
By eliminating these tariffs and creating consistent and transparent rules and procedures for doing business, the CPTPP is expected to generate long‑term GDP gains for Canada. If you are interested in determining whether the CPTPP reduces or eliminates the tariffs on the products that you export, you can visit the Canada Tariff Finder, a joint initiative of BDC, EDC, and Global Affairs Canada. The Tariff Finder allows you to search for your product by keyword or harmonized system (HS) code, and find out what tariff rate you could claim when exporting to a number of markets with which Canada has a free trade agreement, like the CPTPP. The Canada Tariff Finder is currently being updated to include CPTPP countries, and allows you to determine whether the CPTPP reduces or eliminates the tariffs on the products that you export.
The CPTPP also serves as a cornerstone of Canada's trade diversification strategy, for Canada's greater engagement with Asia‑Pacific countries, and solidly anchors Canada's place in CPTPP markets. The Agreement's high standards include chapters focusing on labour and environment provisions, which will serve to strengthen the rules‑based international trading system and drive similar trade pacts in the future.
Another chapter of interest is dedicated to small and medium‑sized enterprises (SMEs), the inclusion of which is a first for a Canadian FTA. It includes provisions to ensure that SMEs have access to information specifically tailored for their use, which will make it significantly easier for Canadian SMEs to explore and navigate the CPTPP markets and better position themselves for success.
For these reasons and more, Canadians have cause to be proud that Canada is a member of the new CPTPP. With the agreement secured, Canada is now the only G7 country with free trade agreements with all G7 members.
The CPTPP also allows Canadian exporters to level the playing field with competitors that currently enjoy preferential tariff treatment, while gaining an advantage over competitors without the same level of access.
In addition, the commitments set out in the agreement are legally binding for all ratified parties. This ensures all ratified members abide by the rules and regulations outlined in the agreement's text and enables exporters from their markets to enjoy preferential access across the Asia‑Pacific region.
Moreover, other economies prepared to meet the CPTPP's high standard rules and ambitious market access commitments are now able to apply to join the agreement through accession. Through the expansion of preferential market access to other markets, the CPTPP carries the potential to increase the economic benefits for Canada and expand the country's already vast international trade network.
The Canadian Trade Commissioner Service (TCS) can help your company navigate the potential benefits of the CPTPP. With offices located throughout CPTPP markets, Trade Commissioners can provide you with on‑the‑ground insight and access to qualified business contacts in these markets to support the success of your new business ventures.
In addition, the TCS will be offering in‑depth Export Diversification Workshops across Canada in February and March.
The first set of workshops will focus on the CPTPP and market opportunities in CPTPP countries. These events will feature a speech by Canada's Ambassador to Japan, and presentations by Canadian senior trade commissioners who work in Australia, Japan, New Zealand, Peru, and Vietnam. The workshops will also include an Export Café, where participants will be given a chance to have conversations with these senior trade commissioners and experts from partner organizations to learn more about the resources available to help their company export. The first set of events will take place in the following cities:
For more information on these events and to register, please click on the links above.
An additional CPTPP workshop with Canada's Senior Trade Commissioner to Japan will follow in:
Another set of workshops will take place in Atlantic Canada. These events will highlight the benefits of both the CPTPP and the Canada‑Korea Free Trade Agreement (CKFTA), and will include presentations by Canada's Consul General in Ho Chi Minh City, Vietnam and Senior Trade Commissioners working in Australia, Japan, and South Korea. These workshops will occur in:
For more information on these events and to register, please click on the links above.
For more information, please visit the CPTPP website.
Subscribe to: E-magazine and RSS Feed

Use #CanadExport