Women of the TCS
Locally engaged women trade commissioners navigate boardrooms all over the world. Many of them help Canadian clients get ahead in business, government procurement, research & development collaborations and more. As we celebrate International Women's Day, CanadExport brings you some of the stories of the women of the Canadian Trade Commissioner Service (TCS).
Shriya Ramachandran
New Delhi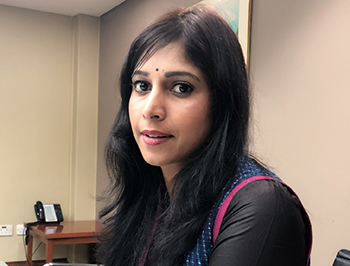 Shriya Ramachandran, trade commissioner in New Delhi
Shriya Ramachandran likes to break stereotypes. She notices the surprised looks she gets from the largely male Indian government and business leaders whom she meets as a trade commissioner covering the infrastructure sector in New Delhi.
"They see a woman and they start judging," Ramachandran says. "Then 10 minutes into the conversation, they realize that this woman knows what she's talking about."
She also feels strongly about changing the perceptions among Canadian small businesses that the Indian market is too vast and complex to venture into. "There are many opportunities here for companies with the right approach and with assistance from the TCS," she says.
Ramachandran, 37, became a trade commissioner in 2014. The only female locally engaged trade commissioner in New Delhi, her responsibilities include transportation, building & construction and infrastructure, which she notes is a priority sector for Canada.
She feels that India is an ideal place for small Canadian companies looking to diversify their markets. "It's one of the hottest spots on the globe right now," says Ramachandran, who encourages newcomers to find local partners they can trust, which the TCS can help with.
She's passionate about her job—"I'm excited to go to work," she says—and feels that female trade commissioners "enable their clients to get ahead in the market." Women network effectively and work efficiently, although they also put in long hours outside of the regular working day, she comments. "They add an emotional angle to doing business."
It's "very rewarding" to help people get ahead in her country, she says, "especially companies that have no predisposition toward India and are leaving their comfort zone."
She's grateful that among her Canadian clients she is "treated on a par with my male colleagues…Coming from Canada it doesn't matter if you're a Shriya or a Frank," she remarks. "Canadians believe in equal opportunity and they only value talent. That's a very strong message. Then I go out and deliver, and people see it for themselves."
Arbinder Pal
Mumbai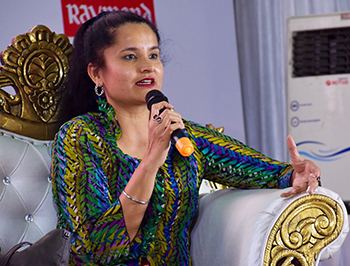 Arbinder Pal, trade commissioner in Mumbai
As a trade commissioner in Mumbai covering sectors dominated by males, Arbinder Pal is used to being "a woman in a man's world." Indeed, there have been many phone calls with people who thought "by default" that she was a he.
"I was 'Mr. Pal' through and through," she says. "The assumption was that I was a man, even though they could hear me speak."
Pal, a former aviation and aerospace professional who joined the TCS two years ago and is now responsible for the information and communications technologies (ICT) sector as well as investment in Canada, was brought up in a family with three girls and "no sense of gender discrimination."
She left home to study in Canada and returned to her native country a decade later. Things have been slowly changing in India in terms of attitudes toward women, she says, "but there's room for a lot more." She senses sometimes that men are doubtful of her abilities, "but I'm not complaining, it's something you learn to navigate around." Indeed there's a "positive twist" that she turns to her advantage. "It's assumed that maybe you're not as well versed, so they tend to explain a lot more. It gives you a learning platform."
She notes that "at a global level in gender diversity we have a long way to go; only 26 women are in CEO roles at Fortune 500 companies." Canadians, meanwhile, are "leading by example," indeed women occupy the senior roles in her office and there's an even gender split among the locally engaged trade commissioners.
She feels women "offer a perspective that's different from men" and this "diversity of thinking" benefits TCS clients.
Canada's leadership role in ICT "makes our jobs easy here," says Pal, who feels that growth‑stage companies "have significant potential in India." With a wide range of new technologies coming along, "there's never a dull moment," she adds. "And there's a tremendous sense of achievement when you realize that your services are supporting and shaping a Canadian company's business goals."
Pinar Atakanli
Ankara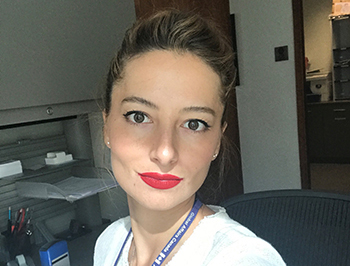 Pinar Atakanli, trade commissioner in Ankara
Holding the flag for Canada as a trade commissioner in Ankara brings Pinar Atakanli pride, but much else, too.
Atakanli, 36, grew up as the daughter of Turkish diplomats who were posted at different times to Canada. She attended high school in Ottawa and remained in the country to get a Bachelor of Commerce from the Sprott School of Business at Carleton University. Then she moved on to get a Masters in marketing and international business and international marketing from the London School of Business and Finance & Grenoble École de Management.
When Atakanli returned to her native Türkiye, she found a more traditional society than she'd experienced abroad, with less willingness among men to deal with a woman in a position of authority. When she became a locally engaged member of the Canadian Trade Commissioner Service in 2014, she quickly came to appreciate what it means to be part of the TCS team.
"Once the local contacts in Türkiye realize the amount of confidence that my colleagues and my clients instill in me and what I can put on the plate, then I'm treated with respect," she says. Indeed Turkish government and business representatives are pleased to have a native Turk to interact with who also knows the Canadian context, comments Atakanli, who covers a wide range of sectors including aerospace, agriculture, defence and mining, fields in which "95 per cent of the people tend to be male."
Türkiye and Canada have a long history of trade, notes Atakanli, who'd like to see more Canadian SMEs go after opportunities in Türkiye and is working to make Turkish companies more familiar with Canadian capabilities in fields such as clean technologies. Non‑genetically modified lentils, a standard household product in Türkiye, are among the key Turkish imports from Canada, and the biggest gold mine in Türkiye is the Kışladağ facility in the west part of the country, operated by Canada's Eldorado Gold Corp. It is held out as an example locally for its high health & safety standards and corporate social responsibility practices.
"It absolutely brings me pride when I hear good news of partnerships between Canadian and Turkish companies," says Atakanli. "There's a lot that both countries can share."
Gerry Mongey
Dublin

Gerry Mongey, trade commissioner in Dubblin
Throughout her long career with the TCS in Dublin, Gerry Mongey has been aware that there is a glass ceiling holding back some women from advancing professionally. But she's always heeded the advice that she once received from an Irish minister: "It's only there if you don't break it."
Mongey, 60, started doing so early, when she joined the TCS in 1981, and the first sector that she covered when she became a full trade commissioner 22 years ago was construction. "I was always treated with respect and integrity and called on for my opinions," says Mongey, whose name Gerry (short for Gerardine) sometimes sparks confusion when people finally meet her for the first time. "They say, 'Oh, you're a woman,' and I say, 'Last time I looked.'"
Today the veteran trade commissioner is responsible for clean technologies and infrastructure, priority areas for Canada, as well as agriculture & food, aerospace and defence, mining and transportation.
"Every day is different," Mongey says, which has kept the job interesting. Ireland is a fairly small market, which means she can help Canadian companies get access to major "movers and shakers" in industry and government. She thinks that one of the big innovations where the two countries can collaborate will be energy coming from the ocean, among other renewable technologies.
"There's a very big connection between Canada and Ireland," she says, indeed she notes that one quarter of Canadians claim some Irish ancestry.
Mongey, who will retire from the TCS this summer, encourages Canadians who want to do business in the country to "get their legwork done at home" but then show up in Ireland. "People need to see the whites of your eyes," she says, adding that it's especially important to follow up afterward. "You can't walk off into the sunset."
Grimi Guarico
Manila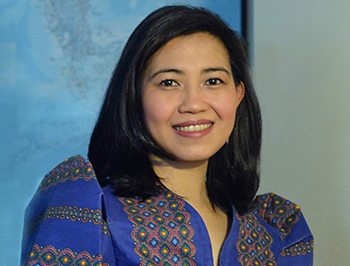 Grimi Guarico, trade commissioner in Manila
Grimi Guarico finds that people tend to underestimated her when they first encounter her, with her mild manner and tendency to "observe people before opening my mouth and speaking my mind."
But when she actually does, "people think otherwise," says Guarico, 39, a trade commissioner in Manila. "They realize I might be a force to be reckoned with."
Her first name, Grimi, came from a 1950s actress whom her mother admired, she says. The fact that it is more typically a man's name can sometimes help her get through the door. When she does, she has a directness and "black‑and‑white" style from her background as an accountant and financial planner. "There's no beating around the bush."
Growing up, Guarico was highly influenced by her late father, an engineer who was blind for most of his life but compensated for his lack of sight with his other senses and pointed out how important it was to explain things. "You have to make things clear," she says, which she feels is especially a trait of women. "We're always wanting to understand a concept more."
Guarico joined the TCS in 2010 and has covered clean technologies, oil & gas and the financial services sectors. Today her area of responsibility is climate finance for Asia and the Pacific. She especially helps Canadian companies that are interested in pursuing climate change mitigation and adaptation projects financed by the Asian Development Bank in Manila and other international financial institutions. These are related to a range of additional sectors, including climate‑smart agriculture, energy, infrastructure and information & communications technologies.
"It is an important time for Canada to be in the forefront in these fields," Guarico says, noting that Canada is committed to fighting climate change, "but that has not translated into commercial opportunities where we have strengths."
She feels proud to be helping Canadian companies gain access to funding sources to undertake climate adaptation and mitigation projects in Asia and the Pacific. "I am valued here in the work I do," she says.