Canada sets a world standard for sustainable mining
A program that helps mining companies in Canada operate in the most socially, economically and environmentally responsible way at home is spreading internationally, through the practices of these companies abroad and the assistance of the Canadian Trade Commissioner Service (TCS).

Photo: Agnico Eagle Mining
The Towards Sustainable Mining (TSM) initiative, launched in 2004 by the Mining Association of Canada (MAC), is a world‑recognized sustainability standard that is helping build capacity within the global mining industry. The initiative has been adopted as a Canadian industry standard for responsible business conduct promoted by the TCS and the Government of Canada.
Participation in TSM is mandatory for members of MAC in Canada. Ben Chalmers, senior vice‑president of MAC, says it was established in the country in an effort to "drive performance improvement in environmental and social issues." TSM applies to the industry association's 44 members but is only mandatory within Canada, although many of those companies voluntarily implement the standards in their overseas operations.
Five other countries on four continents—Finland, Argentina, Botswana, the Philippines and Spain—have also adopted the program, with the guidance of MAC and the support of the TCS. And authorities in other countries are exploring its adoption.
Finland, the first country to adopt TSM, took a "made in Finland approach," Chalmers says, modifying the standard to its local context, although countries are required to include several elements under the program, like establishing a "community of interest advisory panel" on TSM.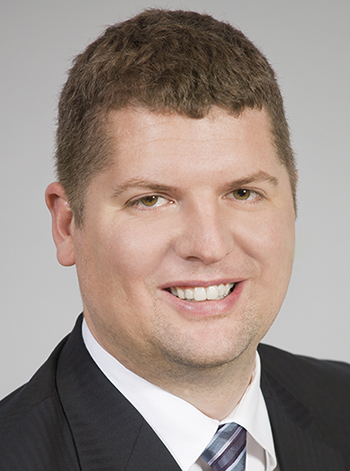 Ben Chalmers, senior vice‑president, Mining Association of Canada
Photo: Mining Association of Canada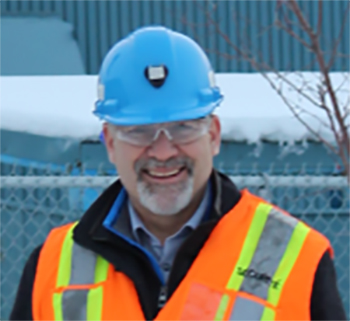 Michel Julien, vice‑president of environment at Agnico Eagle Mining
Photo: Agnico Eagle Mining
He says the TCS has been helpful by providing funds for the "international uptake of TSM" through the Global Opportunities for Associations (GOA) program. The organization has used GOA resources to participate in conferences to promote TSM and provide training on TSM in individual countries, while trade commissioners in countries that have implemented TSM have gotten quite involved in the process.
"The TCS plays a pretty big role," Chalmers says, noting that trade commissioners "stand behind us and give us the additional credibility that being associated with the Government of Canada abroad brings."
Carlos Miranda, a trade commissioner who is the liaison officer for mining in the TCS, is embedded within MAC, which he says helps him to be "plugged into the industry" and promote its sustainability efforts, in collaboration with TCS colleagues around the world.
"TSM is becoming a "de facto" standard, and we're proud of that," he says. "It's good for business and good for corporate social responsibility, and it also increases knowledge, transparency and openness within local communities."
He says countries that have adopted TSM largely do so because of the initiative shown by Canadian mining companies there. "Canada is not perfect, but we're getting better, and it can be argued that Canadians are leading the world in CSR in this sector."
He says it's important for each country to implement TSM according to its own dynamics, based on the Canadian model. The funds from the GOA program help to increase awareness and ensure there is knowledge transfer to new jurisdictions.
Local trade commissioners abroad help Canada's mining companies look at their business practices and operate responsibly from an ethical, environmental, social, security, and health and safety standpoint, Miranda says. "The TCS supports the company at the local level and the national level."
He explains that Canadian mining companies impart technical knowledge and business practices as well as sustainability principles in such places. A prime example of where this has happened is in Finland, with companies such as Agnico Eagle Mines Ltd., a senior Canadian gold mining company. Agnico Eagle operates in a range of environments, including mines that are close to urban centers as well as in remote, environmentally sensitive locations, although the challenges of operating in a responsible manner in both contexts remain the same.
"We're convinced it's a level of excellence that mining companies should aim at," says Michel Julien, vice‑president of environment at Agnico Eagle, which has eight mines in Canada, Finland and Mexico, with exploration and development activities in those countries as well as the U.S. and Sweden. The company, which has a head office in Toronto, employs more than 10,000 people and in 2017 its total gold production was 1.7 million ounces.
What is TSM?
Towards Sustainable Mining (TSM) is a commitment by the Mining Association of Canada (MAC) to responsible mining. It is a set of tools and indicators to drive performance and ensure that mining risks are managed responsibly at its members' facilities. Adhering to the principles of TSM, members demonstrate leadership by:
Engaging with communities
Driving world‑leading environmental practices
Committing to the safety and health of employees and surrounding communities
The program was established in 2004 and its main objective is to enable mining companies to meet society's needs for minerals, metals and energy products in the most socially, economically and environmentally responsible way.
TSM's core strengths are:
Accountability: Participation in TSM is mandatory for all MAC members. Assessments are conducted at the facility level where the mining activity takes place—the only program in the world to do this in the sector. This provides local communities with a meaningful view of how a nearby mine is faring.
Transparency: Members commit to a set of TSM Guiding Principles and report their performance against the program's 23 indicators annually in MAC's TSM Progress Reports. Each facility's results are publicly available, and are externally verified every three years.
Credibility: TSM includes ongoing consultation with a national Community of Interest (COI) Advisory Panel. This multi‑stakeholder group helps MAC members and communities of interest foster dialogue, improve the industry's performance and shape the program for continual advancement.
Source: The Mining Association of Canada
Julien, who is on MAC's board of directors and on the TSM governance committee, says the company voluntarily follows TSM standards and guidelines at its Kittila mine, which is located in the Lapland region of northern Finland, 150 kilometres north of the Arctic Circle. Kittila, which began commercial production in 2009, is the largest primary gold producer in Europe and has the company's largest mineral reserves, amounting to more than 4 million ounces.
Agnico Eagle's implementation and adherence to TSM in the country fostered the interest and adoption by the Finnish authorities, says Julien. He says that part of the equation is keeping open communications and ensuring "social acceptability" within the communities where Agnico Eagle's mines are located. Its projects are led and operated by local people, a formula that gives them a "sense of belonging" and integrates the company into its surroundings, he explains. "We think it's the only way it will work at the end of the day."
TSM is a reference point and "is fast becoming a vehicle to promote best practices throughout the industry at the global level, and Canada is really an integral part of that," he says. "At the end of the day it benefits our industry."
Julien believes the TCS has a positive impact in promoting Canada's leadership in the field, and it has highlighted the initiatives that Agnico Eagle has undertaken in Finland and Nunavut through TSM. "It's about disclosure and openness and continuous improvements," he adds.
Eero Yrjö‑Koskinen, secretary general of the Finnish Network for Sustainable Mining, says that most mining companies operating in Finland have started to implement the country's new sustainability standard, which is largely based on the Canadian TSM.
He comments that one of the advantages of TSM is that it can be modified to suit the national context. As a result, his organization has developed two additional protocols, covering water management and the closure of mining operations, and it has adjusted the criteria of each TSM protocol to the Finnish context.
Seppo Vihersaari, the trade commissioner in Helsinki responsible for several sectors in Finland including mining, says the country has stringent environment legislation but TSM has "brought with it a tool and indicators to drive performance and ensure that myriad key mining risks are managed responsibly." He notes that the process of developing it has brought together for the first time all parties affected by the mining industry, including landowners, the forest industry, reindeer herders, environmental NGOs, local residents and municipalities.
The TCS and the Canadian Embassy in Helsinki were heavily involved in bringing TSM to Finland, from staging a seminar where MAC presented the program to a large Finnish audience to holding a conference on best environmental mining practices and organizing a "green mining mission" to Finland and Sweden. Vihersaari continues to actively follow the implementation and improvement of the TSM process in Finland.
Miranda notes that Canadian mining companies "are one of our flagships in many countries around the world," with metals and minerals representing almost 19% of the value of Canada's exports and accounting for more than 630,000 direct and indirect Canadian jobs.
Canadian mining companies must compete globally, indeed Canada had $169 billion in mining assets overseas in 2017, he says. "They need to be as transparent as possible and productive members of the economies where they operate."
He says that TSM will continue to develop and he expects more countries to get involved. "It would be very good for everyone in those countries, as well as Canadian companies operating there, to have more transparency," Miranda adds.
Chalmers says it has been good for Canada's international reputation in the industry to be promoting TSM.
"We tend to consider ourselves global leaders in mining, and this positions us leading in not just how to mine physically, but how to do it responsibly," he says. "We are willing to freely share our know‑how in the environmental and social practices of mining."
There is growing interest among manufacturers that use metals and minerals to ensure they are responsibly sourced, he points out.
In the future MAC will continue to work with countries interested in adopting the standard, Chalmers adds. In addition, as TSM grows and is adopted by more countries, there is interest in setting up an international organization to administer and support it.
Canadian mining by the numbers
Canadian‑based publicly traded mining companies held $91.4 billion in mining assets in Canada and $169 billion in mining assets overseas in 2017.
Mineral exports from Canada were $97 billion in 2017, accounting for 19% of Canada's total domestic exports.
The minerals sector directly and indirectly contributed 5% or $97 billion to Canada's total nominal GDP in 2017.
Mineral production totalled $44 billion in 2017. Canada produces some 60 minerals and metals at 200 active mines.
The minerals sector directly and indirectly accounted for 630,000 jobs throughout the country in urban, rural and remote regions.
Subscribe to: E-magazine and RSS Feed

Use #CanadExport