Bringing the best of Canada to the world
The 2019 Canadian Export Challenge (CXC) kicked off on May 9 in Winnipeg, the first stop of a seven‑city tour across Canada, to showcase and support more than 100 borderless businesses to go global. CXC is presented by Startup Canada in collaboration with the Trade Commissioner Service (TCS), Export Development Canada and UPS.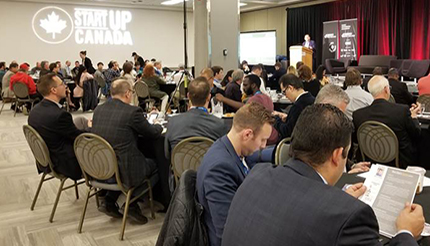 Designed to help Canadian entrepreneurs and start-ups to think globally and become export‑ready, a targeted cohort of approximately 15,000 entrepreneurs is expected to participate in the Challenge, which followed its opening date in Winnipeg with events in Vancouver on May 13 and Edmonton on May 16.
In each city along the way, the TCS has been present on the ground, assisting entrepreneurs with their questions about exporting and raising awareness of the services available to them.
"It's been rewarding to connect with entrepreneurs as part of Trade Team Canada. By bringing together partners from the export ecosystem, it shows entrepreneurs that there is a support system throughout their export journey", commented Robin Wint, Trade Commissioner and Senior Marketing Officer at Global Affairs Canada (GAC).
Brad Havixbeck, Trade Commissioner in Winnipeg said, "We are here to get to know the participating companies. As their dedicated key account managers in the region, we have access to a large network around the world of over 1,000 export experts."
"We know that growth is not always in Canada… We are global connectors. We help reduce risk going abroad." explained Thierry Weissenburger, speaking on the Leveraging Canada to Scale panel to participants in Winnipeg. Weissenburger is the head of TCS Innovation at GAC, and is representing the TCS at all seven events.
As a judge in the pitching competition, Weissenburger is also assisting to recognize the most exceptional products and services at each stop on the tour.
In Winnipeg, ECB Verdyol, which makes erosion‑control products, was named the winner of the pitch competition, while Sappho New Paradigm, a natural and organic cosmetic brand, was named the winner of the Vancouver competition.
Mark Myrowich, CEO of ECB Verdyol, and JoAnn Fowler, CEO of Sappho New Paradigm, both won $2,500 and a trip to Toronto in October during Small Business Week, where they will compete head‑to‑head against the other regional finalists for the grand prize of $25,000 and up to $100,000 in support for business development.
As the Challenge continues throughout Eastern Canada in June, other SME's will be competing for the opportunity to pitch for the grand prize and title of Canada's 2019 Global Entrepreneur at the following locations:
Ottawa – Monday, June 3
Mississauga – Thursday, June 6
Fredericton – Tuesday, June 11
Montréal – Monday, June 17
Canadian entrepreneurs are encouraged to learn more about CXC 2019 by visiting the event page.
Subscribe to: E-magazine and RSS Feed

Use #CanadExport