Representation of women in management is on the rise
In Canada, the growth of women in management positions from 2014 to 2018 has surpassed that of men by 2.0 percentage points, reaching 7.5% compared to 5.5%. Although there are still twice as many men in senior management positions as women, women and men are almost on par in specialized middle management occupations.1 Moreover, women are more likely to hold a management position in an industry in which women are well represented, i.e. services-producing sectors, such as finance and insurance. Canada's national goal is to have women comprising 30% of board directorships across the country by 2019. Figure 1 presents the share women directorships across various types of corporations. As of 2018, women comprised 27.8% of Canadian corporate boards according to the Global Diversity Tracker, slightly below but within striking distance of the 30% target.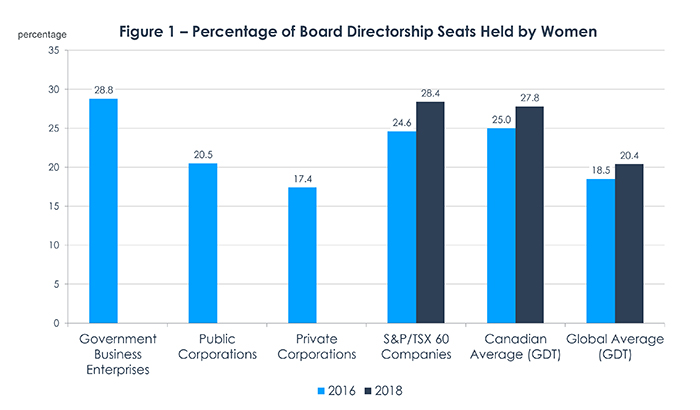 Figure 1 – Percentage of Board Directorship Seats Held by Women

2016
(%)
2018
(%)
Government Business Enterprises
28.8
Public Corporations
20.5
Private Corporations
17.4
S&P/TSX 60 Companies
24.6
28.4
Canadian Average (GDT)
25.0
27.8
Global Average (GDT)
18.5
20.4

Notes: Statistics Canada data (government business enterprises, public corporations and private corporations) include the boards from both parent companies and their various legal entities operating in Canada (approximately 30,000 corporations). The S&P/TSX 60 Companies includes the 60 publicly traded companies of the index. The analysis of the Global Diversity Tracker (GDT) by Egon Zehnder covers all publicly traded companies with market caps above seven billion euros in 44 countries globally, or the largest six in each country where fewer meet the criteria.

Source: Office of the Chief Economist using data obtained from Statistics Canada, Osler's 2018 and 2017 Diversity Disclosure Practices, and Global Diversity Tracker
In 2016, 42.3% of Canadian corporations had at least one woman on their board of directors, although women accounted for only 19.4% of all directorships in Canada (see disaggregation by sector in the first three columns of Figure 1). According to the latest study by Statistics Canada of this subject, women are better represented on boards in industries such as finance, management of companies and enterprises, and utilities. Canadian financial services are notably gaining significant traction in international trade.2 However, women are under-represented on boards in mining, oil and gas, and manufacturing—industries with some of the highest shares of exporting firms in Canada.
The upshot
Canada's largest traded companies are ahead of the curve, on par with government business enterprises, when it comes to including women on boards of directorship. Research has shown that diversity on boards of directors is good for business and large enterprises, many of which export internationally, are leading the way.
---
1 Statistics&nbspCanada, Table 14-10-0335-01: Labour force characteristics by occupation, annual, accessed May 14, 2019.
2 Export Development Canada, The Rising Tide of Service Exports, 2019.
Subscribe to: E-magazine and RSS Feed

Use #CanadExport