Recipients applaud program's benefits for Canadian exporters
An initiative that has helped small businesses across Canada expand their horizons by exporting their products and services to new international markets is itself expanding. Past recipients are offering their insights on the program's benefits to their companies.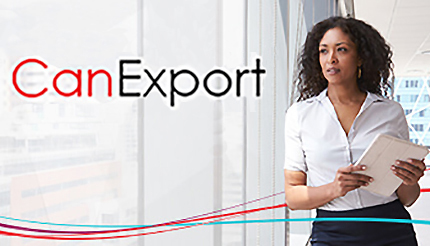 CanExport, a funding program administered by the Canadian Trade Commissioner Service (TCS) that gives companies incentives to develop and diversify their sales abroad, has already helped more than 1,000 firms compete more effectively in the global economy with over 1,400 projects that have resulted in more than 376 million in new exports. It will now be enhanced significantly and available to an even wider range of small and medium‑sized enterprises (SMEs).
One such satisfied recipient is Mohammed Moin, CEO of Somru Bioscience Inc., who experienced global success with the CanExport program.
"We used CanExport to expand our business in Bangladesh," he says. "Using CanExport, we went there, we learned about the market, found a potential client, partnered, and we have initiated a joint venture over there."
"This program has been successful in helping SMEs achieve their business objectives, but we want even more companies to be aware of it and take advantage of it," says Loc Pham, the CanExport program manager for Global Affairs Canada, which administers it through the TCS in partnership with the National Research Council of Canada Industrial Research Assistance Program (NRC‑IRAP). "The program's broadened eligibility is testament to our determination to make it even more effective in the future."
Pham says that companies must start with a comprehensive export business case. CanExport shares the cost of eligible expenses for initiatives to develop new markets, such as participating in trade fairs or doing market research. The program is open to all markets, except for activities in countries where sanctions could apply. To be eligible, a company must be for‑profit, incorporated or a limited partnership, and it must not have significantly exported to the target market within the past 24 months.
George Donovan, CEO of Gogii Games, can speak to another example of CanExport's usefulness.
Halifax‑based Trade Commissioner Stéphane Crépeau helped his business apply to CanExport, and Gogii secured $9,000 for a trip to explore the Brazilian market.
The trip gave Gogii unique insights into Brazil's market. "We learnt an enormous amount that isn't widely known," says Donovan, who's careful not to give away too much. "We're picking our bets and betting long. But we're ahead of the competition, so we can afford to be patient."
Former funding recipients are also acknowledging just how much the initiative has leveled up over time.
"It has gone from being a program of one country at a time to multiple markets, so that allows us to accelerate our expansion in four to five markets at the same time, with the same brand," says Adil Qawi, Managing Director at Greenlid Envirosciences. "It allows us in essence to more than double the impact that we can make with our own dollars."
He also adds an endorsement for other Canadian companies in similar positions that may be able to benefit from TCS initiatives. "Any Canadian company, small medium or large that aspires to go beyond Canadian borders should get in touch with and leverage both CanExport and the Trade Commissioner Service."
Rethink the export potential of your business with CanExport funding.
Subscribe to: E-magazine and RSS Feed

Use #CanadExport