Sunny days ahead for Nova Scotia company
Ask George Palikaras about climate change and he'll tell you the future is sunny.
The chief executive officer of the Dartmouth, N.S.‑based Metamaterial Technologies Inc. (MTI) is convinced that the key to sustainability through reduced carbon dioxide (CO2) emissions is the wide-spread adoption of solar power by the transportation sector.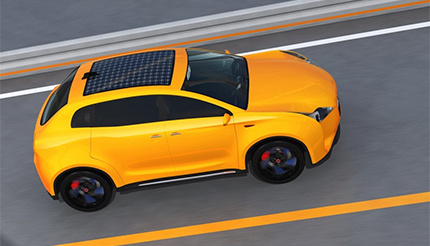 According to the World Health Organization (WHO), transport accounts for 23 percent of energy‑related emissions worldwide. This figure increases to 37 percent in auto‑dependent markets such as California. CO2 lingers in the atmosphere for more than a century, resulting in long‑term warming effects.
Dr. Palikaras believes that if the world is to stay within the two percent degree range of average temperature increase stipulated in the Paris Agreement on climate change—an accord signed in 2016 within the United Nations Framework Convention on Climate Change—the transport sector must be de‑carbonized.
One industry ripe for significant change is aviation, he says. An estimated eight million people fly each day, and the output per passenger for each transcontinental flight is two tonnes of CO2. About three billion tonnes of CO2 are released through air transport every year. This must be addressed if Paris Agreement targets are to be met, says Palikaras, adding solar energy is what will make the most significant difference.
Currently in the research and development stage, MTI's Lamda Solar division is perfecting NanoWeb®, a durable transparent conductor which captures all electrical power without blocking light propagation. Flexible, efficient and light‑weight, this solar film is ideal for the aviation industry, Palikaras says. It can be applied on any surface exposed to the sun. Its solar cell design uses metamaterials that capture solar light coming from any direction. This eliminates the need for expensive and heavy angularly‑dependent solar panel systems that must pivot in order to follow the sun, making it ideal for use on airplanes, he explains.
Energy captured this way can be used to recharge onboard batteries or power devices, Palikaras says. He estimates that within three years, MTI will have realized its ambition to develop and commercialize the world's lightest-weight and highest‑efficiency solar cell technology suitable for the land, air and sea transport industries.
This vision for a sustainable future has driven MTI to turn its attention to the clean technology (cleantech‑hungry companies and venture capitalists of Silicon Valley. The smart materials and photonics company acquired nano‑structured products and devices manufacturer Rolith Inc. in 2016. It opened a satellite office and lab in Pleasanton California, across from Palo Alto on the far side of San Francisco Bay.
This expansion into the United States market followed the company's participation in the Government of Canada's Canadian Technology Accelerator (CTA) program. The CTA gives Canadian companies with existing technology, products or services a head start in foreign markets by offering mentorship, workspace and access to potential investors, clients, partners and suppliers.
"We were able to expand our business from Canada into the strategic U.S. market as a direct result of our presence in California," Palikaras explains. "I don't think we would have had such success without going through the CTA program. It allows you to experience the ecosystem with the support of dedicated trade commissioners who help start-ups and entrepreneurs get connected and try out the marketplace."
The California-based mentor assigned to MTI provided invaluable advice on approaching the unique Silicon Valley market, which led the company to refine its business model and pitch. The resulting buzz opened several funding opportunities. The impact of MTI's six-month participation in the CTA program is ongoing, as the company is currently in negotiations with blue chip Fortune 500 companies for business development and in‑market experience. With revenue boosted and new contracts both secured and on the horizon, MTI's success in the accelerator program continues to pay dividends.
The dawn of new light
As important as solar power is for a Dartmouth, N.S. company, other light sources will also illuminate their path.
While Metamaterial Technologies Inc. (MTI) is looking to reduce carbon dioxide emissions through solar‑based solutions, the company is working on a variety of other projects. Co‑founder and chief science officer Dr. Themos Kallos says his team is currently developing multiple applications, innovating in fields such as LED lighting and laser protection.
MTI's laser protection product aims to be an important development in the field of airline safety, Kallos says. Light from laser beams poses a significant safety hazard as it diffuses over distance and can distract or temporarily blind pilots. It can result in eye irritation and headaches. In 2017 for example, 6753 laser illumination incidents were reported to the United States Federal Aviation Administration. These dangerous incidents occur when laser pointers or holiday laser‑light displays are pointed up towards the sky.
MetaAIR™ is a thin holographic metamaterial film that filters hazardous light such as lasers. It is applied as a layer to protective eyewear, visors and airplane windows, including windshields, to counter the risk of laser eye damage. MTI's laser protection solution currently represents approximately 70 percent of the company's activities.
"Historically, manipulating light is the key driver behind all modern civilization, creating huge improvements in living conditions," Kallos says. "It's rewarding to know that we're continuing this legacy of harnessing the properties of light and making a positive impact on humanity."
While compact fluorescent lights (CFL) are more commonly available and efficient than incandescent, they fall short when it comes to light quality, Kallos explains. What's more, they tire the eye more quickly. LED lighting presents itself as a good, although expensive alternative. More environmentally‑friendly than incandescent and CFL, LED lighting uses 15 percent less energy than CFL and lasts on average 7000 hours longer. In an effort to reduce cost and make LED lighting more attractive to the consumer, MTI is developing metaLED™, a nanostructured film which enhances the output of LED lights while increasing efficiency.
Applicable to existing light sources, the film's nano‑cavity lens structure amplifies light production from LED sources, resulting in a reduction in the total number of LEDs required within each bulb, and in manufacturing costs. These enhanced LED bulbs offer up to 20 percent more light output. The product, which will be commercialized for residential and industrial use, is in the prototype stage with market launch still a few years away.
Subscribe to: E-magazine and RSS Feed

Use #CanadExport