Accelerators get ready for business in Asia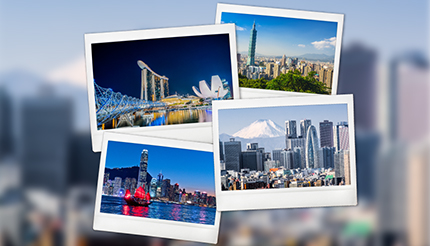 The Canadian Technology Accelerator (CTA) model that is now being rolled out in four cities across Asia showcases Canada's leadership in innovation. The Canadian Trade Commissioner Service (TCS) program will bring high‑potential and high‑growth tech companies to Singapore, Hong Kong, Tokyo and Taipei. There they will partner with local accelerators, start‑ups, investors and technology centres, guided by industry experts and a suite of key mentors. These companies will also sell their products and services and diversify in the vast Asian region. The program will bring new, disruptive technologies to the global market, creating the world of tomorrow.
CanadExport profiles the trade commissioners who are working to set up and manage these new Asian CTAs. We find out about how each of the accelerators works, the opportunities and challenges in their markets—and how the TCS can help.
Singapore — Tegan Watson
With a background as co‑founder of a biotechnology startup that was recognized by Singapore Business Review as one of the top 20 hottest new companies to watch in 2017, Tegan Watson's passion is helping companies commercialize their technology, refine their go‑to‑market strategy and raise capital.

Tegan Watson
Singapore is a vibrant city‑state that has positioned itself as a transportation hub and business gateway to South East Asia. There are opportunities for Canadian companies in sectors such as agriculture & processed food, cleantech, education, infrastructure, aerospace, life sciences and fintech, Watson notes.
The Singapore CTA will initially focus on four key growth sectors: cleantech, fintech (financial technology), deeptech (artificial intelligence, smart cities, intelligent transport systems) and life sciences. "Singapore presents an exciting opportunity for companies in these sectors," Watson says. Companies will gain access to prospective customers, partners and investors that they would otherwise struggle to connect with. "The goal is to help companies achieve in 6 months what would take them much longer on their own."
Watson says key strategies for companies in Asia include visiting the market to establish a solid foothold. "Attempting to build contacts, foster strategic partnerships or close deals requires an in‑market presence." It's also important to recognize the cultural differences between doing business in North America and Asia. "Relationship‑development and nurturing trust with key stakeholders in Asia takes time and investment." Watson suggests that companies leverage the expertise of individuals or companies that have previously entered and succeeded in the market. "The Canadian ex‑pat community is vast. You will find a strong support network of people who are often eager to help out newcomers."
Challenges include navigating South East Asia's diverse cultural landscape. "Using the TCS network across the region can help a company acquaint themselves of the differences and strategically leverage Singapore as a hub for broader market expansion." The TCS fast‑tracks introductions and network‑building, "which are critical for young, growing companies looking to enter or expand," Watson says. "It adds credibility to the company's outreach activities and can lead to quicker response time and more serious consideration of proposals."
The more prepared a company can be before entry into the market the more success it is likely to have there, Watson adds. This means researching the sector's ecosystem, key players and competition. The TCS is a good source of such details and can help a company "refine its market‑entry strategy before taking the big leap."
Hong Kong — Richard Fong
Richard Fong started from a background helping Canadian life sciences companies raise capital and find partners in Asia. More recently his role expanded to working with Canadian companies across all tech areas, helping those in sectors from information and communications technologies (ICT) to cleantech identify and connect with potential buyers, investors and partners.

Richard Fong
Hong Kong is ranked as Canada's 13th largest market for merchandise exports, and it's ranked third as a global destination for Canadian services exports. It is the financial hub of Asia, Fong says, so it's a good place for Canadian companies to get access to financing. It's also the headquarters of large multinationals that could be potential clients for Canadian tech companies. English is the language of business there, Hong Kong and Canada share a similar legal system and it's ranked as one of the easiest places to do business in the world. Hong Kong is also seen as the all-important gateway to the fast‑growing Mainland China market.
The initial focus of the CTA will be in the area of fintech and proptech (property/real estate technology), Fong reports. "We see great demand in Hong Kong for new solutions to upgrade the efficiency of financial markets and infrastructure. Moreover, Canadian companies have strong capabilities in these areas and have proven successful in this market."
Hong Kong is "not an easy market to tap into, but the rewards can be great. One visit isn't likely for you to get a contract signed, it is an ongoing process," Fong cautions. "It's important to show to partners here that you are dedicated to Asia and to have an Asia strategy," he says, noting that the CTA will "help companies mitigate costs by providing them with free work space to test out the market."
One little known fact is that Hong Kong is home to more than 300,000 Canadians, "many of whom have had highly successful careers here," Fong adds. "They provide for a strong network to help make introductions, and they offer mentorship to incoming Canadian companies."
Tokyo — Rowena Ko
With a background covering sectors such as infrastructure and financial services, and more recently responsible for the innovation file, Rowena Ko has a good sense of how to do business in Japan.

Rowena Ko
The country historically has been known as a place where companies do a lot of their own research & development in‑house, she points out. However as the pace of innovation has accelerated, Japan is quickly opening up to outside technologies and solutions. Companies are forming open innovation and digital transformation teams, whose primary mandate is to scout new innovations provided by start‑ups, as well as to invest in and take on strategic partners.
"Japan is a large and lucrative market and it has never opened up as much as it has now. This is a good time for Canadian companies with new solutions, technologies and products to come to this market," Ko says. AI, IoT (Internet of Things), auto/mobility tech and digital health solutions are in highest demand, she notes.
The Japan CTA is focused on connecting later‑stage Canadian companies to contacts who are oriented toward business development and can help them navigate the often difficult‑to‑understand Japanese market and focus on scale‑up growth, she says.
Japan is a long‑term market with lengthy business cycles. "It can sometimes take up to two years to sign your first contract," Ko comments. The CTA has therefore been set up as a "rolling program", with participants remaining from five to eight months, during which they receive intensive services and support in order to fast‑track their market entry. These include an extensive virtual mentorship program with Japan market experts and industry advisors, as well as access to in‑market programming, targeted business matching, ambitious networking and more.
The goal is to have participants sign strategic partnerships that help them sell their products and services in Japan. Partnerships with global Japanese companies could also lead to opportunities to work together in third markets. TCS support "builds bridges," says Ko, who recommends that Canadians approach the country with patience and perseverance and especially follow up. "Don't let the communication die and focus on relationship building," she advises, adding that the rewards will come. "It is said that it takes Japan a long time to make up its mind, but when it does it doesn't change its mind."
Taipei — Rupert Cao
With a background covering sectors such as foreign direct investment, cleantech and education in Asia, Rupert Cao is in charge of strategic partnerships and innovation at the Canadian Trade Office in Taipei. He notes that Taiwanese companies do most of the design and manufacturing of the world's information and communications technology (ICT) products, including making most of the laptops, peripherals and iPhone components.

Rupert Cao
Taiwan is a market‑share leader in many critical technologies such as integrated circuit design and manufacturing. Besides being a close partner with Japan and the U.S., the Taiwanese are major investors and distributors in China and South East Asia.
Cao encourages Canadian companies in Taiwan to "localize to globalize," forming strategic technology partnerships there in order to scale up production, commercialize a prototype or find new distribution channels into Asia. Ideal candidates for the CTA are mid‑stage, not yet fully mature companies that are revenue positive. They should have a proven product or solution that they are looking to improve on, commercialize or scale up in an area such as digital health, IoT or applied AI solutions.
The Taipei CTA will offer participants tailored resources and advisors to focus on opportunities and business development. "You are tapping into the innovation network of Taiwan," he says, and gaining access to incentives offered by the local government in order to establish a presence in Taiwan.
Canadian companies can expect to learn a thing or two about managing their intellectual property (IP), Cao advises. "Taiwanese players have extensive experience protecting IP in higher‑risk Asian markets."
It's also important to "not be shy about promoting your product or solution. Be ready to sell it," Cao adds, noting that the benefits will extend far beyond Taiwan. "This is a way for Canadian companies to tap into the global supply chain of the leading ICT companies in the world."
Subscribe to: E-magazine and RSS Feed

Use #CanadExport