The State of Trade @ 20: An examination of trade diversification
The State of Trade report, Global Affairs Canada's flagship publication on Canada's annual trade and economic performance, has reached a milestone this year with the release of the 20th anniversary edition of the report, on August 29, 2019. The report also includes a synopsis of recent work on trade diversification. Here is a brief summary of the highlights of this year's State of Trade report.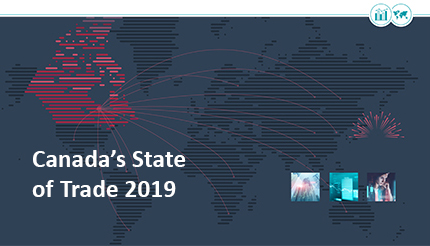 Economic performance
On the real side, growth in the global economy started to ease up as we progressed through 2018. The deceleration was widespread, even in countries like China and India. Concurrently, growth in global merchandise trade volumes slowed across both developed and emerging markets. In nominal terms, global merchandise trade value grew 10% in 2018, a slight slowdown from the 11% increase in the previous year. However, annual world merchandise imports still grew faster than at any time between 2012 and 2016, and global commercial services imports expanded by 7.4% in 2018, up more than one percentage point over 2017.
As with most other major economies, Canada's growth cooled to 1.9% in 2018, down from 3% in 2017. A major factor was the slowdown in household consumption growth, weighed down by household debt. The Canadian labour market continued to display tight conditions, with the annual unemployment rate (5.8%) reaching record lows dating back to at least 1976, while inflation stood at 2.3% for 2018, its highest level since 2011.
On the trade front, Canada's exports of goods and services increased 6.2% in 2018, while imports rose 5.4%. The total value of trade in goods and services reached a record high of $1.5 trillion. Goods exports played an important role in the increase, growing at 6.5% in 2018. Energy, consumer goods, and forestry, building and packaging products led the way. By destination, goods exports to the United States climbed 5.4%, while exports to non‑U.S. destinations grew even faster, up 9.8%. Canadian services exports grew for the ninth consecutive year, up 5.8%.
Key Economic Variables, Canada 2018

| Type | GDP | G&S Exports | Goods Exports | G&S Imports | Goods Imports | FDI Inflows |
| --- | --- | --- | --- | --- | --- | --- |
| Values 2018 | $2.2 T | $706 B | $585 B | $753 B | $607 B | $55 B |
| Growth | 1.9%* | 6.2% | 6.5% | 5.4% | 5.8% | 70% |

* real growth rate
Canada's goods imports rose at a slightly slower pace than exports—5.8% in 2018—with increases in all sectors, led by metal ores and minerals, energy products, and aircraft and other transportation equipment. Regionally, goods imports from the United States were up 5.4%, while imports from non-U.S. sources grew 6.5%. At the same time, services imports expanded by 4.2%. Canada continued to run a services trade deficit with every broad region and most major trading partners; nearly half of the deficit was due to the United States.
Total inflows of FDI into Canada for 2018 increased by 70% to $55 billion, in contrast to decreases experienced by most other developed economies. At the same time, Canadian direct investment abroad (i.e. outflows of FDI from Canada) fell by 38% to $64 billion. Overall, FDI generated a net outflow of funds from the economy for the fifth consecutive year.
Trade diversification
This year's State of Trade report also takes stock of research undertaken by the Office of the Chief Economist on trade diversification, both in its conventional sense as well as from the angle of diversity among exporter firms.
In terms of geographic diversification (e.g. destinations of exports), Canada has room to further diversify, as Canadian exports are currently considered to be concentrated. Data show that Canada's exports are the fourth most concentrated by destination out of 113 countries, principally due to a large share of exports going to the United States. While the United States has been and continues to be our most important trading partner, it is advantageous for Canada to expand global partnerships and seize opportunities abroad.
Free trade agreements (FTAs) are one way the government can help and encourage Canadian exporters to diversify into new markets, as FTAs open opportunities by reducing trade barriers such as tariffs, quotas, and non-tariff barriers. Analysis shows Canadian exports increase after FTAs come into effect, especially for products benefiting from higher tariff declines. While Canada already has an extensive list of some 51 FTA partners once all agreements are fully implemented, signing new agreements and deepening existing FTAs could help further diversify Canadian trade, particularly in faster‑growing emerging markets. Preliminary research results indicate that a one percentage point increase in the growth rate of an import market causes the level of Canadian exports to expand by 0.11%, with an additional gain of 0.16% if Canada is already active in that market prior to the growth. This suggests that targeting fast‑growing emerging markets should help meet Canada's 2025 diversification goal.
That said, however, encouraging Canadian firms to first export to emerging markets may not be realistic. Indeed, research results indicate that a large proportion of Canadian exporters sell to only one market, with most exporting to the United States. Thereafter, roughly, one-in-five exporters move into new markets. Therefore, encouraging firms to explore overseas markets might require them to first test the waters of the closer and more familiar U.S. market. Incidentally, some sixteen American cities are projected to be among the top 40 cities worldwide for Canadian business opportunities by 2030.
Encouraging the use of certain technologies could further advance the diversification agenda. This could be particularly important for small and medium‑sized enterprises (SMEs). Despite accounting for 99.8% of employer businesses and 89% of all private‑sector jobs, only 12% of SMEs exported goods and services outside of Canada. While traditional methods will remain, the ways firms can sell their goods and services are changing with the Internet and digital technologies. Digital technologies facilitate transactions and reduce costs, for example, by optimizing route planning, reducing storage time, and improving distribution networks. Such improvements reduce the distance barrier for exporters. Additionally, the Internet is a relatively easy and inexpensive way to breach international markets.
Finally, trade diversification can be amplified by encouraging targeted groups to engage in exporting. One dimension is women‑owned exporting firms. Research finds that the proportion of women‑owned exporting SMEs in Canada doubled from 7.4% of all SME exporters in 2011 to 15% in 2017. Furthermore, within women‑owned SMEs in Canada, the share of firms that export rose from 8.4% in 2014 to 11% in 2017. Another ownership dimension explored is that of Indigenous-owned exporters. The results of a survey of Indigenous entrepreneurs show that, in 2014, the proportion of Indigenous exporting SMEs was twice that of Canadian non-Indigenous exporting SMEs—24% versus 12%, respectively. Thus, diversity within the exporting community exists, and this diversity is slowly growing. Moreover, such diversification in ownership of Canadian exporters is important to ensure that gains from trade are spread throughout Canada to all Canadians.
For more information, visit the Canada's State of Trade 2019 report website.
Subscribe to: E-magazine and RSS Feed

Use #CanadExport