Canada's export performance under CETA
The European Union represents Canada's second largest merchandise export destination after the United States, accounting for approximately 7.5% of Canadian global merchandise exports over the last five years. On September 21st, 2017, the Canada–European Union Comprehensive Economic and Trade Agreement (CETA), Canada's most ambitious trade agreement since the North American Free Trade Agreement (NAFTA), entered into force.
As of writing, CETA has been in force for almost two years with merchandise trade data available for 21 months. From October 2017 to June 2019, bilateral merchandise trade between Canada and the EU rose 14.6% or $26.3 billion over the equivalent pre‑CETA period (October 2015 to June 2017) to reach $206.6 billion in value. Canada's merchandise exports to the EU totalled $77.6 billion (up 9.1% or $6.5 billion) and merchandise imports grew by 18.1%. Gold is an important export for Canada to the UK, but it is volatile in value for reasons not related to CETA. Excluding gold, Canada's exports to the EU advanced 14.0% since CETA came into force.
Canadian exports increased to seven out of its top ten trade partners in the EU since the implementation of CETA, with all seven posting double‑digit growth rates. Together, these ten European countries accounted for over 90 percent of Canadian exports to the EU during this period. Exports to the Netherlands led all major European destinations and advanced 56.0%, on the back of higher exports of energy products and aluminum. However, this number is likely inflated by transshipments destined to other European countries, as the Netherlands is home to the largest port in Europe (Port of Rotterdam). Other notable increases include Ireland (cereals and energy products), Italy (pharmaceuticals), Poland (energy products), and Germany (vehicle & parts and machinery). In contrast, exports contracted slightly to Sweden (mineral ores), the UK (nickel and precious stones & metals), and France (oil seeds and machinery).
Figure 1: Growth of Merchandise Exports by Country (%)

| United Kingdom | Germany | Italy | France | Netherlands | Belgium | Spain | Ireland | Poland | Sweden | Other |
| --- | --- | --- | --- | --- | --- | --- | --- | --- | --- | --- |
| -3% | 21% | 23% | -2% | 56% | 12% | 17% | 41% | 22% | -5% | 3% |

Data: Statistics Canada
Since the implementation of CETA, Canadian exporters have seen positive results across many sectors. Of the major export sectors, the most impressive growth is found in aluminum, where exports rose 252.0% mostly due to unwrought aluminum destined to the Netherlands. Vehicles and parts (passenger vehicles), energy products (crude oil), miscellaneous base metals (cobalt), and pharmaceuticals (dosage medicaments) also recorded significant growth during this period. Moreover, products that saw the largest declines in tariffs as a result of CETA saw the largest trade gains (a more in‑depth analysis can be found in "CETA benefits already visible a year after its entry into force").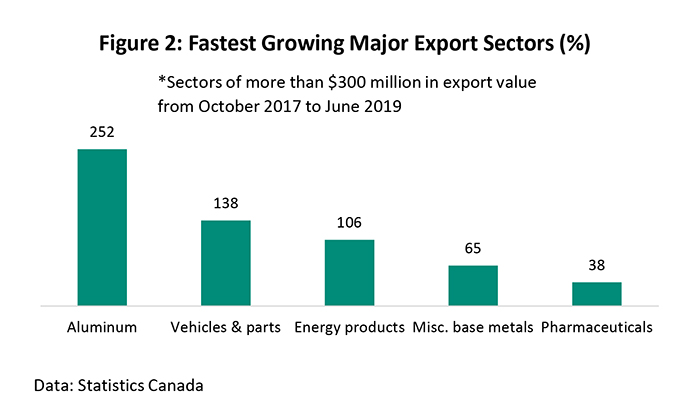 Figure 2: Fastest Growing Major Export Sectors (%)
*Sectors of more than $300 million in export value from October 2017 to June 2019

| Aluminium | Vehicles & parts | Energy products | Misc. base metals | Pharmaceuticals |
| --- | --- | --- | --- | --- |
| 252% | 138% | 106% | 65% | 38% |

Data: Statistics Canada
With more businesses becoming aware of and familiar with the benefits of CETA, one might expect its impacts to grow. Nevertheless, it would be erroneous to entirely attribute gains or losses to this agreement, as having a signed free trade agreement is merely one factor among numerous determinants leading to changes in international trade flows. Other factors possibly at play include, but are not limited to, relative economic performance, exchange rate fluctuations, and geopolitical factors. All things considered, CETA can be viewed as a catalyst that facilitates bilateral trade flows by breaking down trade barriers for all parties involved.
Subscribe to: E-magazine and RSS Feed

Use #CanadExport