Company gives out good measure of risk reduction
Chief executive officer Pat Whalen admits he dropped the ball.
Whalen is the CEO of LuminUltra Technologies Ltd., a Fredericton, N.B.‑based clean technology (cleantech) company. Whalen says his company was growing steadily and attracting financing, but when it came to maintaining a strong relationship with his contacts at the federal government, he felt he could have done a better job of communicating his microbial monitoring company's progress and needs.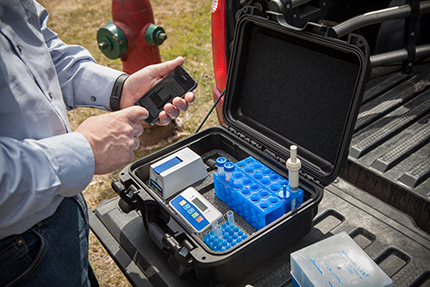 Whalen took the initiative of gathering his government stakeholders together to give them an update on the projects LuminUltra had in the pipeline. Little did he know he was on the same wavelength as the Canadian Trade Commissioner Service (TCS), which was preparing to launch a similar roundtable program entitled Accelerated Growth Service (AGS).
Aimed at breaking down silos, AGS offers program participants an efficient, effective way to work with government agencies. It didn't take much convincing by the trade commissioner seated at Whalen's roundtable for him to come on board as one of the program's first participants.
The result of LuminUltra's participation in the AGS program has been tremendous, he says. The company is in the midst of the largest research and development project it has ever conducted, an artificial intelligence-based, fully automated solution for water testing.
"Over the past year, the AGS has been absolutely instrumental in helping us to embark on activities that we otherwise wouldn't have been able to afford ourselves. This new project is going to be a game changer for LuminUltra and its global client base." Seeing an opportunity and grasping it has resulted in exciting potential for growth, he adds.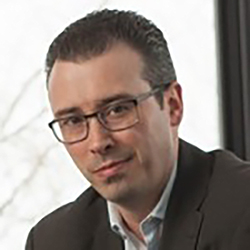 Pat Whalen, president and CEO of LuminUltra Technologies Ltd.
LuminUltra has a long history of seizing opportunities. The company was founded in 1995 by Whalen's father, chemical engineer Phil Whalen and his business partner, microbiologist Jim Cairns. Their experience in heavy industry and environmental technologies led them to pioneer technology for measuring microorganisms in water. These innovators laid the foundation for what would become LuminUltra, a cleantech company which now flourishes under the leadership of the younger Whalen. Today, LuminUltra exports 80 to 85 percent of its technologies, about half of that to the United States.
"We are in the business of changing the way the water sector thinks about controlling micro‑organisms," explains Pat Whalen. We provide world‑class, unique testing capabilities that rest on market‑leading knowledge accumulated over 20 years. We help people make the appropriate measurements in the appropriate places and take the appropriate actions to minimize risk." These risks, he adds, can come in the form of environmental contamination, human health concerns or infrastructure damage and addressing risks can help their clients save money.
LuminUltra caters to three types of clients: municipalities, heavy industry and the oil and gas sector. Their municipal clients are primarily interested in avoiding an incident such as the 2,000 Walkerton E.coli outbreak which resulted in 2,300 cases of illness and seven fatalities. Used in preventative monitoring mode, LuminUltra improves upon the traditional culture method of testing by providing results in near real‑time. Before LuminUltra's innovative product hit the market, the wait time for analysis was a minimum of 24 hours.
For heavy industry, the advantage of LuminUltra's technology is cost avoidance. The pulp and paper industry, for example, must ensure that microbial growth in the water it uses in its processes does not contaminate its paper products, creating quality issues such as odour, discolouration and reel breaks. The near real‑time advantage of the LuminUltra system means significant costs savings, as the delays required by older methods meant that an entire day's production could be in jeopardy.
Clients from the oil and gas sector rely on LuminUltra to provide the kind of timely information which can improve production. Bacteria are one of the leading causes of corrosion, costing the world's industries $500 billion annually, Whalen explains. For the oil and gas industry, this can mean identifying a problem before a drop in pressure caused by a corroded casing leads to production loss.
Whalen says the TCS was also helpful for his company through its business‑to‑business programming efforts at events such as WEFTEC, an event for water quality professionals in North America.
"It's likely that any of a number of leads we've received over the years have come to me thanks to the initiative of Canada's trade commissioners," he says.
Subscribe to: E-magazine and RSS Feed

Use #CanadExport