Partnership yields desert projects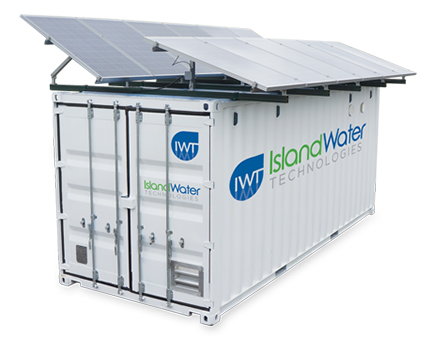 (Photo: Island Water Technologies Inc.)
Irish‑born Dr. Patrick Kiely may have been raised on an island, and his company may be headquartered in P.E.I., but the chief executive officer of Island Water sees limitless boundaries when it comes to the potential of clean technologies.
The wastewater technology company Kiely founded in 2013 exports its modular, solar powered wastewater treatment solutions to far‑flung regions like the Middle East, North Africa and the Caribbean. Kiely's vision is clear: he wants to change the way wastewater is treated, and do so in a more sustainable and environmentally conscious manner.
"As a team, we're driven to do good, and we're passionate about cleaning water," he says.
Conventional wastewater treatment relies on large, centralized treatment plants, and a complex expensive distribution network of pipes, pumps and lift stations, all of which is expensive. Kiely believes in a better way. A decentralized system, he says, managed through technologies that allow for lower energy wastewater treatment and real‑time smart control and operation of those wastewater treatment facilities is the way of the future.
Island Water's REGEN™ is a stand‑alone smart, robust and easy to operate containerized wastewater treatment solution. REGEN™ systems are solar‑powered and do not depend on diesel, gas or electricity. The system uses no chemicals; it has the biology in the wastewater treatment system make the key decisions on how the system operates. It is based on a solid understanding of how bacteria and plastics interact. At the heart of the REGEN™ solution is a fixed‑film wastewater treatment process, a combination of plastic materials on which it grows a biofilm. Chemical‑free and built with simple components, the REGEN™ system is flexible; it can be installed and fully functional within 48 hours.
The treatment process uses so little energy that solar power becomes a by‑product. This cost‑saving, off‑grid solution is particularly attractive to remote communities, military installations and disaster relief organisations in many markets around the world.
One of those markets is Saudi Arabia, where Island Water has partnered with Midad Holdings. Together, they're targeting end users among the country's remote oil gas operations. With between 50 and 300 workers extracting oil and gas at each camp, the demand for domestic wastewater treatment is high.
Currently, the wastewater in the oil camps is managed through holding tanks which discharge into haulage trucks or open air evaporation ponds. Island Water REGEN™ system can treat each camp's wastewater and provide a stream of treated water for non‑potable reuse applications such as onsite irrigation of plants and shrubs. Island Water not only provides the technology, it can operate and maintain its system through its local partner as well as monitor it remotely from its headquarters in Prince Edward Island.
As an early‑stage company, Island Water is focused on developing partnerships that will allow it to scale‑up rapidly. It operated the world's first solar‑powered containerized treatment plant in partnership with Nova Scotia's Dalhousie University.
The company also installed and operated the first commercial solar powered wastewater treatment system with the Canadian military in New Brunswick. Island Water's first commercial, fully‑operational system was installed in an oil and gas camp in Africa's Sahara Desert.
It was through the Canadian Trade Commissioner Service (TCS) that Island Water made the connection with Midad Holdings Kiely says, adding they contacted the TCS after having identified Saudi Arabia as a potential market.
Island Water has also been accepted into CanExport, a TCS program. With access to up to $99,999 in financial support annually for up to five years Island Water will continue its business development in Saudi Arabia in order to develop its sales channels and identify future clients.
"The CanExport program will be invaluable for us to rapidly grow sales in the region. We'll be able to develop our pipeline and our funnel for sales. Everything will be ready to go once our initial demonstration systems are validated in‑country," Kiely says.
"The Trade Commissioner Service has certainly saved us time, money and helped mitigate risk in our business development efforts. Once you've identified a strategic geographic location you want to work in, they're very good at plugging you in with the right people locally," Kiely says. "It's absolutely the best first step to take."
Subscribe to: E-magazine and RSS Feed

Use #CanadExport