Lucrative opportunities await women‑owned businesses at WBENC 2020
Are you a Canadian businesswoman intent on taking advantage of opportunities that encourage corporations to engage in business with women‑owned companies? Are you interested in networking with thousands of other women entrepreneurs and corporate executives looking to do business? Do not miss the Business Women in International Trade (BWIT) business delegation to WBENC 2020, taking place from June 21‑25 in Atlanta, Georgia.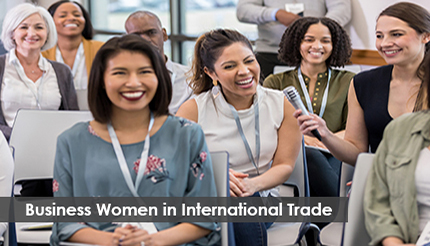 The Women's Business Enterprise National Council (WBENC) National Conference and Business Fair is the largest supplier diversity conference for women‑owned businesses (51%+) held in the U.S. The conference will include panel discussions, networking receptions, a huge reverse tradeshow where companies have the chance to pitch their products and services at a variety of booths, and B2B meeting opportunities with large American corporations. The Business Women in International Trade (BWIT) team has been leading business delegations to WBENC for over 10 years with extremely favourable outcomes for the participating companies.
Last year's trade mission to WBENC in Baltimore, Maryland was a huge success, with post‑event survey returns indicating that 91% of delegates generated business leads during the event, 83% of whom scored five or more solid leads. The trade mission was organized in partnership with the Embassy of Canada to the United‑States in Washington, DC, the Women's Enterprise Organisations of Canada (WEOC), Export Development Canada (EDC), and the Business Development Bank of Canada (BDC), and featured the largest Canadian delegation to date, comprised of over one hundred participants.
Overall, the mission's agenda was rich with opportunities for businesswomen to network and scale their businesses.
The BWIT team has already begun preparations for WBENC 2020, and is aiming for this year's trade mission delegation to be even larger and more successful. Small or medium‑sized enterprises (SMEs) interested in participating in the mission are also encouraged to submit an application for CanExport funding in advance of registration opening, which will open in early 2020. The CanExport SMEs program is a multi‑year, Government of Canada program delivered through the Trade Commissioner Service, which provides financial assistance to Canadian SMEs who are seeking new export opportunities, especially in high‑growth emerging markets. The CanExport SMEs project funding limit is $75,000 to cover up to 75% of eligible expenses. Companies who apply for funding to cover their participation in a BWIT trade mission are also allowed to disregard the usual project minimum of $20,000, and submit an application for a smaller amount of money (to specifically cover their participation in the mission). For more information, and to check if your company is eligible to receive funding for this trade mission, visit the CanExport website.
Registration for this mission is set to open in early 2020, and will close on April 1st. Stay tuned for more registration information in future CanadExport editions. For more information on this year's trade mission, contact the BWIT team.
Subscribe to: E-magazine and RSS Feed

Use #CanadExport