A proud history of helping Canadian companies succeed in global markets
Selling products in Australia was not an easy undertaking for Canadian companies during the last half of the 19th century. The time and distance involved as well as the many unknowns, from market demand to the potential of new tariffs, were obstacles for firms with few resources or connections in that part of the world.
The government of the young dominion in the 1870s and 1880s had shown an interest in developing international markets by sending trade missions to the Caribbean, Mexico, Central America and South America. By 1889, the Department of Finance began to help Canadians market their products abroad by issuing the Commercial Bulletin and hiring locally engaged staff as part‑time commercial agents three years later. These agents worked in regions and countries such as the West Indies, Japan and China, with the goal of finding customers for Canadian fish, lumber and other natural resources.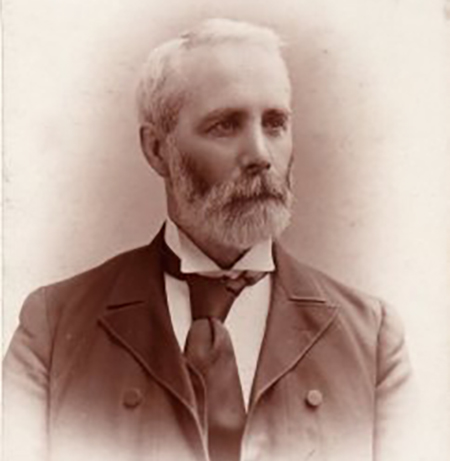 John Larke, 1893: From Oshawa Museum's Archival Collection A000.1.49
The Department of Trade and Commerce was established in 1892 under Minister Mackenzie Bowell, who led a successful trade delegation to Australia the next year. While in Australia, he heard calls for Canada to station a commercial agent in the region to answer "constant enquiries" about export opportunities for Canadian companies. Trade with Australia would make use of the Canadian Pacific Railway, which had just launched its service all the way to Canada's west coast. Its commercial cargo and merchandise of timber, woodwork and fish would fill a line of steamers making their way between the two countries.
John Larke, a former newspaper owner from Oshawa, Ontario, departed Canada for Sydney, Australia, in December 1894 and arrived on January 8, 1895, as Canada's first permanent trade commissioner and, thus, first commercial representative abroad. Upon arrival, he was responsible for developing the market for Canadian products in Australia and New Zealand as well as developing a list of Canadian suppliers, promoting sales to the region and reporting back to Ottawa on market conditions.
"I know of no man in Canada so well fitted for this position as Larke," declared Bowell, who became prime minister of Canada in 1894. "He is an enthusiast on the extension of Canadian trade…He also has a happy aptitude for public speaking and could do much good in addressing boards of trade and other bodies," says O. Mary Hill in her book, Canada's Salesman to the World: The Department of Trade and Commerce, 1892‑1939.
And so began the Canadian Trade Commissioner Service (TCS).
The Trade Commissioner Service in Australia today
Australia remains an important export market for Canada today, says Marc‑André Hawkes, the current senior trade commissioner in Sydney, Australia. Canadian companies sold $2 billion in merchandise there in 2018, from aircraft parts, electrical equipment, and motor vehicles and parts to scientific and precision instruments. There were also exports of services to Australia worth $1.6 billion, including professional, engineering and financial services, and $32 billion in private Canadian investment in Australia. It is the eighth‑largest destination for such investment from Canada globally and by far the largest in the Asia and Oceania regions.
Diplomatic relations between Canada and Australia formally began in 1939, and the two countries "have always maintained a strong trading relationship," Hawkes says, although "there is much potential for growth," especially with the new Comprehensive and Progressive Agreement for Trans‑Pacific Partnership. There are three TCS offices in Australia—in Sydney, Canberra and Brisbane—with a staff of 3 Canada‑based trade commissioners and 10 locally engaged trade commissioners. Each year, they assist some 300 Canadian companies and lead up to a dozen trade missions there. They also organize Canada's participation in major trade fairs and exhibitions, as well as promote foreign direct investment in Canada.
Trade commissioners were soon sent to the West Indies, South Africa, Britain and France while there were part‑time agents in Norway, Japan, Mexico, Argentina and Uruguay. Within 15 years, there were additional trade offices in China, Brazil, Cuba, Colombia, the Bahamas, Jamaica, Trinidad and Tobago as well as Newfoundland, which was not yet part of Canada.
"We spread very quickly," says Greg Donaghy, former head of the historical section of Global Affairs Canada and now director of the Bill Graham Centre for Contemporary International History at the University of Toronto.
"Foreign trade and international commerce are the lifeblood of Canada and they have been since the day we pulled cod from the Gulf of St. Lawrence and we trapped fur," says Donaghy, who has written and edited a number of books and essays on Canadian political and international history.
Larke's job included visiting manufacturing and trading centres to build relationships with local buyers and to investigate and report on the requirements of different markets. In Australia, he was able to help stimulate trade in a diverse array of Canadian products that included cotton goods, wheels and woodwork for carriages and even breakfast foods.
Marc‑André Hawkes, the current senior trade commissioner in Sydney, notes that Larke's methods "were not unlike those used by the TCS today" in that far‑away market. "He encouraged Canadian businesses to make personal visits to the country, and embarked on a public relations campaign teaching Australians more about Canada."
By the end of Larke's 15‑year tenure as a trade commissioner in Australia, the TCS was having a significant impact around the world. Canadian exports grew from $106 million in 1896 to $274 million in 1911. The largest increases happened in countries where trade commissioners were stationed, according to Hill, who also noted that the objective of the country's commercial policy was first Empire and then non‑Empire markets.
"We were a country that was overwhelmingly British in outlook and orientation," Donaghy says, noting "while diplomatic relations were seen as a preserve of Mother Britain, trade and trade promotion were seen as an extension of our domestic autonomy."
When the Department of External Affairs, the foreign policy side of today's Global Affairs Canada, opened in 1909, trade agreements had already been negotiated with eight European countries as well as with New Zealand and Japan, and 21 trade officers had been positioned in 16 countries around the globe. The number grew to 24 trade commissioners in 1922 and 34 in 1931. Today the TCS operates in more than 160 offices around the world, with a staff of more than 1,000 trade commissioners.
Since those early connections made by John Larke, the TCS has remained vital to Canadian prosperity. And the central role of Canada's trade commissioners has continued to be much the same—building international business relationships and brokering export information.
Subscribe to: E-magazine and RSS Feed

Use #CanadExport