The first client of the Canadian Trade Commissioner Service
It didn't take long for Canadian businesses to make use of Canada's first permanent trade commissioner, John Larke, who arrived at his post in Sydney, Australia, on January 8, 1895. The first official request put to Larke came in a letter dated a week after his arrival on January 15, 1895, from the Cockshutt Plow Company. The manufacturer of farm equipment in Brantford, Ontario, wrote that it was looking for information from Larke regarding freight rates and other aspects of trade in Australia. "We are considering the advisability of sending a representative to the country at an early date," the letter read.
John Kneale, a direct descendant of the Cockshutt family who himself worked as a trade commissioner and foreign service officer from 1974 to 2009, says the company had found particular success by making a plow suited to Canada's hot, dry Prairies. There were much the same conditions in countries such as Australia, which made that an "obvious market," says Kneale, so the company set about looking for customers there through the assistance of the Trade Commissioner Service (TCS).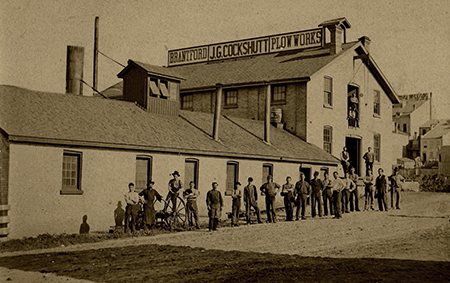 The Cockshutt Plow Company in 1880
The Cockshutt Plow Company had been started by James G. Cockshutt in 1877, and later his brother W. F. Cockshutt, Kneale's great grandfather, became president. Another brother, Harry Cockshutt, the company's export manager, "travelled ceaselessly" on the firm's behalf, Kneale says, with missions supported by the TCS that extended to the British Isles and Europe as well as Australia and New Zealand.
"He would go off for a year at a time and come back with all kinds of orders," says Kneale, who has written two books about his own experiences abroad, Foreign Service and Volcano Rising: An Ambassador's Diary. He is president of the Canadian Industrial Heritage Centre in Brantford, an organization that celebrates the country's industrial past and plans to set up an interpretive centre in part of the old Cockshutt headquarters building there.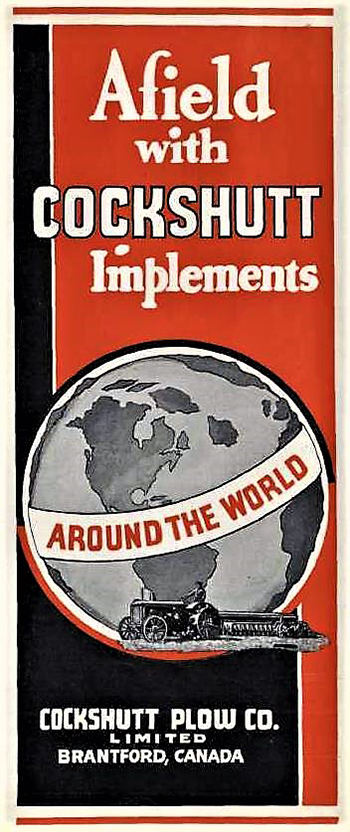 A brochure titled Afield with Cockshutt Implements
"In 1900, Brantford was the third-largest centre of manufacturing and exporting in Canada, after Toronto and Montreal, largely because of Cockshutt," he says.
A brochure titled Afield with Cockshutt Implements showed the success that the company was having in varied and extreme growing climates around the world. Countries where it had sales included the United States, Mexico, Argentina, Egypt, India, South Africa, Algeria, Morocco, Denmark and Türkiye, as well as Australia.
Harry Cockshutt served as Lieutenant Governor of Ontario from 1921 to 1927. The company expanded into different lines such as aircraft parts and truck bodies, as well as making munitions during the two world wars. It was sold in 1962.
Kneale recalls as a trade commissioner seeing Cockshutt tractors and other farm implements "out in the back of beyond" in far‑flung places such as Algeria, where he was posted from 1974 to 1977. "I was always on the lookout for those nice old Cockshutt tractors parked on hilltops in the boonies."