A Trade Commissioner Service to meet the changing times
The evolution of the Canadian Trade Commissioner Service (TCS) over the last 125 years is a window into the growing and changing world economy—as well as the new markets, priorities and opportunities it presents for Canada's exporters.
A new frontier for the TCS
Ken Sunquist recalls a position he had as a trade commissioner in San Francisco in the early 1980s, where he and his team found themselves in a meeting with a young Steve Jobs to talk about export controls for his upstart Apple computers.
"It was a new frontier," says Sunquist, who first joined the TCS in 1973 as a junior officer looking for a "career without borders". At that time, there were increasingly senior trade positions in Silicon Valley, Korea and China. Sunquist served as Canada's Ambassador to Indonesia, held a series of assistant deputy minister positions at headquarters and was Chief Trade Commissioner for eight years before retiring in 2011.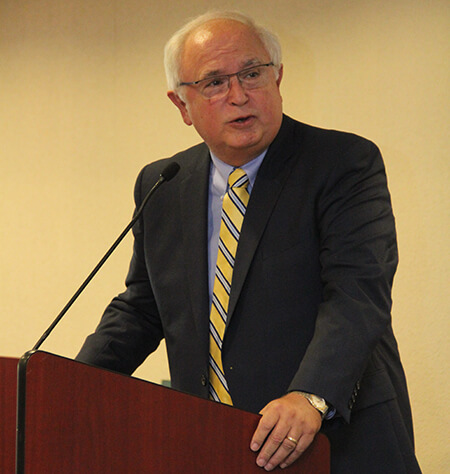 Ken Sunquist, Chief Trade Commissioner, 2003 to 2011
Through it all, Sunquist saw the significant—and growing—impact of the TCS for Canadian business. He says it had been "reaching out from the word'go' with the appointment of the first trade commissioner, John Larke, to Australia in 1894. In the subsequent years, through Sunquist's time and beyond, the TCS changed from a "more reactive" service that was "short on focus" to a professional and all-encompassing organization. That included covering trade promotion, investment and joint ventures as well as troubleshooting problems, looking after technology transfer and organizing Trade Team Canada missions that exposed Canadian companies to exciting new markets.
"It was one hell of a ride," he says. "We could really see that we were making a difference."
Greg Donaghy, the former head of the Historical Section of Global Affairs Canada (GAC) and current director of the Bill Graham Centre for Contemporary International History at the University of Toronto, says that the TCS was bigger than Canada's diplomatic service for a long time. And he comments that the work of trade commissioners remains essential today.
"It doesn't matter if your message is travelling by cable or by email, it always helps to have someone on the ground who can open a door, make an introduction and get a hearing," says Donaghy, who has written and edited several books and essays on Canadian political and international history. "That's what they did then and that's what they do now."
Evolution to meet the needs of Canadian business
The TCS, which was called the Commercial Intelligence Service in its early days, became more professional and specialized in the first few decades of the 20th century. And it adapted to better serve Canadian companies.
Its representatives abroad were first called commercial agents, but in 1907 that title was given only to part‑time appointees. Those who were full‑time were called trade commissioners to avoid confusion that 'commercial agents' were looking to buy and sell goods of their own.
Over the next few decades, Canada began to appoint specialist trade commissioners with specific commodity fields of responsibility, such as fresh fruit or dairy products. In 1933, W.A. Wilson became the first trade commissioner to specialize when his title changed to 'animal products trade commissioner'. Commodity divisions were established at headquarters, providing experts who could communicate with industry about market possibilities in foreign countries. Officers were appointed to act as liaisons between trade commissioners abroad and companies that manufactured goods at home, writes O. Mary Hill in her book, Canada's Salesman to the World: The Department of Trade and Commerce, 1892 1939, in order to encourage them to export their goods.
Through the latter part of the 20th century, Canada's position as a trading nation grew. In a speech to the Canadian Club of Toronto in 1959, Gordon Churchill, the Minister of Trade and Commerce, reported that Canada was the fourth‑largest exporter in the world. He noted that the livelihood of one out of every five Canadians was dependant on the export trade.
In 1982, the TCS became part of the new Department of External Affairs, charged with all trade and foreign policy functions, today's GAC. At its centenary in 1994, the TCS had 950 staff in 130 offices, and exports accounted for more than 25% of Canada's GDP. Today, the TCS operates in more than 160 offices around the world, with a staff of more than 1,000 and exports that account for about one third of our GDP.

Consulate General of Canada staff celebrating LGBTQ2 day in São Paulo in 2018
A service for the present and the future
The TCS continues to evolve, with more of a client focus and greater sector expertise to meet the needs of Canadian exporters. Trade commissioners specialize in sectors from cleantech and life sciences to professional services and financial services. The TCS also promotes inclusive trade and trade opportunities for under‑represented groups such as Women, Indigenous and LGBTQ2 entrepreneurs.
Sunquist has remained active in trade circles in the eight years since he left the TCS and today is chair of the Forum for International Trade Training (FITT). The not‑for‑profit national organization works in partnership with the TCS, Export Development Canada and the Canadian Commercial Corporation to build international trade competence through standards, certification, training and accreditation.
He says that with the help of FITT, the professionalism of trade commissioners continues to grow and there is also ever-greater export awareness and competence in the private sector. Meanwhile the TCS "is more important now than ever," he says, as it continues to play a dynamic role in Canada's development.
"The times have changed, and the TCS has changed to meet the times," he says. "Service excellence is what it's all about."
Subscribe to: E-magazine and RSS Feed

Use #CanadExport