Major energy accelerator in Norway looks for Canadian participants
Canadian energy innovators looking for help from mentors and investors to advance their technologies and build their businesses have an opportunity to participate in a cross‑Canada program next month that could bring them to the Techstars Energy Accelerator in Norway later this year.
Techstars, a worldwide network that supports entrepreneurs, is collaborating with the Canadian Trade Commissioner Service (TCS) at events in Montreal (February 3), Toronto (February 5), Edmonton (February 6) and Vancouver (February 7). These events will give startups the opportunity to see if they are a good fit for Techstars' energy accelerator. Companies interested in arranging a virtual meeting or participating in one of the events in Canada should contact Techstars Energy.
"It's a tough job to get into this program," says Audun Abelsnes, managing director of Techstars Energy, which focuses on companies with solutions in the fields of oil and gas, renewables, new business models and digitalization in the energy sector. The intensive 13-week program following the cross‑Canada events will be held in Oslo in partnership with Equinor, Norway's national oil company, as well as Kongsberg and Capgemini.
Canadian entrepreneurs already represent one‑quarter of the 20 participants selected from hundreds of applicants in the accelerator's first two years, a recognition that Canada is leading in energy innovation. Two Canadian firms were among the 10 participants selected for the first year that the program was offered in 2018, with applications from 38 countries. In the second year, three Canadian companies participated, chosen from applicants in 42 countries.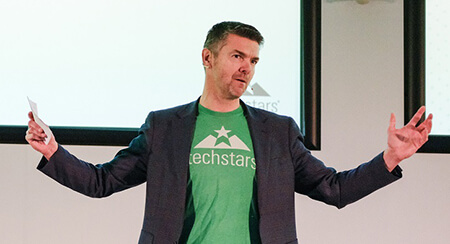 Audun Abelsnes, managing director of Techstars Energy
The TCS will provide on the ground support to companies taking part in the program and help Techstars scout and recruit participants at the upcoming cross‑Canada tour, Abelsnes says. "That's massively appreciated."
John Winterbourne, a trade commissioner who covers the oil and gas and cleantech sectors in Oslo, says the accelerator offers significant help for participants to develop business plans and strategies. "It really gives them an international reach and a lot of visibility," he says, and leads to financing and industrial partnerships through globally recognized companies like Equinor.
Many of the Canadian participants in Techstars Energy are from Alberta, where they are supported by the TCS, Winterbourne notes. Their products represent "areas where Canada has leading technologies," from carbon capture and storage, to carbon utilization and hydrogen fuel cells.
"Having so many participants coming from Canada is really quite exceptional," he comments, noting that the technologies supported by the accelerator will create Canadian jobs and help to reduce greenhouse gas emissions and improve efficiencies in the energy industry.

Vicki Knott, CEO of Crux OCM
Photo: Ole Jørgen Bratland
Vicki Knott, the CEO of Crux OCM, which participated in Techstars Energy in 2018, says that the accelerator was an "incredible experience" for her Calgary company, which develops autonomous control room technology for the oil and gas industry. Its software increases the utilization, efficiency and safety of pipelines, which can increase throughput by as much as 4 percent. Knott says that this amounts to an extra 168,000 barrels a day of oil coming out of Canada's current pipelines.
"There's significant value to these types of innovations that increase the utilization of existing oil and gas assets," says Knott, a chemical engineer who co‑founded Crux OCM in 2017.
Techstars Energy helps companies like hers "commercialize and get on the global stage as fast as possible," which is important for growth and scale, Knott says, while the interaction with its sponsors "is still benefiting us to this day." Crux OCM secured a proof‑of‑concept project with Equinor's liquid natural gas facility, for example, and raised a first round of financing as a result of the program.
Participation in Techstars Energy means that Crux OCM can continue to tap into the Techstars network for everything from advice and investment to sourcing talent. The company is now seeking partners for pilot projects in other vertical markets, such as oil pipelines and gas plants.
Advice for Canada's energy innovators
Yvonne Gruenthaler, a trade commissioner who is the lead for cleantech and innovation in the Trade Commissioner Service (TCS) regional office for Alberta and the Northwest Territories, offers some thoughts about the difficulties for energy startups‑and how to beat them.
The challenges are many: Is the technology sound? Can it scale internationally? Can the company find receptive customers or adopters? Can it access enough capital? Can it access the human talent needed to grow? Does the company have a realistic appreciation of how much money they will need?
Overcoming the many challenges requires grit and stamina: Talk to everyone you can about your business. And yes, know when to give up; sometimes you need to fail fast and move on to the next great idea. Know that successful companies have developed a business plan early on that includes an international strategy that looks beyond Canada for market traction. Yes, going international is difficult, but companies don't need to do everything on their own. They can get assistance from the TCS and many other government resources that are available to help them grow and thrive.
The TCS has been helpful in such efforts, with Winterbourne facilitating and attending meetings with potential customers, which "helps to get the CEO in the room," Knott says. "It is very high value."
Norway and Canada are important countries in energy innovation, says Yvonne Gruenthaler, a trade commissioner who is the lead for cleantech and innovation in the TCS regional office for Alberta and the Northwest Territories. She notes that Canada and Norway are energy producers with winter climates, and share many interests such as the Arctic.
"We are both global champions of carbon capture, utilization and sequestration, and we have a long history of working together to advance technologies in this key field," Gruenthaler says. "We think alike."
She says that the Canadian oil and gas industry is a major investor into the research and development of clean technologies, and that the global energy industry recognizes Alberta "as a major epicentre for oil and gas cleantech development."
The TCS helps early‑stage companies through its own technology accelerators and programs such as CanExport Innovation and the Canadian International Innovation Program, Gruenthaler points out. "Trade commissioners work with entrepreneurs to identify opportunities to partner and attract venture capital."
Abelsnes says that the energy space is known to be complicated and dominated by large players. Typical participants in the Techstars Energy accelerator are early-stage companies on their way to being market‑ready. "They leave the program better and more fit to tackle the future."
Accelerator participants remain part of what is called "Techstars for Life", with connections to large corporations, significant investment and continued mentorship as a result of the program, Abelsnes adds. "That's very powerful."
Subscribe to: E-magazine and RSS Feed

Use #CanadExport