Event promises vast opportunities for women‑owned businesses
Women‑owned businesses in Canada should now register as early‑birds for the upcoming Women's Business Enterprise National Council (WBENC) event and join the Canadian delegation to the vast annual conference and trade fair.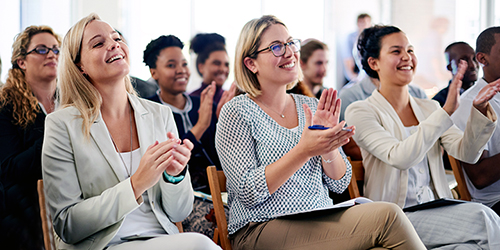 WBENC, the largest meeting of women entrepreneurs in the U.S., takes place from June 23 to 25 in Atlanta, Georgia. It allows women to pitch their products and services to large corporations with supplier‑diversity programs and to network with almost 5000 other women entrepreneurs and global executives looking to do business.
Certified early registrants can now lock in special early-bird rates and are eligible to participate in special 1:1 Matchmaker Meetings organized by WBENC, where they can meet with large corporations directly in order to secure contracts globally. Canadian businesswomen are also invited to register to be part of a business delegation from June 21 to 25 led by the Canadian Trade Commissioner Service (TCS) in partnership with Export Development Canada (EDC) and the Business Development Bank of Canada (BDC). In collaboration with Women's Enterprise Organizations of Canada (WEOC), WEConnect International in Canada and WBE Canada, the TCS aims to inform women entrepreneurs of the benefits of certifying as women‑owned businesses as well as the supplier diversity opportunities associated with certification.
"We are aiming for this year's delegation to be larger and more successful than ever," says Joëlle Midy, a trade commissioner that supports the Business Women in International Trade (BWIT) initiative of the TCS.
The U.S. Southeast and CUSMA bring benefits for women entrepreneurs
Women‑owned businesses will benefit from the new Canada–United States–Mexico Agreement (CUSMA), from its chapter on small and medium sized enterprises (SMEs) to the greater certainty it brings to North American trade relationships, says Nadia Theodore, the Consul General of Canada in Atlanta, Georgia.
As the city prepares to host the Women's Business Enterprise National Council (WBENC) conference and trade show from June 23 to 25, Theodore says there is an ever‑greater focus on business opportunities for women entrepreneurs there, as well as the advantages of the CUSMA.
"This trade agreement is really stabilizing our trading relationship" by setting out clear rules, guidelines and regulations, she says, which especially helps SMEs that don't have the resources to deal with uncertainty. It also has a chapter on SMEs that will promote increased trade and investment opportunities for SMEs, including those owned by underrepresented groups such as women, which are "integral to a thriving economy."
Theodore comments that Canada "has been doing this intuitively for over 20 years," through "tangible" programs offered by the Canadian Trade Commissioner Service, which is leading a business delegation to WBENC and the region from June 21 to 25 through its Business Women in International Trade initiative. She encourages Canadian women entrepreneurs to take part, noting that the U.S. Southeast is "somewhat overlooked" but is one of the fastest‑growing regions in the country, with strong ties to Canada.
"It's ripe for the picking," she says, with a strong ecosystem for underrepresented entrepreneurs. Theodore, who is passionate about helping women in business, says trade commissioners there are strengthening efforts to help diverse Canadian businesses with goods and services in non‑traditional sectors.
She has worked in collaboration with state legislators and Atlanta‑based organizations to help women from the region and from Canada develop consumer products under a program that combines commerce and culture.
The Atlanta Village Market is one such organization that provides women-owned and minority‑owned businesses with a space to connect with consumers and buyers on a small scale. There are plans to expand the effort in the future, she says, which is a concrete activity to help companies benefit from the CUSMA.
WBENC is a venue for businesses that are at least 51% owned, controlled, operated and managed by a woman or women, which is necessary to get the benefits of supplier diversity programs. The three‑day event will include panel discussions, networking receptions and a huge "reverse trade show", where delegates pitch their businesses to corporate representatives in booths. There will also be myriad B2B meetings with multinational companies, as well as special networking opportunities for Canadian participants.
The first Canadian delegation to a WBENC annual meeting was in 2009 in San Francisco, Midy says, and the numbers and the programs it offers "have grown substantially since then." Last year's trade mission to the WBENC conference in Baltimore, Maryland, "was a huge success," with 62 Canadian companies there, a total of 74 delegates in all. Most reported that they generated business leads. Participants also benefit from Canadian programming that takes place "on the margins" of WBENC, she says, "which increase quality of business leads…We've seen great results for our companies."
The conference itself is "really exhilarating," she comments. "It's a huge event, and the energy is high." This year for Canadian delegates it will start with a full day of programming tailored for Canadian delegates, including a "meet‑and‑mingle" function as well as sessions where attendees can practice their "elevator pitch" and learn how to grow their business in the United States. "There's a strong feeling of collaboration. Canadian delegates learn and exchange ideas about prospects for exporting."
Canadian business women participating in the mission also benefit from getting to know the TCS, EDC, BDC and WEOC better, Midy notes. "These are organizations that have quite a footprint on the Canadian women entrepreneurship ecosystem."
Alison Kirkland, CEO of the Women's Enterprise Organizations of Canada, a national advocate and resource for organizations that support women entrepreneurs, says businesses need different support depending where they are in their export journey. There are numerous Canadian‑based organizations that each bring these to the table to ensure that women entrepreneurs are well prepared to export, she says.
"Exporting goods or services often comes with many questions. It's important to know whom to talk to, what the regulations are and how to finance your export plans," Kirkland explains, adding that "events like WBENC help women entrepreneurs connect with excellent resources and successfully move along the export continuum."
Laura Didyk, national lead for women entrepreneurs at BDC, says her organization has doubled its lending target for majority women‑owned businesses, has the largest venture fund in the world focused solely on women‑led tech companies, and offers free online learning tools for women entrepreneurs.
The WBENC event is "a win‑win situation for export‑ready women‑owned businesses and the buyers from large U.S. corporations with supplier diversity programs," Didyk says. "Women entrepreneurs make great connections and create business opportunities, and enterprises benefit from more competitive offerings and greater innovation through diversity of suppliers."
Jennifer Cooke, manager and corporate lead for women in trade at EDC, says that such trade missions "offer an amazing opportunity to explore and research opportunities in a new market, make business connections with partners and/or potential customers, as well as gain valuable knowledge from service providers."
EDC's Women in Trade strategy sets bold objectives to support more women‑owned and women‑led companies, she says, noting that missions like WBENC "open up a world of opportunities" to learn, make connections and do business. It applies to women "whether you're already exporting, export‑ready or exploring what exporting can mean for your business," she says. Attendees also build critical connections and meet other Canadian women entrepreneurs, who can support them or become business partners.
Midy says small and medium‑sized enterprises (SMEs) interested in joining the mission are encouraged to submit an application for funding from CanExport SMEs. She comments that companies from Canada are getting more and more traction, and indeed "the Canadian brand is a great way to open doors," with the support of the TCS.
Her advice for Canadian WBENC participants is that "you have to prepare and you have to follow up." It's also critical to tailor products and services to the needs of corporations, Midy adds. "You need to identify a problem that they have and show how you plan to answer that problem."
To register for the Canadian delegation, visit the event page.
Supplier Diversity 101
Supplier diversity is an initiative to ensure that organizations include companies with a variety of backgrounds in their supply‑chain practices. It is a strategic business process where corporations reach out to groups not traditionally included among their suppliers.
Supplier diversity programs benefit companies that are 51% owned, operated and controlled by one or more qualifying diverse groups, including women, visible minorities, Indigenous, Lesbian, Gay, Bisexual, Transgender, Queer, Two‑Spirit (LGBTQ2), people with disabilities and veterans.
Originating from the United States, supplier diversity programs are not as widely known in Canada. However, the use of such practices, programs and initiatives are increasing here, with Canadian companies starting to show leadership in this area.
The benefits of supplier diversity are significant:
It allows corporations to target underutilized businesses, expand buyers' choice and boosts innovation, competitiveness and market knowledge.
It enables traditionally underrepresented groups in the supply chain to have a fair opportunity to tender for contracts.
It has been shown to increase corporations' market share in a growing multicultural population.
It aligns with Responsible Business Conduct (RBC) practices, by allowing diverse groups of suppliers' fair access to corporate buying.
Subscribe to: E-magazine and RSS Feed

Use #CanadExport