Business mission reveals opportunities for women entrepreneurs in France and Belgium
A recent business mission to France and Belgium has introduced a group of Canadian women entrepreneurs to opportunities in the region and helped them discover the benefits that the Canada–European Union Comprehensive Economic and Trade Agreement (CETA) provides to their companies.
Led by the Canadian Trade Commissioner Service (TCS), the first‑ever business women's mission of its kind to La Francophonie European Union countries provided participants with an opportunity to meet French, Belgian and international buyers. The 18 women entrepreneurs on the mission, which took place from January 27 to 31, 2020, left Europe with solid leads and even contracts in the making, as well as a greater awareness of the region, CETA and how the TCS can assist them in growing their companies.
The Business Women in International Trade (BWIT) initiative of the TCS organized and supported the business delegation in collaboration with the Embassy of Canada to France, the Embassy of Canada to Belgium and Luxembourg and the Mission of Canada to the European Union.
Led by the TCS, the business delegation was supported by the Réseau des femmes d'affaires du Québec (RFAQ), a member of Women's Enterprise Organizations of Canada (WEOC), which helped recruit Canadian women‑owned businesses for the business delegation and provided assistance before, during and after the mission. The program included Canada receptions, networking events and information sessions. Each company also received a full, individualized B2B schedule arranged by a consultant in each country, notes Genevieve Gougeon, a trade commissioner with BWIT. "The relevance and quality of the potential buyers was one of the key success factors of this mission."
The women entrepreneurs were introduced to women's business groups, chambers of commerce and local stakeholders that can prove helpful to their businesses in the future, Gougeon says. Most participants were small and medium‑sized enterprises (SMEs) that hadn't visited the Belgian and French markets previously.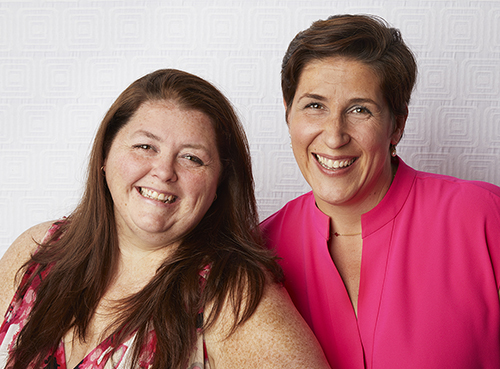 Genevieve Ridley (left) and Marie‑Claude Du Cap (right)
Photo: Kathleen Girard, Studio de photo Cookie et sa Garde‑robe
"The business mission was filled with positive meetings," says Marie‑Claude Du Cap, CEO and founder of Aléas, a business management consultancy in Piedmont, Quebec. Du Cap states that she participated in the mission to determine if a market existed for her company's services in Belgium and France. She returned to Canada with agreements for contracts and the conclusion that "business opportunities are to be found across Europe."
This mission was Du Cap's first experience with the TCS. "It was a delight having engaged and knowledgeable individuals plan all aspects of the mission, including the market research. It greatly facilitated my market entry," she says, adding that she plans to stay in touch with trade commissioners to see how they can further assist her company's expansion.
"The Government of Canada has tremendous resources available to women," she says. "This momentum is to be seized."
Genevieve Ridley, an ethics reporting consultant for Whistleblower Security, a global ethics reporting company based in West Vancouver, BC, says that her participation in the delegation provided a number of business leads. "These are big prospects, big contracts. It will make a big difference to our business."
The mission brought "unforgettable experiences, unparalleled opportunities and incredible women," Ridley comments. "I met so many people I otherwise wouldn't have." The fact that the CanExport for SMEs program covered 75% of the expenses for Whistleblower and many other companies attending the mission was a "pleasant surprise," she says.
Ridley points out that TCS support is key. "Having introductions provided by the TCS gives our business weight and credibility," she says, while joining a TCS trade mission is effective at "fast‑forwarding everything that needs to happen."
Such a mission "accelerates the lead pipeline of your business" and brings the company "much further, much quicker," she adds. "If I contact a company, it's just me contacting them, and it's not as fruitful. Through the trade mission, I was being given hour‑long, face‑to‑face meetings with important contacts."
Gougeon says that trade missions give entrepreneurs access to experts and "a fast track to adjusting their strategy on site," as they see how everything from their elevator pitches to their products are received in an international market. "They get exposure that they would never have at home." It's especially important in such contexts to "find a niche, adjust your pitch as necessary and learn from the feedback received during receptions and B2B meetings," Gougeon advises. "You have to listen to criticism. It's gold. You should welcome it."
The mission delegates learned about the advantages of CETA, including non‑tariff elements as well as its technical aspects, she says, such as the fact that businesses must obtain tariff codes and certificates of origin for their goods. "The onus is on them."
Gougeon says it's critical to keep up the momentum from such missions and to continue to pursue leads. "This is where a lot of businesses lose, because they don't follow up."
Women entrepreneurs encouraged to seek funding for new opportunities
Small and medium‑sized enterprises (SMEs) interested in participating in the Canadian business mission to the Women's Business Enterprise National Council (WBENC) conference and trade fair taking place from June 21 to 25 in Atlanta, Georgia, are encouraged to confirm eligibility and submit an application for funding to CanExport SMEs. They can do this by accessing the CanExport SMEs website and online application a minimum of 40 business days before the actual trip.
CanExport is a Government of Canada program delivered through the Canadian Trade Commissioner Service (TCS). It provides financial assistance to Canadian SMEs that are seeking new export opportunities for their products and services in new international markets. The project funding limit is $75,000 and covers as much as 75 percent of eligible expenses.
Since 2016, 279 women‑owned businesses have received funding under the CanExport SMEs program, with a total value of $7.4 million. That's a small share of the more than $33 million in financial assistance that CanExport provides annually to Canadian companies, innovators, associations and communities.
As women entrepreneurs tend to be under‑represented in international trade, special efforts are made by Global Affairs Canada to make them aware of the existence of CanExport and broader TCS services, says Anik Des Marais, a trade commissioner involved in outreach for CanExport. "We want to see more women‑owned companies fuelling Canada's business and R&D growth."
The CanExport program shares the risk with women entrepreneurs of expanding their businesses abroad, De Marais explains. "In addition, it gives them access to a network of highly competent trade commissioners. It has been demonstrated that when companies access our services, it significantly increases their chances of success in foreign markets."
For more information, please consult canada.ca/canexport.
Subscribe to: E-magazine and RSS Feed

Use #CanadExport