Thinking big helped businesswoman build a hand‑made paper empire
When Heidi Reimer‑Epp started her small business, she didn't think small. Two decades later her Winnipeg company, Botanical PaperWorks Inc., continues to grow, with sales of its ecological seed paper in over 40 countries worldwide.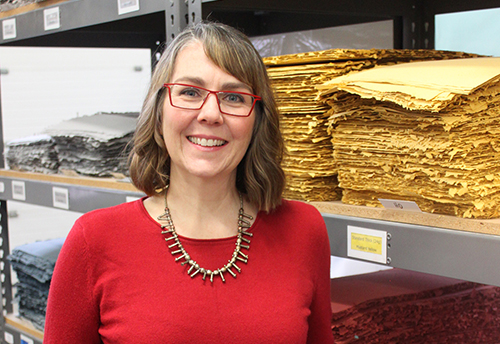 Heidi Reimer‑Epp, CEO and co‑founder of Botanical PaperWorks Inc.
Reimer‑Epp, 48, started Botanical PaperWorks in 1997 with her mother Mary Reimer, an elementary school teacher who was dismayed to see the copious amount of paper discarded by her students. In Reimer's language arts class, she taught them to grind up unused paper and water in a blender to make sheets of hand‑made paper. The mixture was then used to assemble keepsake books of their poems and stories.
Reimer‑Epp, with an honours degree in marketing and working in the sales department of a biotech company, thought there might be customers for her mother's pretty paper. The two women had an "entrepreneurial moment" when they assembled it into greeting cards and took them around to local shops. "Every one of them put in an order," Reimer‑Epp recalls. "We were onto something."
They collected post‑consumer waste from local schools and businesses to recycle into hand‑crafted stationary products. The company started in the basement of her parents' home. "In our early years, it was my mom and a few friends making the paper while I helped assemble the products and also did the bookkeeping, customer service, marketing and cleaned the bathrooms. We also taught classes and wrote books on papermaking and bookbinding." But "one thing I did not want to see happen was for Botanical PaperWorks to remain a small‑scale business," Reimer‑Epp states.
Orders for paper flowed in online from the United States, where the Internet was more advanced than in Canada. And with her experience doing export business development for the biotech firm, exploring international markets "was just a natural thing to do," for Reimer‑Epp. "We were exporters early on."
They added petals, leaves and grasses to make paper for the wedding market, then "stumbled on" the concept of incorporating seeds so that the paper itself could later be planted in soil to produce flowers and herbs. "This was well before the world was interested in eco‑friendly, sustainable products," says Reimer‑Epp, noting that the company's production processes had to continually evolve to keep up.
Today Botanical PaperWorks has 40 employees and an 11,000‑square‑foot manufacturing facility. A major part of the seed paper goes into promotional items like bookmarks, holiday cards and tags, which are sold to the world's most respected brands. The company also sells eco‑packaging, wedding invitations and favours, birth announcements and memorial products. More than 70% of sales are international, with most sales occurring in the U.S., Europe, the UK and Australia.
"Entrepreneurship is all about creating your own opportunities," comments Reimer‑Epp, the company's CEO and co‑founder. She also feels that the biggest limitation that businesswomen face is that they "take on smaller roles than they're capable of," which is why many companies owned by women never get around to exporting.
Women entrepreneurs with families often keep their businesses small as they juggle their company and home. "It is a challenge and it's a bold decision to say that a larger thriving business is important," says Reimer‑Epp, who is a mother of two. She notes that programs such as the Canadian Trade Commissioner Service (TCS) are there to assist.
"The TCS has been there for this company since day one," she says.
"To be able to reach out to a trade commissioner is hugely helpful. They have access to information that we don't have," she explains. "In business it's important to have people that have your back. The trade commissioners are cheering us on as exporters. They really understand."
She tells women entrepreneurs to "never underestimate yourself and give yourself permission to think big. There are so many advantages to having a larger business" through exporting, she points out. "You're adding value back to your country, you're providing jobs and you're giving yourself a job that's ever‑expanding and growing."
She advises women to "open themselves up to international opportunities…There are so many markets beyond North America." It's important to "be open to considering what place your product has in the world" and to "surround yourselves with experts to accelerate your learning," including trade commissioners, other government agencies and successful entrepreneurs "who've gone before you and can reduce the amount of trial‑and‑error you have to endure."
The Women's Enterprise Centre in Winnipeg helped Botanical PaperWorks get financial support through the Women's Entrepreneurship Fund and provided training in different aspects of business growth. The company participated in the 2018 Trade Accelerator Program through Winnipeg's World Trade Centre. It also received financing from the TCS CanExport SMEs program to expand its marketing efforts in Germany and the United Kingdom.
The CanExport support "made it possible to take a chance" and it is paying off in job growth for the company, Reimer‑Epp says. "This is a Canadian government investment that works."
As well as the funds she's received from CanExport and the Women's Entrepreneurship Fund, Reimer‑Epp notes that the application and reporting requirements of such programs are also useful.
"Preparing the application allowed us to think big and proactively," she says. "It is a really good discipline to figure out why you are applying, to get clear on what the project is and what results you expect to achieve."
Reimer‑Epp says the company has kicked off a new export market plan to enhance its global sales because while Botanical PaperWorks is in many countries, "we haven't gone deep. There's a lot of untapped potential there…Going deeper means setting up services and sales outreach and getting a large chunk of the market."
Trade commissioners in the Manitoba regional office and around the world have offered feedback on her plans. TCS support also helps with the company's diversification and intensification strategy, she says, mitigating its risk in gaining access to geographic markets, customer segments and sales channels.
"The TCS has been helpful in researching, finding leads and identifying trade shows that are relevant to our business," she comments. "When you move into a new market, it provides people who are living and working there who can help you navigate the business culture."
Reimer‑Epp plans to formally certify Botanical PaperWorks as a woman‑owned enterprise in order to reap the benefits of supplier‑diversity policies that support under‑represented businesses in many corporations in the U.S. and internationally.
Trade deals such as the Canada–European Union Comprehensive Economic and Trade Agreement (CETA) are "incredibly important" to helping her company compete abroad, she says. A major goal now is to continue to further penetrate markets in Europe.
"We're on a mission," says Reimer‑Epp, who believes in continuous improvement. "You don't want to stand still…When you see opportunities, go for it."
Strategy supports women entrepreneurs
The Government of Canada's support for women entrepreneurs has given a boost to women‑owned businesses that export, through commitments made by the Business Women in International Trade (BWIT) initiative and Export Development Canada (EDC).
The government announced in Budget 2018 its first Women Entrepreneurship Strategy (WES), a whole‑of‑government approach and a $2‑billion+ investment to help increase access to financing, talent, networks and expertise for women‑owned and women‑led enterprises. It aims to contribute to women's economic empowerment and participation in the economy, which is essential to Canada's future competitiveness and prosperity.
Key export‑related initiatives under the WES include:
EDC made available $250 million in financing and insurance solutions to women‑owned businesses exporting or looking to export on commercial terms, and announced the $50 million Women in Trade Investments Program to offer equity capital designed to help Canadian women entrepreneurs;
The creation of the Women Entrepreneurship Fund, investing $30 million directly in women‑led and/or women‑owned businesses to help them grow and reach new markets, including opportunities abroad.
The government also committed an additional $10 million over five years to support enhancements to Canadian Trade Commissioner Service (TCS) BWIT initiative to help Canadian business women gain access to global markets.
BWIT has endeavoured since 1997 to bridge the gap in women entrepreneurs' export activities and intensity.
Through BWIT, the TCS aims to:
Develop initiatives that support and engage business women in the international marketplace;
Provide export advice, guidance and access to information and services specifically for women entrepreneurs, including support networks, government resources and events;
Develop awareness and provide training to adequately prepare businesswomen for opportunities in international markets;
Provide opportunities to participate in women‑focused business delegations, and;
Provide funding opportunities, through CanExport, to support women‑owned and women‑led small and medium‑sized companies wishing to expand to new international markets, or to establish R&D partnerships with foreign partners.
Subscribe to: E-magazine and RSS Feed

Use #CanadExport