Pandemic pivot helps company sell and deliver services in U.S.
With a goal to dramatically expand its customer base in the United States, Morris Interactive had plans to spend 2020 attending trade shows and conferences south of the border. The Saskatoon‑based company applied for funding from the Canadian Trade Commissioner Service (TCS) CanExport SMEs program to connect with buyers and build awareness about its dynamic consulting and training services.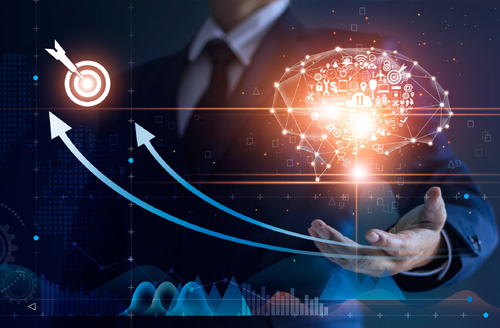 But when the COVID‑19 pandemic hit in early March, everything changed. Travel restrictions and event cancellations blew apart the company's strategy, which centered on face‑to‑face interaction. Such engagement was no longer possible, at least in the short‑ to medium‑term. By the end of the month, Morris Interactive was rethinking what business development in the U.S. would look like under these new circumstances. It was also recalibrating its efforts to deliver its services digitally—as well as looking at the advantages that the New NAFTA might bring.
"The market has been adapting and we need to adapt to find other ways to ensure success," said Mathew Cey, the company's co‑founder and CEO.
Morris Interactive started in 2003 as a soft‑skills training company for leadership and team development, primarily focused on the private sector. The family business has since had a long history of reinvention, diversifying its revenue streams to areas such as business strategy and feasibility consulting, strategic human‑resources planning, assessments, diagnostic tools and workshops. Today with 11 full‑time and eight part‑time staff, it serves a range of clients from multinationals to grass‑roots groups, including a large number of Indigenous organizations as well as clients ranging from colleges and universities, to municipalities, industrial, mining, agriculture, oil and gas, and credit unions.
In 2016, the company applied for CanExport funding and received support to help it pursue business opportunities in the U.S. market, where it established an office in Colorado and secured a growing customer base. According to Cey, 2020 would be the year for further expansion there, however now it would have to take on a different shape.
Rather than totally shelve its plans, Morris Interactive changed its CanExport application to an online digital engagement strategy, with the help of Kimberly Brown, a Saskatoon‑based trade commissioner in the Manitoba and Saskatchewan regional office. At the same time, the company also developed its digital diagnostic and research tools to deliver new products, such as online "pandemic pulse‑checks," to allow organizations to survey their staff. "There's been some good buy‑in by clients," Cey says. "We are building on this traction right now."

Mathew Cey, co‑founder and CEO of Morris Interactive
Photo: Sharai Siemens
Brown says that Morris Interactive operates effectively in a competitive industry because it has highly skilled and experienced professionals and excellent product offerings. "These fundamentals—combined with a truly genuine desire to listen to clients and tailor their services—[are] a good approach whether you're at home or abroad."
This "client‑centric" ethos helped the company adapt quickly in the COVID‑19 environment, she adds.
"As a company, you need to be able to see the world through your clients' lenses to understand how to reach them and how best to serve them," Brown says. "Within a couple of weeks, the company changed its market‑development strategy [for the U.S.] and client‑service approach to connect and meaningfully engage with potential and existing clients in the new COVID‑19 world."
As the company re‑thought its approach, there were discussions about what online marketing activities would be effective to develop the U.S. market. Brown also provided guidance on new CanExport funding parameters and criteria in light of COVID‑19. The company submitted a new CanExport application that was approved in May.
"Part of this story is not only that the company adapted to the COVID‑19 environment, but that it did it so quickly," says Brown.
Cey says Brown and the TCS were "very supportive," of the company's unique solutions and revised marketing strategy. "To be able to tap into a network of trade commissioners helps us do things with a shared‑risk approach to growth."
Morris Interactive is still learning about providing services in a virtual world, with many of its workshops now delivered on a digital platform in shorter sessions because, as Cey says, "you can't sit at a computer all day and still be engaged."
There are many advantages for the company and its clients, such as the fact that participants can be on screens in Canada, the U.S., and elsewhere at the same time. Cey is also looking at ways that the new NAFTA can bring more business, and hopes that the company's U.S. sales will increase from its current eight per cent to 15 per cent.
Cey says the company's adaptation brought about by COVID‑19 will accelerate its growth plans. "We're on the right track," he says.
He believes in‑person workshops "still have a place," however Morris Interactive will continue to evolve, to listen to its clients, and learn from its COVID‑19 experience.
"Sometimes it takes some unfortunate circumstances to have a different perspective," Cey says. "When you're facing adversity, you have to be able to see a different way to reach your goals."
Exporters adapt to the pandemic with help from trade commissioner
Helping exporters cope, adapt and even thrive in an international crisis is an important role for the Canadian Trade Commissioner Service (TCS). Kimberly Brown, a trade commissioner in the TCS Manitoba and Saskatchewan regional office, talks to CanadExport about the challenges and opportunities the COVID‑19 pandemic has presented for her and her clients.
How has the way you help companies changed because of COVID‑19?
It was very disorienting for everyone at the beginning of the pandemic. Things were changing so fast on a daily basis, and clients were—and still are—worried about what the next month, six months or several years would look like for their businesses, their employees, as well as their families and friends. When people are worried about their families and livelihoods, we need to make sure we are connecting with people on the most basic human level, with deep compassion and understanding.
What did you do differently at the beginning?
In the early days of the pandemic, I reached out to all my clients to let them know that I would support them in any way I could, whether that was finding information for contacts regarding other government programs like the Canada Emergency Response Benefit, or directing people to the right supports so they could help a loved one get back to Canada, or reaching out to my colleagues abroad to help clients understand the situation at international ports—the list goes on.
What's been happening since?
I've continued to check in with clients on a regular basis, sometimes to simply ask how they're doing. I've always tried to maintain strong communication with clients, but when the stakes get higher, we need to double‑down on those efforts. We have to bring whatever we can to the table so we can get through this together, as communities and as a country.
What's your advice to exporting companies in the context of COVID‑19?
This is a hard question, as I find every business is in a unique situation, from their product offerings and business models to their financial situations. Some very general advice would be that if a company is experiencing a downturn but is able to maintain a basic level of operation, this might be a good time to review and revise their international business development strategy.
What would be an example of that?
For instance, the New NAFTA came into effect on July 1, 2020. What might companies need to know or do to prepare for changes that might affect their business? Other companies may be able to adapt more easily to a virtual world and could take this opportunity to test out new ways of marketing, conducting business and reaching clients.
What is the best strategy for exporters going forward?
We will operate in a more virtual world post‑COVID. It's important to try to see what a virtual world looks like from the perspective of your clients, and create or adapt products, services, marketing strategies, after‑sales support methods—any angle you can think of—that work in a virtual environment. Chances are, these adaptations will remain relevant long after the COVID‑19 pandemic is over.