Canada's Trade Performance under CETA
By Kevin Jiang
The European Union (including the United KingdomFootnote 1) represents Canada's second largest merchandise export destination after the United States, accounting for roughly eight percent of Canadian global merchandise exports.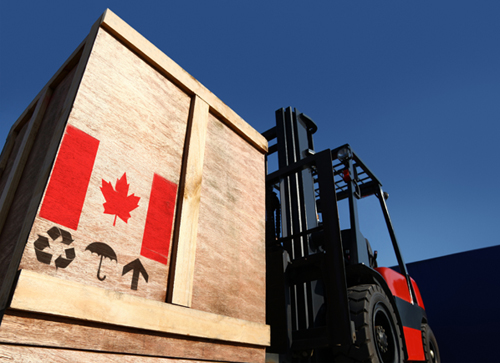 On September 21st 2017, the Canada–European Union Comprehensive Economic and Trade Agreement (CETA) entered into force—which was at the time Canada's most ambitious trade agreement since the North American Free Trade Agreement (NAFTA).
CETA 3rd anniversary confirms strong growth in bilateral trade
Overall, there has been strong growth in the bilateral trade relationship since CETA came into effect, and exports are higher now than before CETA despite the impacts of the global Coronavirus pandemic.
Canadian merchandise exports to the EU averaged $46.6 billion annually during 2018 and 2019, up 16.6% compared to 2016—the last full‑year before preferential tariff treatment under CETA was applicable.
This expansion was mainly due to higher exports of energy products and aluminum to the Netherlands—an important access point to EU markets—as well as widespread increases to Germany and precious stones and metals, and energy products exports to the United Kingdom (UK).
During the same period, Canadian services exports averaged $21.7 billion annually, up 9.5% from 2016, with travel and transportation services recording double digit growth rates. Canadian businesses and consumers also increased their merchandise imports from the EU by 24.1%, and services imports by 7.3%, over the same period.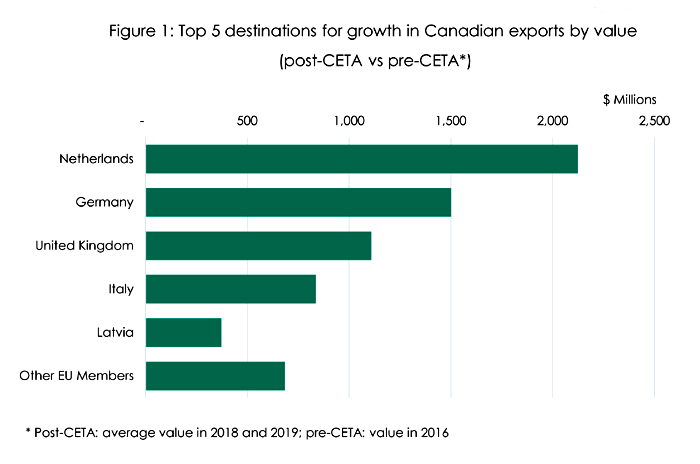 Figure 1: Top 5 destinations for growth in Canadian exports by value (post‑CETA vs pre‑CETA*)

| Netherlands | Germany | United Kingdom | Italy | Latvia | Other EU Members |
| --- | --- | --- | --- | --- | --- |
| $2,123,609,993 | $1,501,239,631 | $1,109,125,238 | $835,878,215 | $371,360,980 | $684,779,336 |

* Post‑CETA: average value in 2018 and 2019; pre‑CETA: value in 2016
Merchandise exports to the EU held up relatively well in 2020
International trade flows were severely disrupted by the global Coronavirus pandemic, and Canadian trade with the EU was not spared. However, relative to trade with rest of the world, Canadian exports to the EU have fared well.
In the first half of 2020, Canadian merchandise exports to the EU fell by 7.1% compared to the same period in the year prior, while overall Canadian merchandise exports dropped by 16.7%. Moreover, despite COVID‑19 related declines in 2020, the value of Canadian exports to the EU remained above the level in the same period in 2017, before CETA came into effect.
Figure 2: Percentage change in Canadian exports to major regions (Jan.–Jun. 2020 vs Jan.–Jun. 2019)

| World | United States | EU28 | China | Mexico | South Korea | India |
| --- | --- | --- | --- | --- | --- | --- |
| -17% | -19% | -7% | -1% | -25% | -21% | -29% |
Products with significant tariff reductions posted stronger growth
Companies on both sides of the Atlantic have increasingly taken advantage of preferred tariff rates under CETA.
The proportion of CETA‑eligible imports that claimed CETA preferential treatment increased for both parties in 2019: 53% of Canadian exports to the EU made use of reduced tariffs under CETA (up 3 percentage points), and 46% for Canadian imports did the same (up 9 percentage points).
Furthermore, those products that experienced the largest tariff reductions also saw faster rates of export growth. For example, products with a tariff reduction of between 5 and 10 percentage points had the strongest growth of 40.6% (Figure 3).
Figure 3: Growth of Canadian exports to the EU by level of EU tariff reduction

Tariff Reduction

Export Growth
Post‑CETA vs Pre‑CETA
0 to 5 pp* decline
+2.4%
5 to 10 pp* decline
+40.6%
Greather than 10 pp* decline
+20.0%

* Percentage point. Canadian exports as measured by EU imports.

Data: Eurostat/Office of the Chief Economist calculations;
Timeframe: Average value in 2018 and 2019 vs value in 2016 Source: Office of the Chief Economist, Global Affairs Canada
Looking ahead
Despite global challenges, we can expect a recovery in Canadian trade with the EU as lockdowns are lifted around the world, and demand and consumer confidence are restored.
This CETA 3rd anniversary is an important milestone as itreinforces and strengthens the economic linkages between Canada and the European Union, one of our most important trading partners.
For more insights on this key bilateral trade, consult the Canada's Merchandise Trade Performance with the EU after the Entry into Force of CETA.
---
1 The United Kingdom officially left the EU as of January 31, 2020. It is currently in a transition period until December 31, 2020, during which time trade continues to fall under EU rules (including CETA).
Subscribe to: E-magazine and RSS Feed

Use #CanadExport