Trade agreement helps creative‑play company break into European markets
When Creative Education of Canada first started selling its role‑play products for young children in Europe 13 years ago, they found the region was a good market for high‑quality Canadian goods. But the company also discovered that the 12% duty importers were forced to pay made it hard to compete against inferior products from EU countries where goods could be produced at a much cheaper cost.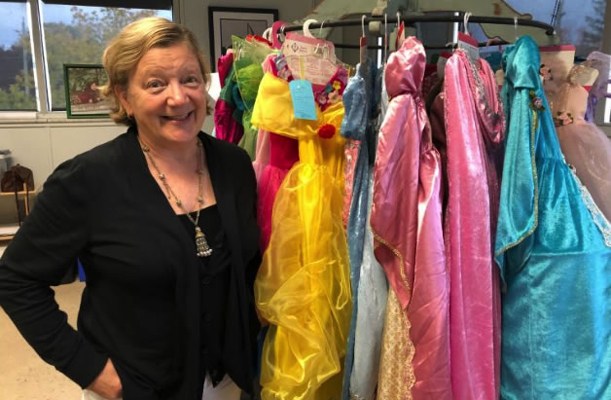 Joyce Keelan, founder and CEO of Creative Education of Canada
Photo: Courtesy of Lambton Shield
The introduction of the Canada–EU Comprehensive Economic and Trade Agreement (CETA) in 2017 brought the family business the opportunity it needed to break into the European market.
"Since CETA went through, our exports of 'Made‑in‑Canada' goods to Europe have doubled," says Joyce Keelan, founder and CEO of Creative Education. The company, located in Point Edward, Ontario, outside of Sarnia, designs and manufactures products for children aged 2 to 8 under the award‑winning Great Pretender line, including costumes, accessories, party supplies and imitation jewelry.
Keelan started the business in 1989 after she left her job as a mechanical engineer, facing gender discrimination in the workplace. As the mother of a young daughter, she noticed there were no creative "pretend‑play" costumes and toys available for girls. She started making fabric hand‑puppets, and when other parents started putting in orders for her crafts, Creative Education was born.
The company and its lifestyle brand have grown through the last 30‑plus years, especially internationally, with 25% of sales in Europe, 50% in the United States, 20% in Canada and the rest elsewhere. It has an expanding array of imaginative and interactive products, many of which Keelan still designs. Her children have joined the business and today the company has sales of more than $15 million, with offices in four countries, three global warehouses and some 55 employees worldwide.
Creative Education started more directly distributing its products in Europe six years ago, then set up a subsidiary in the UK and a warehouse in Germany in 2016. Europeans considered its goods "quite pricey, but of course our product was much better…It was still kind of tough to sell it," Keelan says. "Then CETA came through and all of our costumes could go through with no tariff."
The agreement "really made our sales in Europe economically viable," says Keelan. "It really helped put us in a good price bracket."
Combined with a lower Canadian dollar, "this gives us a real advantage," says Keelan, noting that the company's products remain somewhat more expensive than those from offshore suppliers in Asia, "but they're twice as nice". Large‑scale demand from Europe particularly comes in the period leading up to the region's carnival season, which is in the early months of the year, she says, when North American sales tend to decline.
The Canadian Trade Commissioner Service (TCS) has been helpful to the company in Europe, she says, for example when it looked into the prospect of moving its warehouse from Germany to the Netherlands. Keelan says the TCS introduced it to local officials, accountants, lawyers and others who helped with logistical elements in its decision‑making process. It remained in Germany, opening a new warehouse in Hamburg in 2019 and establishing a new EU subsidiary called Great Pretender Europe, another major step in its EU strategy.
The company markets at trade shows, many of which have been cancelled by the COVID‑19 pandemic, although major fairs remain scheduled in the New Year in Paris and Nuremburg, Germany. While sales declined in the early months of the health crisis, Creative Education has done well with a line of face masks that are popular with kids and adults.
"We have large demand in Europe," says Keelan, noting that mask sales accounted for 80% of revenues at one point. While that is now closer to 30%, "we cannot catch up to orders."
Canada's brand is strong throughout the EU, she stresses. "We have customers who come in to see our products from Europe and they say, 'We only buy made‑in‑Canada goods,' says Keelan. Europeans are not looking for cheap, they're looking for value."
The challenges of selling in this market include Europe's many languages and cultures, as well as the range of customs and unique demand for products country to country, Keelan says. The company has on‑the‑ground presence there—the daughter whom she first made puppets for is now living in Switzerland, as head of its product development division—and it is hiring a European customer support representative.
Creative Education is also about to launch a store on Amazon Germany, and it intends to next establish one on Amazon France. Future plans to take advantage of CETA include moving further into Eastern Europe, and it also plans to market in Russia.
Keelan's advice to other companies selling goods and services in Europe is to "not be afraid to reach out and ask for help. The Government of Canada is a great resource; it's been very good to Creative Education over the years," she says. "And if you don't get it right the first time, look around at what everyone else is doing and try again."
Subscribe to: E-magazine and RSS Feed

Use #CanadExport